Saving Retail: Shifting Expectations, Borrowed Equity and Retail's Real Estate Problem
By
Steve White
June 2019 | Article | 17 min read |
Email this article
|
Download
The US is awash with retail space. Retailers and brands are facing hard times and closures. This paper offers a perspective on ways retailers can turn their real estate from a liability to a competitive advantage.
It's no secret that the U.S. is "over stored," with two times more square footage of retail space per capita than anywhere else in the world.1 Retailers with prime real estate positions are facing hard questions in an era when store and mall closures are an everyday occurrence.
Brands with otherwise successful product lines are also in danger because of commitments they made for their physical stores. Jamie Salter, CEO of Authentic Brands Group, who runs stores like Aeropostale, Juicy Couture and Nine West, recently said "they have a rent problem" when talking about distressed brands. He recalled a story where he spoke with one of his major mall partners, General Growth Partners and they asked him to "please stop closing stores." He asked them to attract more buyers and/or lower the rent, but they said they could not. His response was "then I can't stop closing stores." Given the headlines of the past few years and predictions around the "death of the mall," this exchange isn't too surprising even when talking about strong, legacy brands.2
Additional pressure has fallen onto anchor stores with the highest square footage, which have drawn traffic that helped malls' other stores. The death of traditional anchors like Sears reveals that sometimes this pressure is insurmountable. The stores that remain when an anchor leaves, along with the malls themselves, will have to change or close.
For brands and retailers, the real questions are where, what size and how to bring their offering to market in such a volatile environment.
Complicating the conversation further, and not as well reported, some malls are doing well — proving they have a future. Strong-performing malls continue to see year-over-year growth, as do their tenants. There has also been success from data fueled direct-to-consumer brands that are selectively opening stores to great traffic over the past year. While shopping traffic numbers have stayed stagnant at those malls and stores, shoppers are actually spending more per person and per visit than before. The shoppers present are ready to buy.
The problem facing retailers today is multifaceted, and one solution isn't going to help everyone. But stores are starting to aggressively change, adapt and innovate in hope of repurposing and reinvigorating their real estate, converting it from a liability to an asset.
It is also helpful that sales per square foot, which used to be the primary metric of success, has been strengthened by a number of creative attribution models. These models take into account the new ways that shoppers are discovering, buying and fulfilling orders from stores. Paula Price, Macy's new CFO, pointed to this new type of success measurement and the reality that not every tactic has a direct way to measure ROI. Much of their recent success has come from an attitude that says "if it just makes sense for the customer, we are going to do it." Macy's also measures success by customer instead of store, as they have realized their best shoppers "shop at least two different stores and online."3
As retailers and brands rethink their market strategies, a new approach is needed to deeply understand the evolving consumer and how to meet their changing expectations. This requires creation of human centric experiences powered by technology and focused on four major trends driving retail into the future:
Figure 1: Four major trends driving retail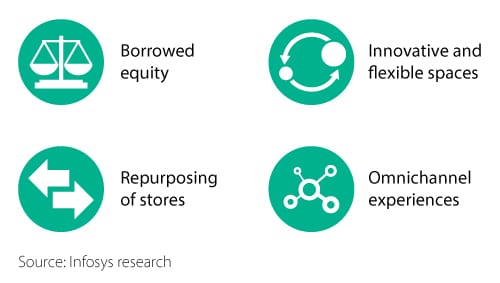 Borrowed equity
Retailers are focusing on shopper insights to guide them in thinking of new ways to utilize their real estate. For instance, 69% of shoppers expect to see new merchandise when visiting a store and will come back more often if they feel it will happen.4 At the same time, direct-to-consumer brands are realizing that e-commerce penetration by category is limiting to the type of growth they desire. While they build up deep reservoirs of data and huge followings online, they are looking for retail outlets of their own. This convergence sets up the notion of borrowed equity very nicely.
Target is pushing the notion of borrowed equity and has gone as far as investing $70 million in Casper to back up its belief. In addition, a spokesperson said that the company is "aggressively" seeking new digital brands to bring into stores in every category. Aside from Casper, the company now sells formerly online only brands including Harry's, BarkBox, Quip and Native.5
Macy's has taken an aggressive push, investing in b8ta and giving prime real estate in some of its stores to the innovative retailer that helps bring small, startup and digital only brands to physical retail. The large retailer recently made Rachel Shechtman its chief experience officer after the purchase and assimilation of her popular Story store concept. These Story installations read like a magazine where all the merchandising of products is centered on a specific theme. The richly experiential spaces are helping redefine the image of Macy's, according to Chief Digital Officer Naveen Krishna.
Borrowed equity also helped Ulta grow 14.1% last year on the backs of digitally native brands like Kylie and Morphe with their huge social followings.6 Showfields in New York City is a store completely dedicated to leveraging the audiences of its four floors of digitally native vertical brands, while Neiman Marcus allocated an entire floor in its new Hudson Yards flagship as flexible space for the very same thing. Even drug and specialty retailers are getting in on the act, like Birchbox and Walgreens, or Banana Republic and Cos Bar.
Borrowed equity is a solution to multiple problems, as it delivers on new customer expectations while allowing retailers to utilize existing assets in new ways.
This trend will redefine existing retailers for years to come and is part of a larger repurposing aimed at addressing the real estate problem head-on.