ENVIRONMENT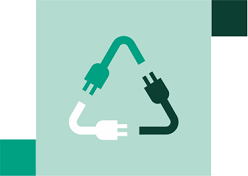 Waste disposal is increasingly becoming a concern for governments and leading to policy changes for its segregation and appropriate treatment. Waste generated at Infosys campuses is segregated and processed using latest technologies.
Minimizing waste to landfill
We continue to pursue our goal of minimizing waste going to landfills. Organic waste, including food waste and garden waste, is treated within our campuses. Automation has been implemented in biogas plants to reduce mechanical operations and to ensure optimum conditions for maintaining plant efficiency. For all other waste, proper segregation at source has ensured effective recycling and disposal, in adherence to applicable legislations.
Reducing plastic waste
We count among the first companies to pledge to eliminate single-use plastic and reduce plastic waste generation overall.
Reducing e-waste
The proliferation of IT and electronics in everyday life also exacerbates the environmental risks that the improper disposal of e-waste creates. We will continue to raise awareness and champion responsible e-waste management practices.
17 biogas and composting plants established within India campuses
The plants have a treatment capacity of 6.2 million kg per annum.
---
Single-use plastic at campuses reduced by 91% since 2018
Various measures are taken to reduce single-use plastic and overall plastic waste. The per capita plastic waste consumption was reduced by 41% since 2018.
---
100% organic waste processing
We have installed facilities for processing and utilising organic waste within our campuses.
---
Automated solar sludge dryers installed
5 Infosys campuses have the dryers, which have a capacity to treat 3,500 tons/year of sludge from our wastewater treatment plants, making it a first-of-its-kind initiative in India.
---
Ambition 2030

Ensuring zero waste to landfill.