Letter to the shareholder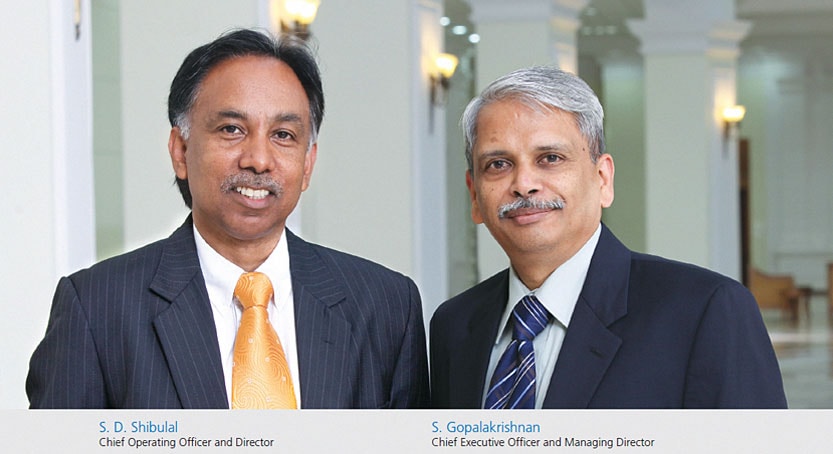 Dear Shareholder,
Fiscal 2010 was a tough year for the industry. The economic environment became challenging in all the major markets where we operated. We guided a decline in revenues and profits in US Dollar terms for the year as most of our customers decelerated their businesses. Our greater client focus and a flexible operational and financial model, however, enabled us to surmount the challenges and emerge stronger from the downturn.
We concluded fiscal 2010 with an excellent quarter that confirmed the return of growth for our clients and us. Our consolidated revenues for fiscal 2010 stood at Rs. 22,742 crore, a year-on-year growth of 4.8%. The profit after tax and exceptional item for the year was Rs. 6,266 crore, a year-on-year growth of 4.6%. As per the International Financial Reporting Standards (IFRS), our annual revenues for fiscal 2010 were US $4,804 million, a year-on-year growth of 3.0%. The net income as per IFRS was US $1,313 million, a year-on-year growth of 2.5%.
We are happy to announce a final dividend of Rs. 15.00 per equity share (equivalent to US $0.33 per American Depositary Share (ADS) at the prevailing exchange rate of Rs. 44.90 per US$). The dividends are payable on the equity shares / ADSs outstanding as on record date, at the prevailing exchange rate on the payment date, and are subject to approval by the shareholders.
Our strategy of investing in capability building, Research & Development, IP-based solutions and the new markets collectively brought about the robust performance of fiscal 2010. Infosys and its subsidiaries added 141 clients and 27,639 employees (gross) in fiscal 2010. The contribution of North America and the Rest of the World to our revenues grew to 65.8% and 10.0%, respectively. The number of our million-dollar clients grew to 338 in fiscal 2010. Even while being cautious about the economic environment, our clients are beginning to invest in business.
During the tough economic environment, we focused our efforts on gaining the knowledge and capabilities to build tomorrow's enterprises. So, when the financial tide turned, our clients identified with this roadmap and partnered with us to be empowered in the future. A global auto leader engaged us to formulate its Enterprise Mobility strategy to help optimize internal operations and present on-demand information to its customers. We are helping a leading North American cable operator launch next-generation home gateway devices for voice and data services. Earlier in the year, our India Business Unit won the eBiz Project from the Department of Industrial Policy and Promotion, Ministry of Commerce and Industry, Government of India. The scope of work included designing and developing the eBiz platform, establishing the support IT infrastructure, implementing, maintaining and expanding the eBiz solution and services for the next ten years.
Digital consumers, today, are a phenomenal business entity. We have an array of services and solutions to enable clients serve the all-powerful consumers better. Early in fiscal 2010, a leading manufacturer and marketer of beauty care products selected us to enhance its trade promotion effectiveness. The client is using our advanced category analytics solution to help improve its pricing, promotions and category management decisions. We partnered with a telecom major to launch a Mobile Application Store. Powered by Flypp™, our 'Ready-to-Launch' application platform, the store offers a bouquet of applications drawn from an Infosys-managed ecosystem of Independent Software Vendors and innovators in India and across the globe. A manufacturer is implementing the Infosys Supply Chain Visibility and Collaboration Suite as part of its enterprise-wide initiative on sourcing business intelligence and spends analysis.
Providing the latest services and solutions in the Healthcare and Life Sciences sectors has been our focus. Earlier in the fiscal, we introduced the iTransform™ Product Suite, that delivers an end-to-end cost-effective offering for managing the transitions to the 5010 version of the HIPAA standard transactions and ICD-10 coding systems. We are designing and implementing a research informatics system for a leading biotechnology company to accelerate discovery research. We are using our Scientific Innovation Solution for knowledge collaboration in this engagement.
The emerging economies are an exciting reality today, fast changing the global business dynamics. Innovation, talent and technology are now being shaped and led by them. Early in the fiscal, we launched a new Consulting and Systems Integration practice across Australia and New Zealand. Later in the fiscal, we opened our second Latin American Development Center in Monterrey, Mexico, offering global, near-shore and Latin American clients a range of IT services including Business and IT Consulting, BPO, Packaged Solutions Implementation and Infrastructure Management.
We have been always committed to growing responsibly. We are working to minimize waste and the consumption of energy and fresh water as well as preserve the natural habitat. We have established a Green Initiatives group at Infosys that is focused on developing infrastructure which will not only fulfill our needs but also support the ecology. In the last two years, we have been able to achieve more than 17% reduction in per capita energy consumption. The new projects at our Indian campuses such as Mysore, Thiruvananthapuram, Mangalore and Hyderabad are being designed as per the Leadership in Energy and Environmental Design (LEED) standard. Our employees are involved in various eco-friendly activities through Eco Groups which have been formed to raise environmental consciousness. We are also working with policymakers to promote renewable energy in the country. From services and solutions that reduce our clients' carbon footprint to converting our employees into environmental change agents, we are working towards scripting an enduring success story.
Appreciation and accolades from our customers, industry bodies and the media always corroborate the confidence we have in our strengths and capabilities. Recently, we were named among the top 10 Outsourcing / IT Integration providers and a favorite for customer experience, for the third time in the Annual Consumer Goods Technology Reader's Choice Survey. Honoring us for our customer-focused practices in managing large outsourcing projects, the Outsourcing Institute and Vantage Partners conferred on us the 'Best in Show' and the 'Best Partnership' awards.
Closing a challenging year, we raise a toast to all our stakeholders who have always stood by us : you, our shareholders, clients, governments of various countries, partners and employees. We thank you for your continued support and look forward to the same in the future.
S. Gopalakrishnan
Chief Executive Officer and
Managing Director

S. D. Shibulal
Chief Operating Officer and Director
Bangalore
April 13, 2010