EDUCATION AND LEARNING — THE PATH TO OUR TRANSFORMATION
Education serves as the bedrock of our culture and our path forward as a company, the fundamental enabler of our strategy to Automate and Innovate. It provides us with the resources to learn new techniques in artificial intelligence (AI) and next-generation digital experiences to automate the things we already know, while at the same time helping us develop an innovator's mindset to discover new possibilities. This culture is brought to life by each one of us, from new hires to executive-level leadership, and all the lifelong learners in between.
As technology continues to bring dramatic changes in everything we do, we have accordingly built upon our great legacy as a learning organization and have evolved our strategy to suit the digital age, not only in what we teach but also in how we teach it — leveraging new digital platforms and innovative teaching methods to amplify our potential. More specifically, this means :
Fluency in AI, automation, and emerging technologies
In a software-defined world, we aim to keep our engineers at the forefront of technological knowledge and skill. The future of computing — AI, machine learning, and intelligent platforms — is fundamental to our training curriculum. We have developed completely new content and methods to help our people gain broad as well as specialized fluency in these technologies. The training program for our first-generation AI platform was designed to accelerate its usage internally across the organization and to build solutions within each industry vertical. Nearly 1,150 employees have been trained in the course, with several thousand more to be trained next year, as part of its next-gen incarnation in Infosys Nia TM.
AI and automation are fundamental to the innovation we bring to our clients, becoming a key focus of our Zero Distance initiative. The Automation content we developed specifically for the Foundation Program will be delivered to 3,000+ incoming hires next year. This commitment to new technologies extends to our leadership, including our CEO, who has produced videos on AI on Digital Tutor, our streaming video platform containing 3,150+ videos on various topics.
For new technologies and platforms, a hands-on agile course integrated with the Infosys DevOps platform has trained 15,000+ employees, including 5,000 project managers. We continue to train our engineers in our new digital platforms such as Skava and AssistEdge.
Fostering an innovation culture around Design Thinking, Zero Distance
To solve today's complex problems, we have been institutionalizing collaboration as a core part of our education curriculum, bringing it into every class at our Global Education Center, Mysuru. In our data science class, we reduced the number of code issues from 28% for individuals to 12% in a group of 10 Design Thinking enables us to find new problems and rapidly develop high-quality solutions. We have extended the world's largest corporate adoption of Design Thinking training to more than 1,35,000 employees. This has empowered us to be innovators, driving our Zero Distance initiative to bring design-oriented thinking in collaboration with our clients, and finding, learning, and solving problems that are most valuable to them.
Interactive, hands-on training focused on real-life problems
Design Thinking and ZD have helped to refocus our learning culture on finding and solving real-life problems. With this in mind, we asked our engineers to gain fluency in a minimum of three programming languages, to prioritize the problem rather than the tool. A total of 17,435 engineers have already risen to the challenge.
We are integrating hands-on learning across our curriculum. The Foundation Program and our continuous education efforts have been redesigned around real-life content, in areas like data science, Big Data, UI, IVS, and Java. In the Foundation Program, key concepts are taught through 24 real-life scenarios collected from our delivery teams. The Program is capped off with an integrated project to model real-life collaboration using appropriate tools within real-life environments. Over 10,000 students will be trained in this program next year.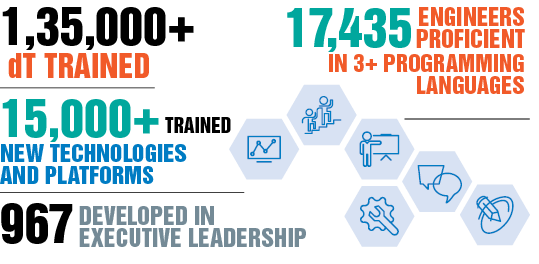 We are also piloting 'flight simulator' models as part of our hands-on learning strategy.
Learning in a digital age
Massive Online Open Courses (MOOCs) have expanded the possibilities of education beyond traditional classrooms. At Infosys, the ability to provide on-demand, decentralized learning is vital to maintaining our cultural foundation. We partnered with two top MOOC platforms to offer tailored courses for our students.
Last year, we launched three nano-degree courses for prospective hires. While 84% passed in the first attempt, 70% were ranked as 'high performers'. Building on this success, we are developing a course on 'Machine Learning Specialization' to increase scope and reach.
Making the leaders of the future
We have also reimagined our executive leadership development to be more experiential, personalized, and immersive, leveraging technology to amplify their potential, and covering 967 senior leaders in fiscal 2017.
Based on a new leadership development blueprint, we designed and launched five custom-built, blended-learning leadership tracks for our most senior leaders. The best internal and external faculty, through classroom and virtual sessions, lead them to develop innovative, inspirational leaders who build influential relationships with our clients and partners.
We also launched the Infosys Leadership Program in partnership with the Stanford Graduate School of Business, the learning components of which include immersive classroom sessions, case work, and business projects for 120 hand-picked senior leaders. Our first batch of leaders graduated in 2016, and our second batch in April, 2017.
A significant pillar of our strategy is targeted towards the key needs of our sales leadership. Almost 80% of our newly promoted sales leaders are undergoing an eight-month program that emphasizes hands-on, experiential learning, incorporating self-discovery tools, sales-skill building, and networking opportunities.
We are encouraging our leaders to 'learn by doing' by becoming teachers and coaches. Our 'Leaders Teach' programs ensure that our senior leaders have access to internal and external coaches, and are also able to use their experience and wisdom to mentor potential leaders.
In all these ways, we are investing in education as the fundamental path to our transformation, and to the transformation of the entire services industry, enabling our strategy to leverage next-gen technologies to renew businesses and push into new, unknown areas. We drive this at every level of the organization, from new hires to senior managers, from software engineers to executive officers. Learnability is our unique legacy, one that continues to grow and adapt from its founding to the present, and in time, to the digital future.