LEVERAGING AUTOMATION TO TRANSCEND THE MUNDANE
Many things that were seen as unique and innovative even in the recent past are commonplace today. Technological advancement is one driver of this process — common, repetitive, routine and mundane tasks performed by humans are slowly but surely automated. Over the years, this has held true for agriculture, manufacturing, financial services, retail, and healthcare, and many other industries and functions. Success in business requires embracing this change, and rapidly adapting to the inevitable commoditization of core products and services via a cycle of automation and innovation. Automation improves productivity, saves time, saves resources, and takes basic routine tasks off human hands, so people then have the bandwidth and the resources to look beyond routine tasks better performed by machines, and focus on finding and solving a new set of problems. It is with this belief that we have built deep strength and momentum into our automation programs at Infosys.
Our automation destination
We are not far from the time when all well-understood, well-defined, and well-articulated problems — regardless of if they require physical effort, computational capacity or cognitive reasoning — will be solved by automation.
At an extreme, one could argue that any problem once solved by anyone, anywhere, should never have to be solved again by anyone else. This is captured in the age‑old adage of wastefulness in 're-inventing the wheel'. This is especially true in the software and technological domains, where artificial intelligence (AI)-based automation can be applied to a wide array of tasks.
To address this trend in the context of our industry and our business, we have undertaken the renewal of our traditional service lines from a 'people-only' delivery model to a 'people + software' model — where the software results in a significant improvement in both the scale and the scope at which people can act.
We have already brought this type of software-led automation to L1 and L2 support, and also extended it to cover the more challenging L3 / last-line support in IT operations — often involving fixes to software code, automated test frameworks, knowledge curating and also process management.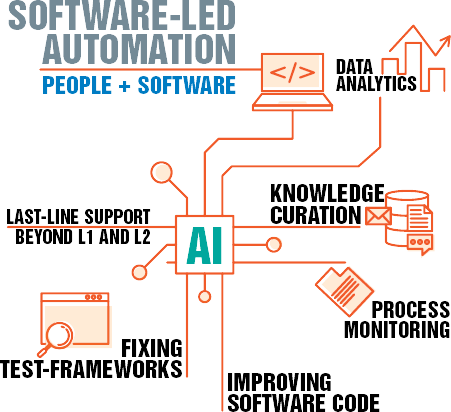 This strategy has been especially effective in our BPO services, application services, and verification and infrastructure services. Our broad set of automated offerings tailored to specific industry and business function requirements, along with our large Agile and DevOps capability to deliver modern applications in a shorter timeframe, have helped to create dramatic efficiencies in this domain.
Our Panaya offering is another driver of automation in the area of enterprise application testing. Many enterprise application-testing teams still manually support user acceptance testing using Office tools like Microsoft Word and Excel. To these clients, Panaya offers a significantly more capable, agile and usable alternative to automate verification support for digital projects. By building formal representations of a company's ERP system, including the many customizations users deploy, Panaya is able to predict the effects of any changes or upgrades to these systems. It also helps business users create test scripts for business processes and, at the same time, generates full documentation of those processes, resulting in significant time and cost improvements over existing manual processes.
Next-gen intelligence with Infosys NiaTM
On the business process management front, AssistEdge, our robotic automation tool is helping rapidly digitize and automate our work. Well-defined frameworks — including an automation center of excellence, robotic process automation (RPA) governance, and process discovery — flank the product. A 'drag-and-drop' design studio with assorted menus and tools, along with 'record and play' capability, further complements and deeply automates the process management workflow.
At a broader level, Infosys Nia, our next-gen AI platform, is playing a big role in bringing significant automation‑led productivity improvements to our delivery efficiencies — across service lines. It supports the deterministic, intelligent and cognitive automation of a broad set of IT services management activities and business processes. For example, it helps us automate extraction, classification and resolution of incidents. It comes with an out-of-the-box repository of automation workflows and scripts that is simple for anyone to use. Today, our engineers use Infosys Nia to automate tasks from both basic L1 / L2 and also the last line of IT operations support. Infosys Nia automates root-cause and impact analysis, and generates test plans for them. By providing deeper organizational context to incident tickets, it helps lower time-to-resolution, and helps create opportunities for specialists to find and solve other interesting problems.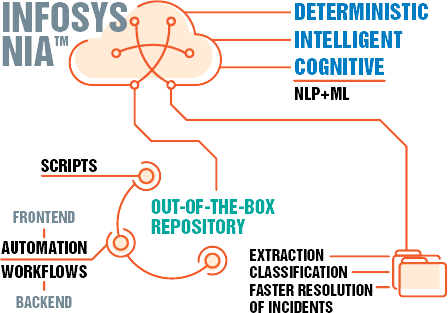 In fact, the cumulative impact of this journey of the past 12 months has been massive — it has helped us eliminate around 11,000 full-time employees worth of effort, and repurpose those people into more valuable and rewarding tasks.
Bringing automation advantages to clients
The capabilities of the automation software that we use to amplify the potential of our people, when combined with in-depth understanding of our client businesses and their IT landscapes, can bring the same definitive edge to their businesses as well. An additional advantage comes from our experienced implementation teams that are able to support them with the services they need to optimize deployment costs and accelerate time-to-value. Today, across industries, enterprises rely on Infosys Nia to transform their landscapes and enable their systems to predict and automate tasks traditionally executed by humans.
CPG companies are using Infosys Nia for faster revenue reconciliation; pharmaceuticals for better forecasting; healthcare and insurance companies for managing their claims processes; banks for dynamic fraud analysis; and several others for applications from smart HR process management to just-in-time business reporting. They are increasingly realizing that intelligent systems can enable people to overcome the limitations of their senses and attention spans, and enhance and amplify their capabilities.
As an example, some of our banking clients are using Infosys Nia to manage their Tax Relief at Source (TRS) compliance. Local regulations require them to provide TRS in the form of a refund or reduction in mortgage payment to their customers. But often, banks must deal with a large number of exceptions that require significant people effort. These banks are now investing in training Infosys Nia's machine learning model with historical exception and tax account data. Business rules are set up to classify accounts, correlate analyses and arrive at exceptions — and Infosys Nia then presents an easy‑to‑review unified dashboard view. Infosys Nia's prediction model even estimates the likelihood of an exception for an account, and automatically resolves exceptions when they occur.
Harnessing the power of knowledge
Another example involves clients who employ unionized labor, and hence need to manage multiple labor contracts with the various unions they work with. Understandably, all labor-related exceptions are sensitive and must be addressed in accordance with the mutually agreed contract. This often translates to long lead times and significant productivity drains before exceptions can be satisfactorily resolved. Today, Infosys Nia ingests the clients' labor contract agreements to create a knowledge model complete with rules, exceptions and resolutions. The model automatically responds to queries and provides resolutions to exceptions based on information from the contracts. A conversational interface allows for natural language queries into the knowledge model, making the task of labor exception management simpler than it has ever been before.
With the possibilities and early use cases multiplying by the day, we are growing in our conviction that we can become great partners for all our clients and help them chart their own purposeful automation journeys. Zero Distance, our ground-up, grassroots movement to bring innovation in every single project, covering almost 15,000 projects can serve as an effective vehicle to bring the advantages of automation to each of our projects. Thus, we can amplify our clients' ability to invent a new future for themselves and their people — a future where software and automation enable us all to be more innovative, and find and solve bigger, more relevant problems together. A future where we can all be more and do more, completely in sync with these disruptive technological advances.