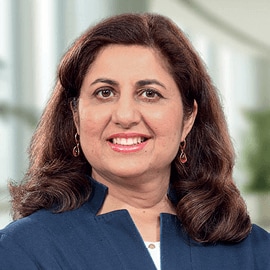 Dr. Punita Kumar-Sinha
Independent Director
Dr. Punita Kumar-Sinha has focused on investment management and financial markets during her 25-year career. She spearheaded some of the first foreign investments into the Indian equity markets in the early 1990s. Currently, she is the Founder and Managing Partner, Pacific Paradigm Advisors, an independent investment advisory and management firm focused on Asia. Dr. Kumar-Sinha is also a Senior Advisor and serves as an Independent Director for several companies. Prior to founding Pacific Paradigm Advisors, she was a Senior Managing Director of Blackstone and the Chief Investment Officer of Blackstone Asia Advisors. Dr. Kumar-Sinha was also the Senior Portfolio Manager and CIO for The India Fund (NYSE:IFN), the largest India Fund in the US, for almost 15 years, The Asia Tigers Fund (NYSE:GRR), and The Asia Opportunities Fund.
Prior to joining Blackstone, Dr. Kumar-Sinha was a Managing Director and Senior Portfolio Manager at Oppenheimer Asset Management Inc., and CIBC World Markets, where she helped open one of the first India advisory offices for a foreign firm. She also worked at Batterymarch (a Legg Mason company), Standish Ayer & Wood (a BNY Mellon company), JP Morgan and IFC/World Bank.
Dr. Kumar-Sinha has been frequently featured in the media, including: The Financial Times, The New York Times, The Wall Street Journal, Barron's, Forbes, CNN, CNBC, Fox News, Star News, Bloomberg , ET Now and The Economic Times. She has also anchored a TV series on ET NOW on various global economies, key Indian policy issues and their impact on capital markets. Dr. Kumar-Sinha has been a speaker at many forums and many of her contributions at seminars and conferences have projected the potential and prospects of Asia as an investment destination.
Dr. Kumar-Sinha has a Ph.D. and a Masters in Finance from the Wharton School, University of Pennsylvania. She received her undergraduate degree in chemical engineering with distinction from the Indian Institute of Technology, New Delhi. She is an MBA and also a CFA Charter holder. Dr. Kumar-Sinha is a member of the CFA Institute, the Boston Security Analysts Society and the Council on Foreign Relations. She is a Charter Member and was a Board Member of TIE-Boston. Dr. Kumar-Sinha has been awarded the Distinguished Alumni Award from IIT Delhi.