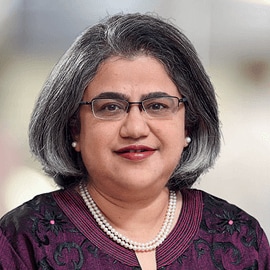 Roopa Kudva
Independent Director
Roopa Kudva is Managing Director of Omidyar Network India Advisors and Omidyar Network partner. Omidyar Network is a US-based philanthropic investment firm.
Previously, she was the MD and CEO of CRISIL, a global analytical company providing ratings, research, and risk and policy advisory services. She has led CRISIL's evolution from a leading Indian rating agency to a diversified analytical company with clients ranging from the largest investment banks of the world to tens of thousands of small firms spread across India. Under her leadership, CRISIL's market capitalization has grown four-fold from Rs. 2,900 crores to Rs. 14,000 crores, and revenues have tripled.
Ms. Kudva regularly features in lists of the most powerful women in business compiled by prominent publications, including Fortune and Business Today. She is a recipient of several prestigious awards including the 'Outstanding Woman Business Leader of The Year' at CNBC TV18's 'India Business Leader Awards 2012', India Today 'Corporate Woman Award 2014' and Indian Merchants' Chamber Ladies' Wing's 'Woman of the Year' Award 2013-14.
Ms. Kudva is a member of several policy-level committees relating to the Indian financial system, including committees of the Securities and Exchange Board of India and the Reserve Bank of India. She has also been a member of the Executive Council of NASSCOM. She is a regular speaker at global conferences and seminars by multilateral agencies, market participants, and leading academic institutions.
Ms. Kudva holds a postgraduate diploma in management from Indian Institute of Management, Ahmedabad (IIM-A) and also received the 'Distinguished Alumnus Award' from her alma mater.