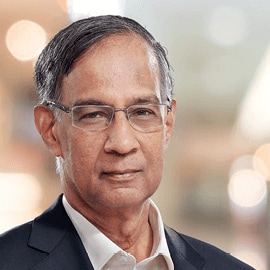 R. Seshasayee
Chairman of the Board and Independent Director
R Seshasayee, a Chartered Accountant, started his career with Hindustan Lever Ltd in 1971.
Seshasayee joined Ashok Leyland in 1976, rose to become Executive Director – Finance in 1983 and was elevated to Deputy Managing Director in 1993 and Managing Director in 1998. He became the Executive Vice Chairman of Ashok Leyland in 2011, and was Non-Executive Vice Chairman, until July 2016.
He led Ashok Leyland's transformation into a self-reliant, globally competitive technology leader seeking growth through globalisation and diversification, via acquisitions and joint ventures. He also led the Company to embrace the tenets of sustainable development and environmental protection. During his tenure as Managing Director from 1998/99 to 2010/11 Ashok Leyland's turnover increased five times from Rs.2045 Cr to Rs. 12093 Cr, net profit thirty times and market cap fourteen times.
Seshasayee is presently the Chairman of Infosys Ltd, having served on its Board from 2011.
Seshasayee has also been the Chairman of IndusInd Bank from 2007 till date. During this period, net profit and market cap of the Bank have both increased twenty six times.
He served on the Board of ICICI Ltd/ICICI Bank from 1997 to 2003. Presently, he serves on the Board of Asian Paints Ltd.
Seshasayee was the President of Confederation of Indian Industry (CII) during 2006-07 and has been an active leader of CII for over 20 years. He was the President of Society of Indian Automobile Manufacturers (SIAM), the apex body representing the Indian automobile industry during 2001-03.
Seshasayee has served on several government and professional committees.
As a member of Government of India delegations, Seshasayee was an active participant at the Doha Ministerial Round of WTO in 2001 and the Hong Kong Ministerial at Hong Kong in 2005. Seshasayee was also the Co-Chair of the World Economic Forum – Middle East during 2007.
He has served as the Chairman of the Board of Governors of the National Institute of Technology, Tiruchirapalli (NIT) and as the Chairman of the Indian Institute of Information Technology Design and Manufacturing (IITD & M), Kancheepuram.
Seshasayee is the Chairman of the Executive Council of the Cancer Institute, Chennai; President of Schizophrenia Research Foundation (SCARF) and Vice President of the Music Academy, Chennai.
Seshasayee has won many honors and recognition, including the 'Star of Italian Solidarity' award by the Italian Government, Sir Jehangir Ghandy Medal for Industrial and Social Peace by XLRI, Jamshedpur, and the 'Lifetime Achievement Award' by the Institute of Chartered Accountants of India.