Insurance companies have limited opportunities to interact with their customers and they have to make every interaction count. Empowered customers seek value, personalized information, and real-time communication in a preferred channel.
Digital transformation is changing the way companies communicate with their customers. However, the communication experience in insurance companies is not cohesive due to outdated systems, complicated internal processes, and fragmented data across multiple teams, leading to expensive IT overhead and a disjointed customer journey.
Insurance companies are adopting off-the-shelf customer communications management products that use artificial intelligence and advanced data analytics capabilities to provide an omnichannel experience.
However, successful integration of off-the-shelf CCM products with core systems also requires a detailed, systematic transformation approach that includes creating a central communications team and a data strategy plan.
Customer communication is critical
For insurance companies, the primary aspect of the customer experience is how the company communicates with its customers. Customers of insurance companies typically switch to a competitor because of the lack of relevant and timely information on the value of products. Communication is rarely prioritized after the sale of an insurance policy, with companies reaching out to customers only at the time of policy renewal.
The following reasons underscore the importance of communication:
Retaining customers is less costly than acquiring new customers. Gaining trust with existing customers is much easier than with new customers.
Customers are interested to know the details of handling claims, and they want answers to their questions quickly and efficiently.
Communication on the intrinsic value of the insurance product is essential because customers usually seek a policy with the lowest price point.
Insurance companies face several challenges to deliver relevant messages at the right time using the right channel.
Organizational challenges to transform communications
"In both the insurance and financial services sectors, legacy players are facing intense competitive pressures from both startups and large tech companies muscling into the sector. These legacy incumbents are trying to make progress toward digital transformation, but their efforts are hampered by regulations, security concerns, and complex internal processes."
– Infosys Digital Radar report
The following complications exist in the insurance sector:
Outdated systems
Policy administration systems have always generated most customer communications. In established insurance companies, policy administration systems are old, outdated and have limited capabilities to address system updates when there is change to any detail in the customer letter. Most companies create only generic messages without any dynamic contextual content.
Complicated internal process and fragmented data
Insurance companies have many duplicate business operations that function in a silo. Insurance companies have a massive amount of data that is updated and recorded in different areas of the company. It is a huge challenge to consolidate data into one single, unified database. Understanding the systems for sources of the right input data required for communication is also a hurdle.
Uncoordinated customer communication
Figure 1 lists the types of communication that get sent out by separate teams within an insurance company. These silos within the company lead to a variety of problems, such as poorly written letters, disjointed experiences, impersonal letters, letters with errors, unlimited formats within the organization and complex processes to sign off letters.
Figure 1. Insurance company communication types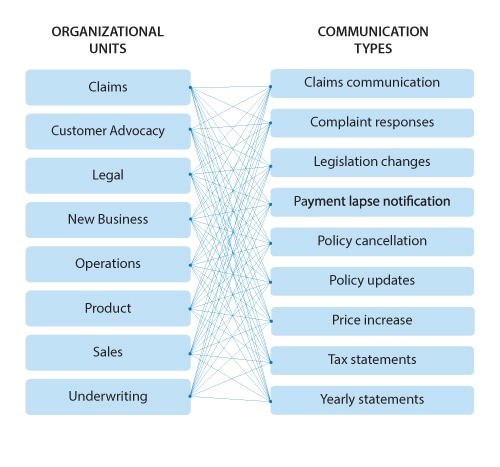 Death by templates
Each product team comes up with their version of a letter, and as a result, over the years, administration teams have several different templates for the same letter. Managing templates, consolidating them, and eliminating duplicates is a significant challenge.
Overdependence on the business service provider
Traditional print houses own and control many business rules and template creation specifications. Insurance companies rarely have the flexibility to manage business rules, and these companies continue to charge heavily to maintain these services.
Customer communications management systems and processes address these challenges.
Customer communications management
With advances in technology, customer communication has evolved toward digital.Figure 2 shows the evolution of CCM over time.
Figure 2. Evolution of CCM: document generation to digital experience platform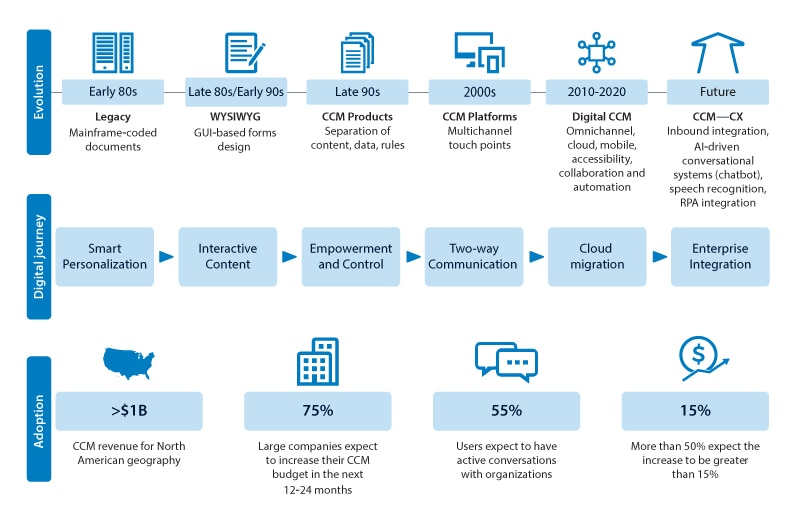 Insurance companies adopt CCM platform approach
Many CCM solutions are available in the market. Some of the popular CCM products include Quadient Inspire, OpenText Exstream, Thunderhead Smart Communications, and Adobe Experience Manager.
CCM platforms address the challenges faced by companies; they provide solutions to transform the way the insurance companies communicate and help improve the quality of content and overall communications. The following is a representative list of current approaches:
Rationalize the number of templates and provide prepopulated ones with contextual information.
Create dynamic and personalized content.
Provide an omnichannel experience: email, SMS, and print.
Give control to the customer communications team instead of the policy administration team, IT team or print houses.
Enable changes to be made faster, quicker, and cost-effectively.
Deliver best-in-class digital communications (e.g. dynamic product disclosure statements).
Easily design reusable content in the library that enables faster building of new templates.
Offer ready-made workflows to get master templates approved.
Convert the print house into merely a commodity that generates printouts and sends physical mail.
However, integrating these CCM platforms with the core systems of insurance companies is a huge challenge, one that requires a detailed transformation plan to achieve success.
Transformation plan for integration of CCM products
"Transforming communication channels or the way we speak to customers is of paramount importance for large companies, especially in financial services. However, this journey is very difficult and requires a complete view of the value chain — documented requirements, understand system designs, and form partnerships for complementary skills"
– Praveen Miranda
MLC Life Insurance
An insurance company can choose any CCM product that suits its budget and requirements for a digital transformation in communication. However, transformation success requires cross-departmental planning at strategic and operational levels, as well as a detailed systemic plan.
1. Establish a central communications team
Engage with enterprise customer journey teams and determine the type of experiences they would like to provide the customer at every stage of the journey.
Identify templates across business streams, claims, products, complaints, and operations and create a template repository for the different stages of the customer journey (quotes, welcome letters, policy update notifications, etc.)
Identify the channels they would like to use for each type of communication. The channels could be SMS for reminders, email for lapse letters and print for policy documents.
Create a framework and a communication strategy document on the approach of the company to rewrite communications.
Rewrite the communications using the framework for every business process — for instance, write welcome letters and see how many variations are required by the product or benefit type.
2. Create a data strategy for prepopulated templates or dynamic content
Understand the sources of the data (such as systems or data lake).
Analyze the data to create the required templates.
Decide on templates, whether to use prepopulated or dynamic content.
Understand the effort required to map the right data to the variable fields in the template and also staff the right talent.
Chart out the additional data requirements (segmentation data and customer demographics) to contextualize images and content delivery.
Identify and manage data that require continuous updates (e.g. customer channel preferences, business rules, content rules and opt-outs).
3. Integrate CCM platform with source systems
Source systems are usually the policy administration systems, the claims system and possibly a customer relationship management system. The integration types and application programming interfaces have to be decided, based on the requirements and the templates. These APIs can also be used to share information and services with third parties. Figure 3 lists a sample of template requirements based on the type of correspondence.
Figure 3. Templates for different types of correspondence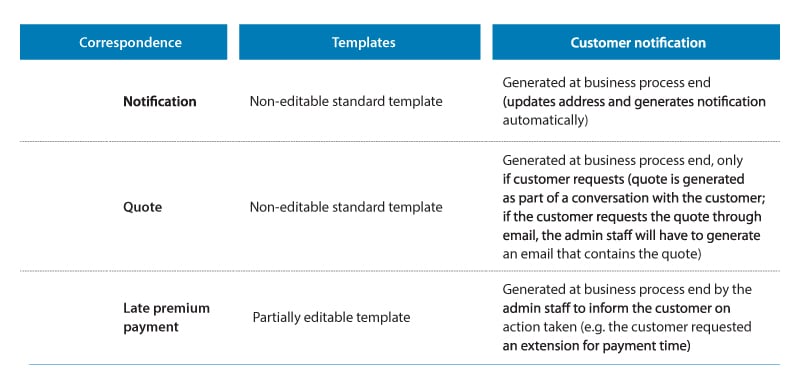 Several of our insurance clients have recently integrated CCM products, and patterns for success have emerged. The framework in Figure 4 is a composite of the approach that has consistently provided success to these insurers.
Figure 4. CCM Integration approach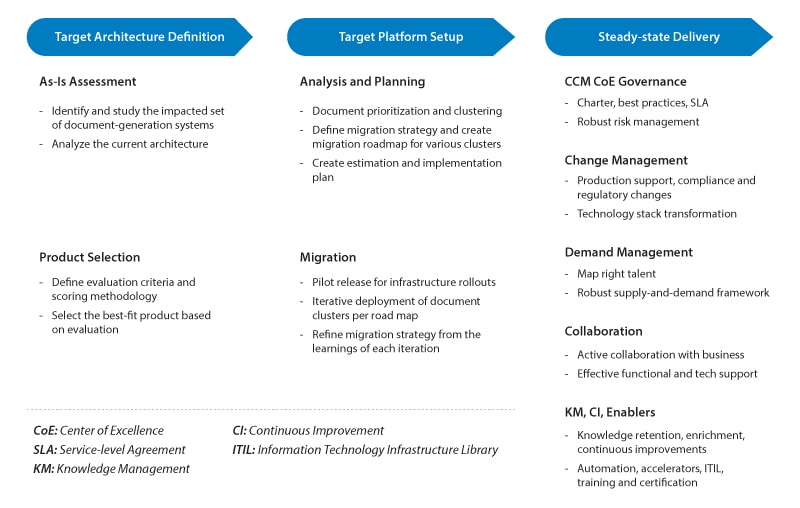 Digital communication is the future
Insurance customers are showing a greater inclination to receive correspondence through digital channels as it offers deeper engagement, personalization, and omnichannel experience. With an increase in customer expectations and significant cost advantages, there is an excellent opportunity for insurance companies to use digital communication channels to improve customer engagement and develop loyalty.