Infosys recognized as a leader in Avasant's RadarView for Retail and CPG Digital Services 2020-2021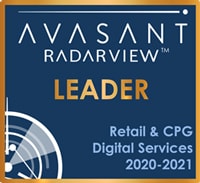 Infosys has been recognized as a Avasant RadarView leader for Retail and CPG Digital Services 2020-2021.This research is based on their proprietary Digital Maturity Framework and is designed to gauge service providers on the factors that have emerged most critical to global organizations in our research. The assessment was on three dimensions:
Practice Maturity
Investments and Innovation
Partner Ecosystem
Analyst Perspective:
Pooja Chopra, Research Lead, Avasant
Swapnil Bhatnagar, Research Director, Avasant
Read the complete Infosys RadarView Profile here.
About Avasant:
Avasant is a leading management consulting firm specializing in digital and IT transformation, sourcing advisory, global strategy, and governance services. This recognition is a testament to Infosys' strategy, service offerings, business outcome focus and its ability to help clients achieve strategic goals like transforming operations, building new capabilities, or removing non-performing assets.