Infosys named a 'Leader' in IDC MarketScape: Worldwide Manufacturing Customer Experience IT Strategic Consulting 2018 Vendor Assessment
Infosys has been positioned as a Leader in the IDC MarketScape: Worldwide Manufacturing Customer Experience IT for IT Strategic Consulting 2018 Vendor Assessment (Doc #US42727917, February 2018). The report notes that Infosys has shifted its focus to customer outcomes and experiences that drives the adoption of strategy, and identifying the applications, processes and services to fit the bill later. This had led to positive results for its clients.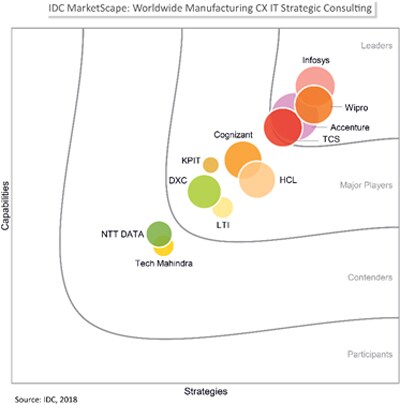 IDC MarketScape vendor analysis model is designed to provide an overview of the competitive fitness of ICT suppliers in a given market. The research methodology utilizes a rigorous scoring methodology based on both qualitative and quantitative criteria that results in a single graphical illustration of each vendor's position within a given market. The Capabilities score measures vendor product, go-to-market and business execution in the short-term. The Strategy score measures alignment of vendor strategies with customer requirements in a 3-5-year timeframe. Vendor market share is represented by the size of the icons.
Key highlights:
Infosys' overall breadth of functionality, its range of related services, and its IP related to CX were highlighted.
The acquisition of Brilliant Basics, a global design and product studio to strengthen its digital capabilities, has been noted.
Infosys plans to open 40-50 customer experience hubs in the next three to five years, where it will work conjointly with customers to enhance customer experience for its end customers.
Over the past three years, the company has successfully completion of more than 70 CX-related projects in IT strategic consulting for manufacturers.
Read an excerpt of the report.