Infosys Positioned as a Leader in IDC MarketScape: Worldwide Manufacturing Intelligence Transformation 2023 Vendor Assessment
For the second time, Infosys has been named as a Leader in IDC MarketScape: Worldwide Manufacturing Intelligence Transformation 2023 Vendor Assessment. In its report, IDC MarketScape highlights that Infosys provides intelligence transformation (IX) services across the manufacturing value chains, including projects supporting product design/innovation, customer relationship management, supply chain planning and execution, enterprise quality management, plant/operational performance, asset performance management, and field service.
Further, the report notes how Infosys, with over 100 delivery centers across the world, is focused on delivering IX services to manufacturers and addressing business-critical challenges by leveraging emerging technologies and business process best practices.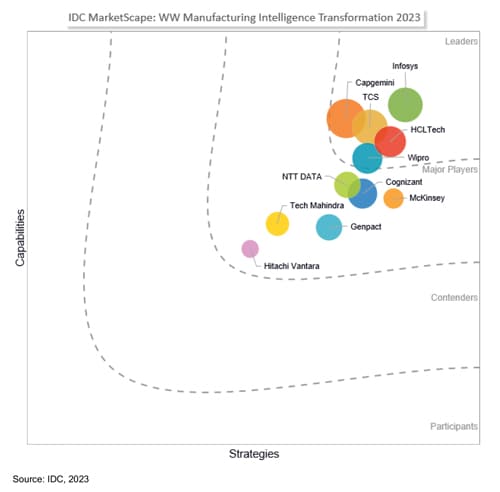 IDC MarketScape vendor analysis model is designed to provide an overview of the competitive fitness of ICT suppliers in each market. The research methodology utilizes a rigorous scoring methodology based on both qualitative and quantitative criteria that results in a single graphical illustration of each vendor's position within a given market. The Capabilities score measures vendor product, go-to-market, and business execution in the short-term. The Strategy score measures alignment of vendor strategies with customer requirements in a 3-5-year timeframe. Vendor market share is represented by the size of the icons.
This IDC MarketScape study uses the IDC MarketScape model to provide an assessment of 11 service providers participating in the worldwide manufacturing intelligence transformation (IX) market. The IDC MarketScape is an evaluation based on a comprehensive framework and a set of parameters that assesses providers relative to one another and to those factors expected to be most conducive to success in each market during both the short term and the long term.
Key Strengths
A track record of innovation: Infosys brings together a strong focus on the manufacturing industry and has built a track record of innovation and transformation for its clients. Infosys' large footprint in the manufacturing industry and strong relationships with executives are also a strength and help with name recognition.
Four decades of excellence: The industry expertise that Infosys has built over the past 40 years is supported by a strong focus on cultivating talent, with the training/development of employees through COEs, partnerships with academia and localization strategies all part of its ongoing workforce plans. References cited how onsite consultants were very capable and good at executing to a project plan.
Strategic partnerships and acquisitions: Infosys has formal strategic partnerships within the intelligence transformation life-cycle management with Adobe, Google, Microsoft, Amazon Web Services (AWS), Oracle, PTC, Dassault, Salesforce, SAP, and ServiceNow. Further, Infosys has made several acquisitions to strengthen its IX approach, including oddity, Carter Digital, Kaleidoscope, and Blue Acorn iCi.