Infosys ranked Leader in Avasant Utilities Digital Services 2022-2023 RadarView™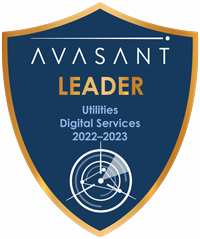 Infosys has been positioned in the Leaders quadrant of the Avasant Utilities Digital Services 2022-2023 RadarView™ .
According to the Avasant report, Infosys 'has a strong Customer Information System (CIS) implementation practice with a focus on modernizing grids and delivering impactful customer services.'
Key highlights:
Practice maturity
Energy transition: NextGen Grid offering improves the consumer experience by enabling smart grids with DERs and managing electric vehicles and energy storage while Energy-as-a-Service platform helps customers meet carbon neutral targets.
Digital technology orchestrator: Leverages AI/ML for wild fire detection and vegetation management, neural networks for climate models and predicting adjoining risks, edge computing for cleaning high voltage lines, metaverse and extended reality to help field technicians with 3D models, and blockchain to secure the energy marketplace.
Partner platform capabilities: Leverages SAP S/4HANA, Oracle's utility platform for CIS transformations, and IBM Maximo for transforming work and asset management.
Innovation
Infosys Living Labs has a network of 12 innovation hubs to develop energy transition solutions through robust R&D frameworks.
Acquired Simplus to develop Salesforce implementation capabilities and Blue Acorn iCi to strengthen digital customer experience and analytics capabilities.
Infosys Knowledge Institute publishes thought leadership. In other initiatives, it has filed more than 700 patents and curated a network of 175 startups in the energy and utilities industry through its innovation fund.
Partner ecosystem
Leverages strong cloud platform networks, including Microsoft Azure, AWS, and GCP to deliver cloud migration and core modernization services.
Partnered with Esri to use its utility suite of applications for GIS integration and Nexant to codevelop the EVSE onboarding solution.
Partnered with Stanford University to develop a climate modeling solution and Cornell University to strengthen its quantum computing capabilities.
Register to download the report
Learn more about Infosys Utilities solutions.