A $414 billion silver lining to the cloud
Amid the clamorous chatter in every organization about public, private, hybrid and multi-cloud and a humongous amount of data, being thrown up every second across the globe, you might just wonder how convoluted the end result would be.
Surprisingly, it's not so.
According to Infosys Research, a whopping $414 billion in profits can be realized using cloud for business growth. These findings come from the Infosys Cloud Radar Report - 2021 which surveyed more than 2,500 business and IT executives across five countries and 12 industries from November 2020 to January 2021.
Figure 1. Cloud can empower new profit growth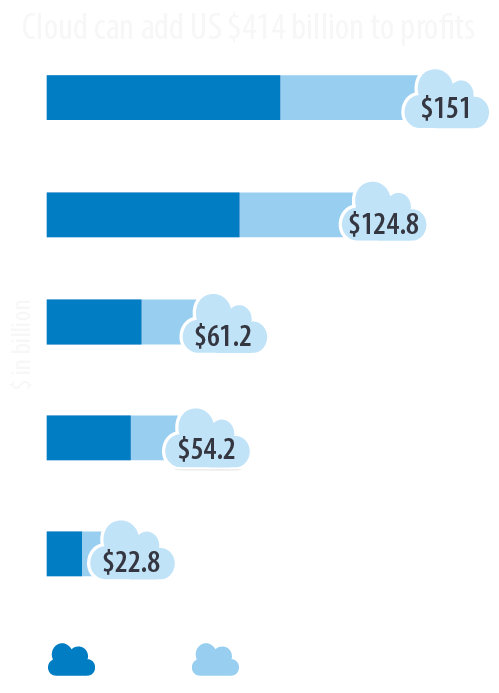 While it certainly confirmed what was known in the industry – that cloud adoption continues to accelerate and had grown to touch all aspects of business - the survey revealed a high impact profit growth. Cloud computing has now grown from a mere IT concern to a core business strategy, with a direct link to revenue and new business opportunities.
Figure 3. Companies with high levels of cloud adoption will more than double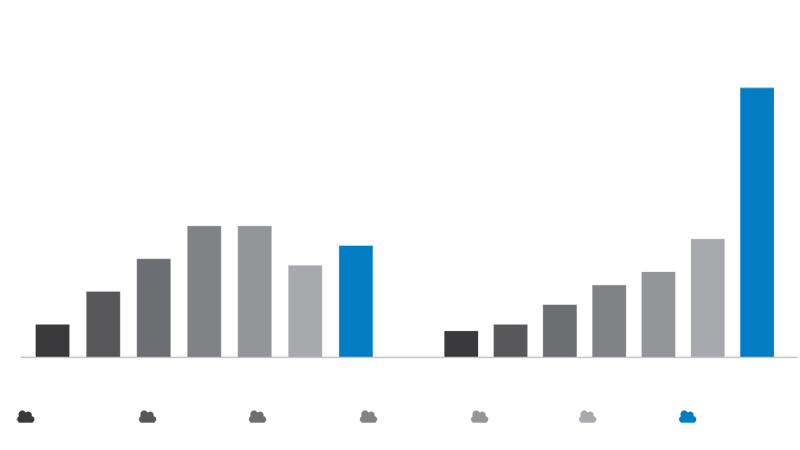 Lax Gopisetty of Infosys, an expert on digital innovation and business models, says, "Revenue growth is going to come from various maturity levels and roadmaps based on different journeys of enterprises. For instance, mobile adoption is now seamless, but it also took a decade to reach this stage when people are comfortable with high value mobile financial transactions."
Cloud computing is no different and since it isn't a one-size-fits-all kind of a situation, and it won't happen immediately, says Gopisetty. "It is going to take some time to get to this adoption stage, but we will be there."
"About 90% of the total data generated happened only in the past couple of years," Susham Ghose, Infosys Tweet
Companies, both large and small, have to make a conscious decision to reflect where they are in their growth trajectory and where they would wish to be; what cloud strategy they would need to adopt for their business model; and answer the most critical question: What kind of an experience would they be delivering to their end users?
"There are several ways in which cloud is today driving organizations to that next level but that entirely depends on your company's goals. For instance, Netflix uses a great deal of public cloud but to deliver a richer experience to the user, it delves into the private cloud. But these similar metrics would not apply to, say, an automobile or a financial company to operate upon." points out Susham Ghosh, Chief Digital Architect at Infosys.
Data is new age currency
Traditionally, cloud was about creating platforms for cost optimization or a 'pay as you go' model. Now, it had metamorphosed into an ecosystem where you cultivate your data and enrich it to provide an unparalleled experience to your customer as well.
Today, data has become the new currency. And raw unprocessed data - broken down and treated with artificial intelligence (AI) - could well be the gold standard in the cloud computing space.
Says Ghosh, "About 90% of the total data generated happened only in the past couple of years. Moreover, the data generated in client-server technologies was not given much importance in terms of business value but stored primarily for complying with government regulations."
But today, it is a totally different data-game. Enterprises have realized the tremendous value of data and data analysis and using it to improve their business strategy.
"For instance, for one of our customers, Inmarsat, a British satellite telecommunications company, we have upgraded its systems to a higher maturity level to achieve great agility and speed up its go-to-market strategy," says Ghose.
"Cloud can help build data platforms that consolidate data and AI models can make it more usable for business functions, Chad Watt, Infosys Knowledge Institute. Tweet
Although its data was already in the cloud, now the company would be able to harness the power of data coupled with AI more effectively post migration. This would enable the company not only to achieve higher growth but also enhance its customer experiences, especially against a backdrop of high expectations from its customers who range from airlines and shipping fleet operators to the military and aid agencies as well as mining, logistics and aggrotech.
According to Chad Watt of Infosys Knowledge Institute, there are three key reasons for enterprises desiring to harness the power of AI while shifting to the cloud. "First, cloud can help build data platforms that consolidate data and AI models can make it more usable for business functions. Second, AI models often require large amounts of processing power and cloud allows enterprises to access such power on-demand. Finally, cloud provides enterprises rich AI tools available on a per-use basis making it accessible to almost every company," he explained.
The symbiotic relationship between the two means that enterprises will adopt AI and cloud simultaneously. As enterprises advance through their cloud journeys, increased AI use is likely to yield better results.
Figure 7. Cloud spending confidence by cohorts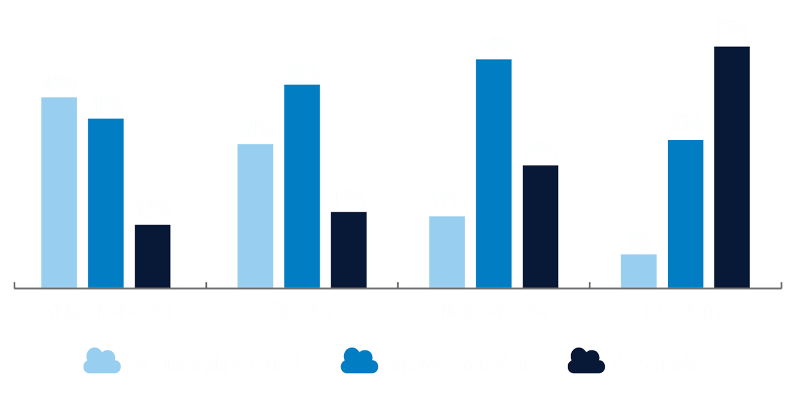 Mind-set more critical than dataset
Transitioning to the cloud architecture is not merely a change in technologies or processes. It is the adoption of a "cloud mind-set" which has been called the single most important predictor of success because it is key to aligning people, processes, technology, and culture necessary for cloud transformation to take place on an enterprise-scale rather than as a one-off project with limited scope.
It is seen as a cultural change that starts with top leadership percolating right down to a rookie software engineer.
"We have built our networks based on a traditional systems strategy, where we had these mainframes and large ERP systems – all focused-on infrastructure like data centers and server stacks to run numerous applications using several tools. No doubt, we built some capabilities but simultaneously we also created ironclad mind-sets. These mind-sets revolved around people, tools and processes and are deeply embedded in the functioning of all our legacy systems. They had become the organization's heart," notes Ghosh.
Now, one needs to break free from that legacy-system mindset to a whole new line of thought which focuses on functionality and delivering value to the business in a radical way. This requires a forward-thinking approach to adopt new technology and cultivate the ability to take risks.
"Everything hinges on how individuals, enterprises and communities are adapting to this type of enablement and new business models," Lax Gopisetty, Infosys. Tweet
"If you don't explore something new, you never know what you are going to get out of it. Now, with cloud computing that risk is very less, I can try out some systems and if I am not satisfied with those, I can adopt other alternatives. That's the best part of cloud computing, not much of capital investment is needed," Ghosh points out.
Since the fundamental technology evolution has happened, it is enabling more possibilities with cloud computing get standardized.
"Everything hinges on how individuals, enterprises and communities are adapting to this type of enablement and new business models. There is a huge amount of change and radical re-imagining that is happening right now. There are multiple shifts happening, industries are getting remodeled because the technology is not about merely the compute part. Every company is becoming a tech company and every device is becoming a tech device versus mechanical device," adds Gopisetty.
Tangible profits seen after crossing the 60% mark in cloud adoption
Speed and capability gains only kick in when an enterprise shifts 60% or more of its systems to the cloud. Below this point, improvements can bolster defensive priorities but won't significantly move the needle on delivering a competitive edge.
Yet only a fraction of large enterprises has reached this level of adoption. Less than one in five have passed the threshold where cloud performance contributes to profit growth. But many are on the way. The Cloud Radar survey found that 41% of respondents intend to cross the 60% threshold by 2022.
When the Internet of Things (IoT) has taken over every aspect of life, from door lock systems to televisions and every device communicates with sensors and generates data, the vital question remains as to how an enterprise would use its structured and unstructured data to connect and provide enhanced services and experiences to the end users.
Add to this conundrum, the Kubernetes' and Dockers of the software world – the open-source container systems for automating software deployment, scaling and management – which have made life simpler for IT implementation.
"At this point of time, enterprises need customised cloud adoption and orchestration. That can put you and your company in the driver's seat but, then again, you cannot go all the way to your destination and reach your goals without the right mind-set," adds Watt.
The right mind-set along with a judicious cloud adoption strategy is to bound to cut through that endless cloud chatter and mould the clutter of unstructured data into sensible outputs and embark the enterprise on the high impact profit route of cloud computing.