Companies embracing cloud need reliable integrator reveals worldwide survey
Infosys has revealed the results of an IDC worldwide survey which shows that more than 40 percent of enterprises are adopting hybrid cloud platforms. Many of the companies surveyed pointed to the need for a reliable external service provider to help them navigate the complexities involved in moving to the cloud.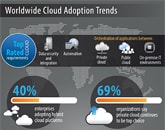 The results of the survey appear in an Infosys-sponsored IDC white paper, "Adoption of Cloud: Private Cloud is Current Flavor but Hybrid Cloud is Fast Becoming a Reality." The study, conducted by IDC and made available in September 2012, surveyed senior IT decision-makers from 326 large companies across the United States, United Kingdom, France, and Germany.
Some of the findings of the survey are:
The cloud ecosystem is becoming increasingly complex because of a mix of public cloud, private cloud, and on-premises information technology
Monitoring and holistically managing a complex cloud ecosystem is a daunting task for enterprises
56 percent of respondents are engaging or considering engaging an external service provider to help them with their cloud strategy, adoption roadmap, and implementation
Private cloud continues to be the top choice with 69 percent of respondents are planning to embrace that option
Productivity gains and cost savings are the top-ranking reasons for companies to adopt cloud
Related reading
Press Release: Companies Embracing Cloud Need Reliable Integrator Reveals Worldwide Survey