'Commercial radiant cooled building: A first in India'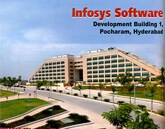 Infosys has the first commercial radiant cooled building in India. The Software Development Building 1 (SDB-1) on our Pocharam campus in Hyderabad has been featured as a case study by Cooling India magazine. It is 50% more efficient than any other building at Infosys.
Cooling India magazine, a specialized bi-monthly magazine focusing on the air conditioning and refrigeration industry, focused on the Hyderabad building for being the first of its kind to prove that radiant cooling was more efficient than conventional air-conditioning in India.
The most significant feature of the building is that it is split into two symmetric halves. While one half is cooled by conventional air conditioning, the other half by radiant cooling. All parameters in the two halves – area, number of occupants, orientation, envelope and lighting – are similar and therefore the building is ideally suited for comparing two different technologies. This allowed Infosys to demonstrate the efficiency of the radiant design from the beginning.
The case study also highlights the other green architecture features of this building - from efficient lighting to smart building systems. This building has also the LEED (Leadership in Energy and Environmental Design) India 'Platinum' rating by Indian Green Building Council (IGBC). LEED Green Building Rating System is a nationally and internationally accepted benchmark for design, construction and operation of high performance green buildings.
Published with permission of Cooling India