BT and Infosys jointly win the Global Telecoms Business Innovation Award 2012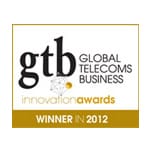 British Telecom (BT) and Infosys have been awarded the prestigious Global Telecoms Business Innovation Award 2012 under the Business Service Innovation category. The awards acknowledge innovation and excellence across the international telecoms industry.
The joint project 'Transforming Service Operations with Field Automation' was recognized as a great example of co-creation with tangible business outcomes by the Global Telecoms Business judges.
Together, BT and Infosys have prototyped, built and deployed a mobile field force solution called 'Field Force Optimization Suite' (FOS), leveraging joint IPs. The solution has been operationalized within BT, delivering significant benefits. The resultant success has led to a joint go-to-market program which has delivered new revenue streams for both companies.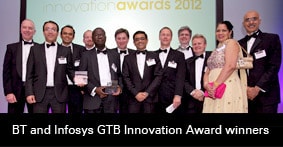 The FOS solution is a fully automated end-to-end system for field force resource management. It helps boost a company's productivity by accurately forecasting, optimally planning and positioning a large mobile workforce to changing work demands.
The solution, that was rolled out at the end of 2011 to 20,000 mobile workforce users in BT, achieved the following benefits:
Reduction in travel time through improved geographical alignment of technicians to service customers
Reduction in manual intervention from 31% to 18%
Significant improvements in customer service, through the ability to close business or solve customer problems
£20M savings over the last three years and 8% to 14% improvement in the number of technicians completing jobs first time
Due to the business service success of FOS within BT, both companies are now actively packaging this solution offering to other communication service providers and industry verticals that might be facing similar mobility challenges.
Learn more about Infosys' Communications offerings