Nobel Peace Laureate H. E. Daw Aung San Suu Kyi visits Infosys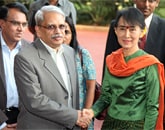 H. E. Daw Aung San Suu Kyi, Chairperson, National League for Democracy of The Republic of The Union of Myanmar visited the Infosys headquarters in Bangalore on November 17. The Nobel Peace Laureate was welcomed by Infosys Executive Co-Chairman S. Gopalakrishnan.
Interacting with a group of Infosys employees, the Myanmar democracy icon spoke about a wide range of topics including the important role technology can play in Myanmar's development, particularly with regard to furthering the level of education.
At the interaction, Gopalakrishnan spoke about the commitment of Infosys to undertake a six-month training program for 100 engineering students from Myanmar as part of the company's efforts towards raising the bar in technical education.
The interaction was followed by a campus tour during which H. E. Suu Kyi planted a Spanish Mahogany sapling, commemorating her visit to Infosys.
Related reading