Infosys Cloud Ecosystem Hub Wins the 2012 Golden Peacock Award for the 'Most Innovative Product/Service'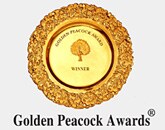 The Institute of Directors, India recently conferred the prestigious Golden Peacock Award to Infosys Cloud Ecosystem Hub. The award recognizes the Hub as the "Most Innovative Product/Service" of 2012.
Infosys edged out over 1,000 applicants from 25 countries to win this coveted award. Applicants were evaluated across an exhaustive set of parameters including innovation strategy and practices, innovation infrastructure, commercial success and impact of innovation for customers and third party endorsements.
Infosys unveiled the Cloud Ecosystem Hub in August 2012. The Hub enables rapid creation, adoption and governance of Cloud services across the ecosystem. Businesses can now accelerate time-to-market of Cloud services by up to 40 percent, improve productivity by up to 20 percent and achieve cost-savings of up to 30 percent.
About Cloud Ecosystem Hub
Cloud Ecosystem Hub: First unified enterprise gateway to a hybrid cloud environment

First in the market, the Infosys Cloud Ecosystem Hub enables your enterprise to build, manage and govern a unified hybrid cloud environment.
It helps you rapidly create, adopt and govern cloud services across your ecosystem. The unified self-services catalog, along with smart brokerage capabilities, provides you an enterprise-wide support mechanism for collaborative decision making that will accelerate assessment and deployment of best-in-class cloud infrastructure, platforms, and applications.
Benefits of the Infosys Cloud Ecosystem Hub include:
Rapid cloud adoption
Provision IT infrastructure and platforms in a matter of minutes
Easily subscribe to enterprise cloud services through a unified self-service catalog
Enterprise-wide decision support
Smartly assess and broker cloud services from across providers
Collaborate and deliver persona-based insights for informed decision making
Single-window management and assurance
Gain single-window access to operate and govern your entire cloud ecosystem
Optimize cloud setup with unified cloud resource usage and consolidated metering and billing
Learn more about Infosys Cloud Ecosystem Hub
More about Golden Peacock Awards 2012
Related Reading
Press release:Infosys Cloud Ecosystem Hub wins the 2012 Golden Peacock Award for 'Most Innovative Product/Service'
Blog:
Unclog the IT traffic jam. And no casualties
Cloud: Through the complexity. To the promise