Infosys honored with the coveted Daimler Supplier Award 2014 at the Mercedes-Benz Center in Stuttgart, Germany
Daimler AG honors outstanding performance of its direct and indirect supplier community annually with the Daimler Supplier Award. Infosys has been the proud recipient of the 2014 Daimler Supplier Award in the Outstanding Quality category, for professionalism in providing IT data center services.
Infosys has been working with Daimler for over 12 years with its cars, trucks and financial services business units across the globe. As a trusted partner for Daimler, Infosys has been delivering on key projects such as consulting for key business functions along with application development and support for both SAP-based and custom technology platforms.
Last year, Infosys successfully completed a large, complex transition program to take over support operations of Daimler's European Data Centre based in Stuttgart. Infosys has been efficiently managing the operations since then. The additional responsibility of running the infrastructure operations of one of the key regional sales and manufacturing units has reinforced the trust that Daimler has in Infosys.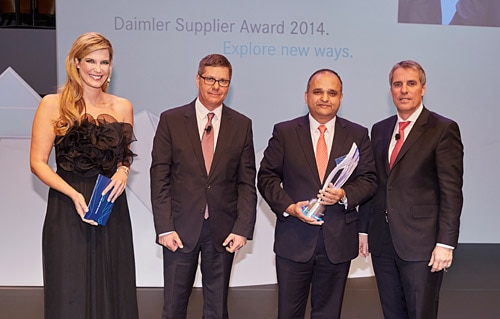 From right to left: Wilfried Porth, Member of the Board of Management of Daimler AG, Human Resources and Director of Labor Relations & Mercedes-Benz Vans; Sanjay Jalona, Executive Vice President, Global Head – High-Tech, Manufacturing and Engineering Services, Infosys; and Wendelin Wolbert, Head of International Procurement Services, Daimler AG.