Infosys features in CyberTrend's cover story
Excerpts from the article: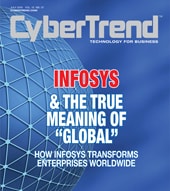 Lot of companies start off with a group of friends or colleagues asking themselves, "Wouldn't it be cool if . . . ?" But few of those companies came from such humble beginnings as Infosys, which was established in 1981 by seven young engineers with $250 in startup capital in Pune, India. Infosys's "wouldn't it be cool" idea was to not only develop software for the world's largest enterprises, but to offer its solutions via a global delivery model.
Nearly 35 years later, Infosys is now 180,000 employees and 950 clients strong. Beyond giving its customers the software they need to run their businesses, the company also offers consulting, engineering, business process development, and a wide variety of other next-generation services. But a great deal has happened between 1981 and today, and the Infosys story is one of constant innovation coupled with maintaining a culture of learning and creativity that makes the company's solutions stand out in a bustling and quickly evolving industry.
Excerpt reproduced with permission from www.cybertrend.com