Infosys wins 2016 Consumer Goods Technology Readers' Choice Awards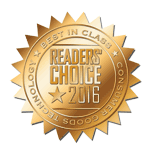 Infosys has been awarded the 2016 Consumer Goods Technology (CGT) Readers' Choice Awards in the Outsourcing and Consulting service categories. The CGT magazine is a leading authority on information technology for the consumer packaged goods industry, and the awards recognize technology solutions and services providers across 15 different categories. From ERP to Digital Commerce and everything in between, the survey covers the vast landscape of investment opportunities available for growth-hungry consumer goods organizations.
Now in its 16th year, the awards surveyed consumer goods professionals and business decision-makers across all businesses and asked them to identify their most valued solution and service providers. The Readers' Choice winners are companies with the best overall scores for the solutions and services that they offer consumer goods organizations.
The two awards are a testament to Infosys commitment to help consumer goods companies leverage the best in technology to achieve high performance.
Read more about the award categories: