Infosys Chandigarh Successfully Concludes Hackathon 2017
Infosys Chandigarh Development Center organized Hackathon 2017 for local school and college students with an objective to provide them with hands-on experience in real-time project environments, industry best practices and frameworks. Over 136 students from 26 educational institutions participated in the two-day event hosted by Infosys at its campus. The winning teams of Hackathon 2017 were felicitated by the Chief Guest, Shri Anurag Aggarwal, Home Secretary, Chandigarh.
The event consisted of separate tracks for contestants at school and college levels. 34 teams participated in this competition with each team comprising 3 to 4 members. These teams developed IT solutions to the problem statement they picked.
Infosys identified and nominated 15 employees to mentor these students at the Hackathon. These mentors guided the teams on several technical aspects and helped them to maintain consistency in their solutions. Over the course of the event, there were three check points to review progress and provide guidance.
16 teams qualified for the final round, which was evaluated by a panel of experts from various IT companies Chandigarh. The panel comprised Ajay Shrivastava, Additional Director & Center Head, STPI (Mohali), Navdeep Gill, CEO and Product Architect, Xenon Stack, Ishika Aggarwal, Lead -Corporate Development, IDS InfoTech, Vikas Ahuja, DC Head, Infosys Chandigarh, Rishi Pratap Singh, Principal - IP Deployment and Commercialization, Infosys, and Anuj Kumar, Senior Associate Lead - HR , Infosys.
Winners:
Under the school track, Strawberry Fields High School (Chandigarh) was declared the winner for developing a Traffic Management System with flexible lights switching facility to avoid jam caused due to accidents
Under the college track, DPS School (Sector 40-C) was declared the winner for building a Hostel Management System to monitor activities such as washroom usage, mess and attendance
The runners-up for each of the above categories were Manav Rachna International University (Faridabad) for developing Smarter Streets using AI, and Punjab Engineering College for building Fall Detection Mechanism through Augmented Reality, respectively.
Event highlights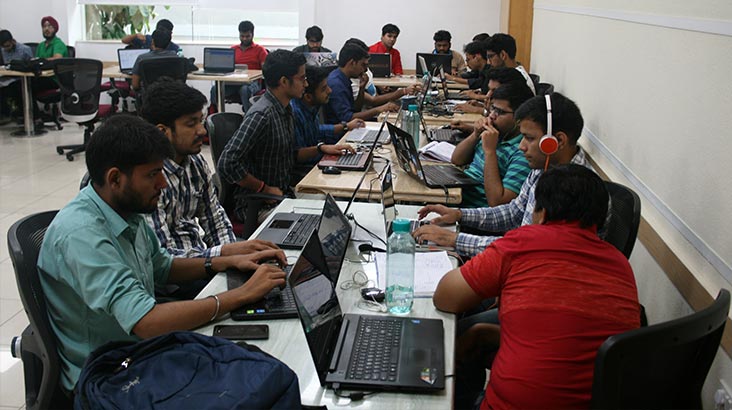 Participants coding during the Hackathon event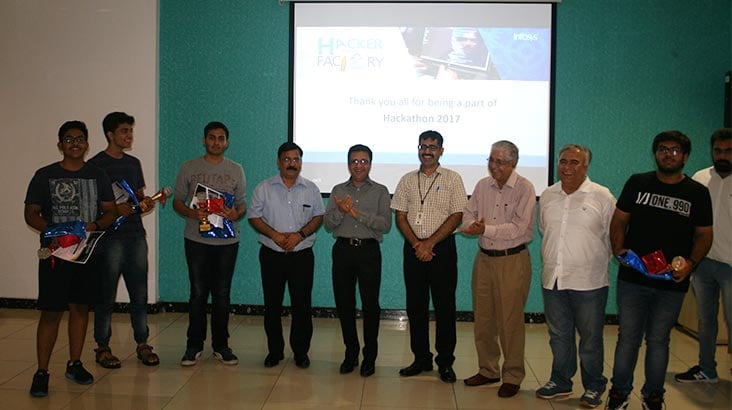 Winners under the college track - DPS School (Sector 40-C)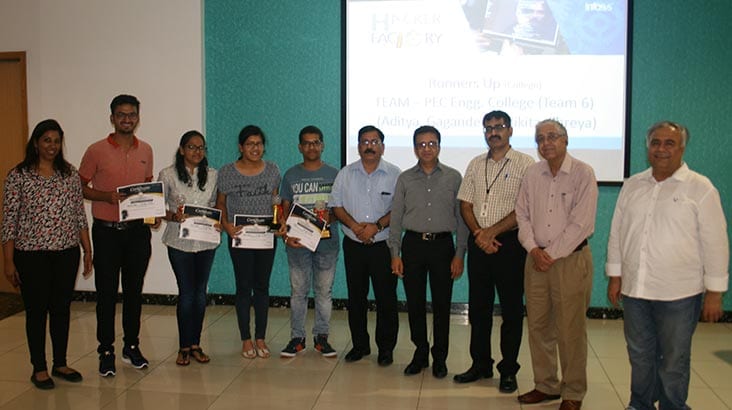 Runners-up under the college track - Punjab Engineering College