Infosys Positioned as a Leader in Everest Group DevOps Services PEAK Matrix™ Assessment and Market Trends 2019
Everest Group named Infosys a Leader in the DevOps Services PEAK Matrix Assessment and Market Trends 2019. Infosys' strength as per the report, was around customer-focused hub and spoke model, along with investments in DevOps labs and experience centers, which has helped create a significant mindshare among clients.
Clients also appreciated Infosys' ability to identify and implement organizational changes in line with evolving market demands through talent upskilling.
Leaders as per the report, stood out for strong focus on enabling culture and change management within the organization. Leaders are extensively exploring futuristic solutions in DevOps, leveraging technologies like AI, ML and blockchain to come up with innovative solutions.
Everest Group assessed 20 DevOps service providers on basis of their service focus, key Intellectual Property (IP) / solutions, domain investments and case studies. The assessment is based on Everest Group's annual RFI process for calendar year2019, interactions with leading DevOps services providers, client reference checks, and an ongoing analysis of the DevOps services market.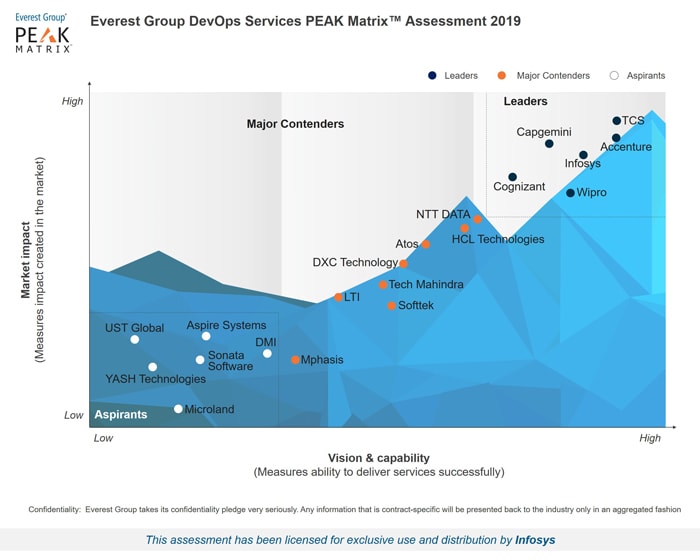 Download Custom Version of the Report
About Everest Group's PEAK Matrix™
Everest Group's PEAK Matrix™ assessments provide the analysis and insights enterprises need to make critical selection decisions about global services providers, locations, and products & solutions within various market segments. Likewise, providers of these services, products, and solutions, look to the PEAK Matrix to gauge and calibrate their offerings against others in the industry or market.
Leading organizations around the globe trust these comparative assessments because of their unbiased evaluation of factors such as vision, capabilities/functionality, talent availability, market success/impact, and cost.