Infosys recognized as Leader in Next-Gen Application Development & Maintenance Services by ISG, a leading global technology research and advisory firm
In its ISG Provider Lens™ Quadrant report, "Next-Gen Application Development & Maintenance (ADM) Services Global 2019," ISG evaluated Infosys as a Leader across all six of its quadrants: next-generation ADM, agile development, continuous testing, and next-gen ADM in BFSI, Healthcare and Life Sciences, and Manufacturing industries. The report evaluated a total of 29 global providers of next-gen ADM services.
Infosys has been positioned as a Leader across all the six quadrants and has been placed the farthest on competitive strength axis for both agile development and manufacturing quadrants. As per ISG, "'The leaders' among the vendors/providers have a highly attractive product and service offering, and a very strong market and competitive position. They fulfill all requirements for successful market cultivation, and can be regarded as opinion leaders, providing strategic impulses to the market. They also ensure innovative strength and stability."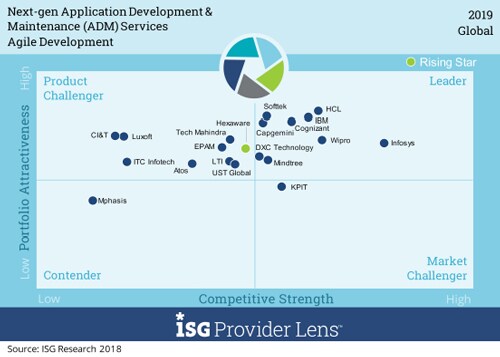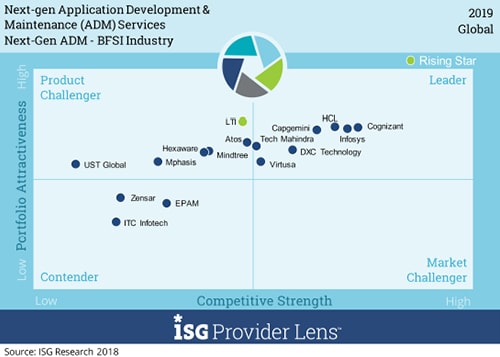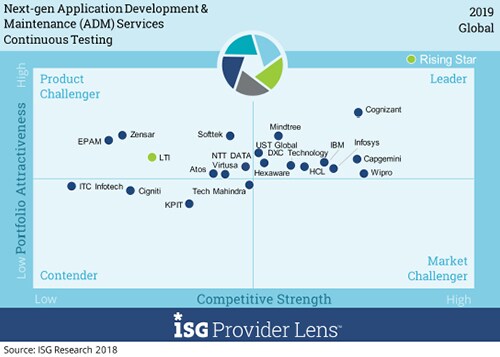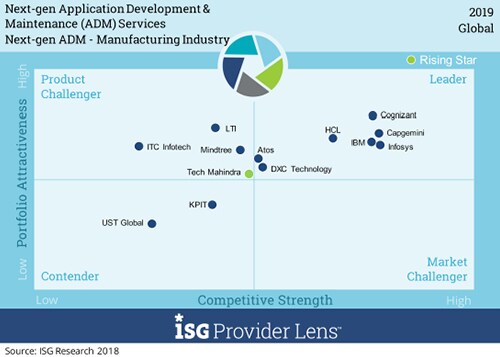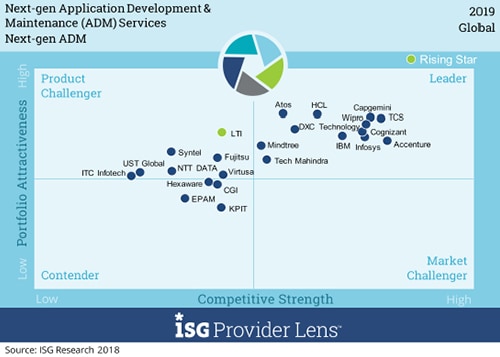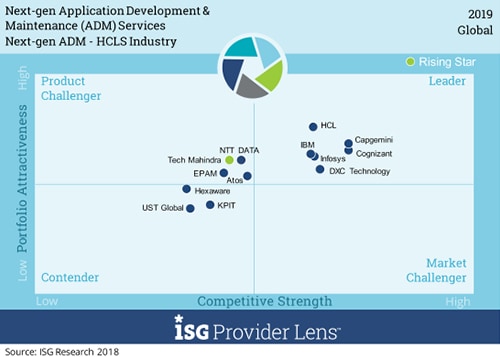 Key highlights from the report:
Infosys can be the right partner for clients that gradually want to shift to mature outsourcing models, given its changing focus towards newer and more evolved deal structures.
Value-add delivery approach: Infosys has a standardized and mature approach to managed services contracts, following its 'Navigate your next' strategy which focuses on enabling digital capabilities on priority and energizing the core systems and processes with next generation technologies.
Focus on people via software delivery: Infosys has made significant investments in people expertise with its acquisition and integration of Lodestone Consulting for enterprise functions and Noah Consulting for data management and analytics. Its software capabilities are underpinned by acquisitions – Skava and Panaya, and investment in its own platforms – Infosys Nia™ and EdgeVerve.
Zero distance approach: Project team members discuss the areas of improvement identified in a project and suggest workable solutions with quantifiable results. After mutual consent, the changes are incorporated at the process and system levels. This approach adds value beyond contractual constructs. Currently, 80 percent of the company's managed projects have used this 'Zero distance' approach.