Infosys Positioned among Top 3 in the HFS Research Native Automation Report 2021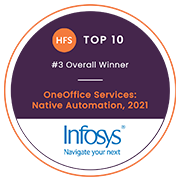 Infosys has been recognized as a Top 3 Native Automation service provider by HFS Research in the Top 10 report. The report highlights Infosys' ability to help its clients transform into cognitive and continuously learning organizations, while being its own best customer with AI at the core, and automation-first approaches.
For the report, HFS evaluated 12 leading service providers, that leverage a range of emerging technologies to create intelligent and automated workflows in the cloud, enabling the new "native" standards for consistent cross-functional enterprise operations.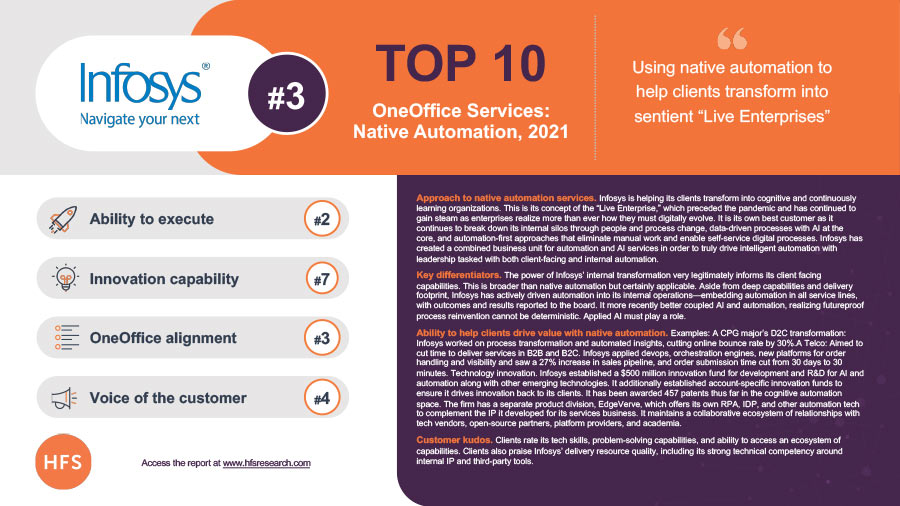 Infosys' strengths:
"Live Enterprise": Has continued to gain steam as enterprises realize more than ever how they must digitally evolve.
Infosys' internal transformation journey: Actively driven automation into its internal operations—embedding automation in all service lines.
Strong narrative on applied AI: Recently better coupled AI and automation, realizing futureproof process reinvention cannot be deterministic. Applied AI must play a role.
AI Ecosystem: Collaborative ecosystem of relationships with tech vendors, open-source partners, platform providers, and academia
Client recognition: For strong tech skills, problem-solving capabilities, and ability to access an ecosystem of capabilities. Clients also praise Infosys' delivery resource quality, including its strong technical competency around internal IP and third-party tools.