Infosys positioned as a Leader in the IDC MarketScape: Asia/Pacific Managed Cloud Services 2021
The IDC MarketScape has positioned Infosys as a Leader in the IDC MarketScape: Asia/Pacific (Excluding Japan) Managed Cloud Services 2021 Vendor Assessment (Doc # AP47014921, August 2021. This IDC MarketScape study uses the IDC MarketScape model to provide an assessment of managed cloud services (MCS) providers with specific offerings and capabilities in the segment. It discusses both the quantitative and qualitative characteristics that lead to success in the ecosystem.
The IDC MarketScape notes that Infosys markets its cloud services under the Infosys Cobalt brand, which Infosys showcases as the industry's first branded cloud services offering. Infosys Cobalt is an integrated set of services, solutions, and platforms that brings together the Infosys' investments and capabilities in cloud-centric innovation, development, transformation, and managed services. A key strength of Infosys Cobalt is its rich, structured, and expanding catalog of assets (currently 25,000+) — frameworks, methodologies, reference architectures, templates, platforms, dashboards, blueprints, and such — spanning the entire spectrum of business, technology, and knowledge domains that comprise Infosys' cloud services portfolio.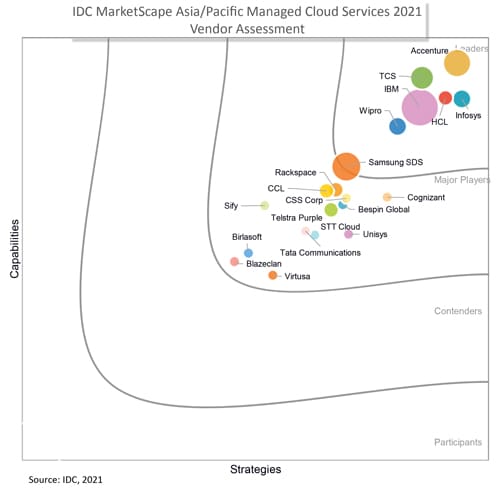 IDC MarketScape vendor analysis model is designed to provide an overview of the competitive fitness of ICT suppliers in a given market. The research methodology utilizes a rigorous scoring methodology based on both qualitative and quantitative criteria that results in a single graphical illustration of each vendor's position within a given market. The Capabilities score measures vendor product, go-to-market and business execution in the short-term. The Strategy score measures alignment of vendor strategies with customer requirements in a 3-5-year timeframe. Vendor market share is represented by the size of the icons.
Strengths
Infosys' historic strength in the enterprise business applications services space and its strong partnerships with a breadth of hyperscalers, infrastructure vendors, and independent software vendors (ISVs) make it a credible partner for cloud-enabled business transformation engagements.
Infosys' investment in and ambition for its Cobalt offering is impressive. For instance, with the Infosys Cobalt Community, the vendor aims to create the world's largest enterprise cloud community to power enterprise innovation at scale.
Infosys provides multiple buying centers within client organizations with a wide range of innovative pricing and engagement models for their cloud transformation engagements. Particularly noteworthy among these are models that are business outcome based, fund clients' transformation agenda, or investment in co-innovation with customers.
Technical skills of its staff, efficient management of project staffing, and excellent responsiveness to customer feedback were identified by a customer as Infosys' key strengths.
Click here to access the report excerpt.