Infosys Positioned as a Leader in the IDC MarketScape: Worldwide Cloud Professional Services 2022 Vendor Assessment
Infosys has been positioned as a Leader in the IDC MarketScape: Worldwide Cloud Professional Services 2022 Vendor Assessment (doc # US48061322) for its employee capability, experience, and domain knowledge of working with global enterprises. This study uses the IDC MarketScape model to provide an assessment of cloud professional services market by analyzing 20 digital and cloud consulting service providers based on a comprehensive framework and set of parameters.
The assessment highlights the full potential of digital transformation with Infosys Cobalt enabling businesses to redesign the enterprise from the core and build new cloud-first capabilities while creating new revenue streams, innovative offerings, and seamless experiences. Infosys Cobalt's community brings together a large set of experts to rapidly ideate, prototype, cocreate, and co-innovate new solutions that help future proof businesses.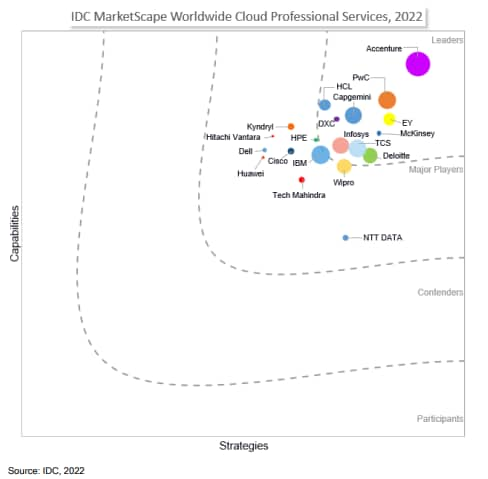 IDC MarketScape vendor analysis model is designed to provide an overview of the competitive fitness of ICT suppliers in a given market. The research methodology utilizes a rigorous scoring methodology based on both qualitative and quantitative criteria that results in a single graphical illustration of each vendor's position within a given market. The Capabilities score measures vendor product, go-to-market and business execution in the short-term. The Strategy score measures alignment of vendor strategies with customer requirements in a 3-5-year timeframe. Vendor market share is represented by the size of the icons.
The report highlights Infosys's deep-rooted, award-winning partnerships with a rich ecosystem of partners including major hyperscalers that deliver a unique value proposition of capabilities, expertise, and solutions that help clients navigate cloud transformation in an industry-specific context. The report also noted that the Infosys Innovation Network made up of start-ups, living labs, and global innovation hubs in partnership with academia and venture capitalist firms helps incubate new solutions to help customers plug specific gaps in their technology landscape.
Click here to access the excerpt.