HFS Top 10 Supply Chain Providers 2021 Report: Infosys in the Winners Podium
Infosys is in the winders podium in the Top 10 Supply Chain Providers 2021 report by HFS Research. The 2021 HFS Top 10 Supply Chain Service Providers report analyzes 11 leading service providers across a defined series of innovation, execution, and voice of the customer criteria. The report looks at supply chain IT, business, and consulting services across supply chain planning, order management, inventory management, sourcing and procurement, aftermarket services, and sustainability.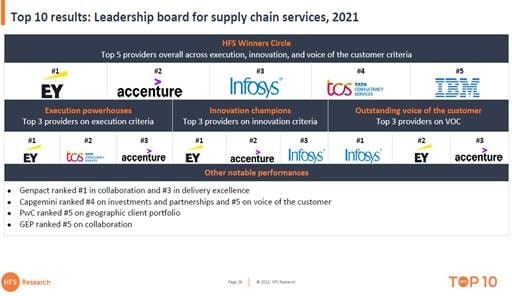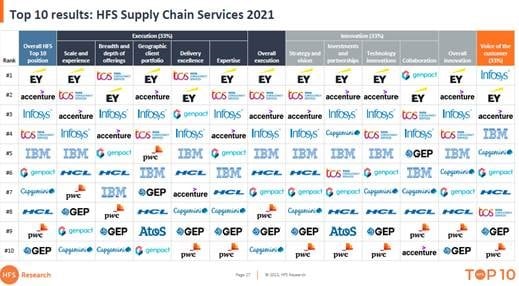 Infosys was recognized for its "Live" supply chain solutions, part of Infosys Cobalt, designed to make supply chains adaptive and resilient, resembling living organisms' ability to sense, reason, respond, and evolve to uncertainties.
In the report, Infosys was ranked #1 under the voice of customer criteria. Infosys was recognized for its technical capabilities, delivery excellence, and wide array of integrated end-to-end supply chain offerings spanning transformation strategy, managed services, and commercial products.
Infosys' strengths highlighted in the report are:
Integrated supply chain offerings: Infosys brings together strategy consulting, managed services, and digital solutions capability to support different areas of the supply chain
Strong narrative on the digital supply chain: Includes solutions that leverage emerging technologies like AI, machine learning, automation, and blockchain to enable the supply chains to be "life-like"
Investments in IP: Infosys' EPOCH 4.0 (Extensible Pre-Configured Omni Channel Hub) focuses on retail e-commerce enterprise transformation journeys and rapid rollout of omnichannel fulfilment capabilities
Partner ecosystem: To augment Infosys IP with best-of-breed partner solutions and bring an ecosystem sandbox to its clients leveraging partners such as IBM, Blue Yonder, SAP, and Oracle
Client recognition: For strong technical capabilities, responsive and overall delivery excellence
Register here to access the report
Related Readings: