Infosys named a Leader in IDC MarketScape: Worldwide IT Service Management (ITSM) Implementation Services 2019 Vendor Assessment
Infosys has been positioned as a Leader in the IDC MarketScape: Worldwide IT Service Management Implementation Services 2019 Vendor Assessment (Doc # US44806818, February 2019).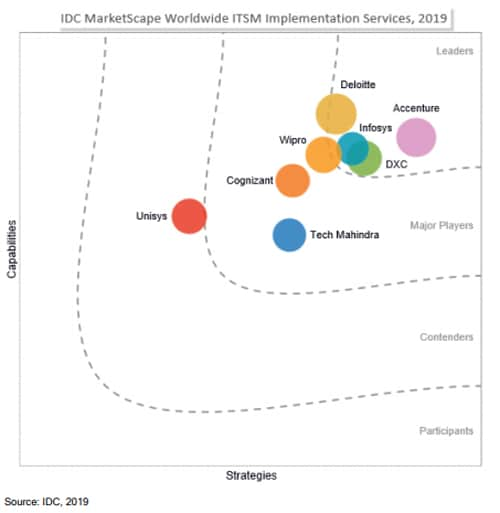 IDC MarketScape vendor analysis model is designed to provide an overview of the competitive fitness of ICT suppliers in a given market. The research methodology utilizes a rigorous scoring methodology based on both qualitative and quantitative criteria that results in a single graphical illustration of each vendor's position within a given market. The Capabilities score measures vendor product, go-to-market and business execution in the short-term. The Strategy score measures alignment of vendor strategies with customer requirements in a 3-5-year timeframe. Vendor market share is represented by the size of the icons.
The IDC MarketScape research is a quantitative and qualitative assessment of the characteristics that explain a vendor's success in the marketplace and help anticipate its ascendancy. This IDC MarketScape covers a variety of vendors participating in the worldwide ITSM implementation services market. This evaluation is based on a comprehensive framework and set of parameters expected to be most conducive to success in providing ITSM implementation services in both the short term and the long term.
Key Highlights
According to the report, "IDC analysts viewed Infosys' high customer retention rate as a key asset, based upon the company's ability to retain ITSM customers for future IT services work."
"According to IT buyers surveyed, Infosys received high marks for the benefits its portfolio delivers, based upon its ability to provide a full range of ITSM services (business consulting, custom apps development on ITSM platforms, managed services, support services, etc.)."
"Consider Infosys when you want to take ITSM outside of your IT department only by leveraging a vendor that offers a full life cycle of ITSM services complemented with a rich portfolio of prebuilt offerings."
Infosys Differentiation
Infosys offers ITSM solutions that run across the entire service life cycle, from advisory to implementation to managed services and support and puts a strong emphasis on expanding the ITSM offering outside the IT department to new Greenfield enterprise departments like HR, project portfolio, and finance.
Infosys' ITSM offerings focus on new technologies like machine learning, Internet of Things (IoT), and virtual assistants.
Infosys is also differentiated by its significant investment in vertical specific ITSM offerings, specifically in pharma, insurance, and retail.
Infosys also has a unique offering in its Enterprise Service Management (ESM) Café ITSM solution, which is a prebuilt solution that includes over 50+ prepackaged ServiceNow point solutions and apps for organizations that want to get up and running as quickly as possible.