Infosys is a Leader in the IDC MarketScape
Infosys is positioned as a Leader in the IDC MarketScape for Microsoft Dynamics 365 implementation services for Asia/Pacific (excluding Japan).
This IDC MarketScape study assessed seven Dynamics 365 implementation vendors in Asia/Pacific (excluding Japan) on both the strength of their current Dynamics 365 implementation service capabilities and how well placed they are to grow Dynamics 365 adoption with their sound growth strategy.
We have been positioned a leader, which is a testimony to our burgeoning credentials in this marketplace. This has been made possible by our focused vision for this region, which is being executed to perfection by our high performing team, thereby helping us grow our client base exponentially in the region.
"Infosys's "Platform of Possibilities" framework powered by Microsoft's technology stack has been built as a one-stop shop for clients looking for an end-to-end solution stack to fuel their digital transformation journey" said Rijo George Thomas, Senior market analyst for IDC's Asia/Pacific (AP) Services and Cloud Research Group. "Their focus on jointly building digital solutions with Microsoft, automation, and its strong regional presence in Asia/Pacific are well suited for customers looking to scale their Dynamics 365 deployments in the region."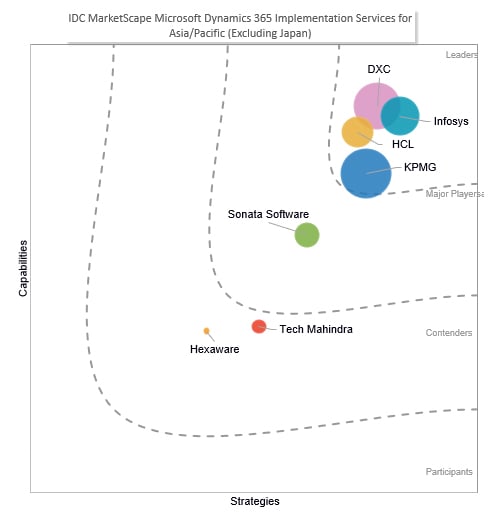 IDC MarketScape vendor analysis model is designed to provide an overview of the competitive fitness of ICT suppliers in a given market. The research methodology utilizes a rigorous scoring methodology based on both qualitative and quantitative criteria that results in a single graphical illustration of each vendor's position within a given market. The Capabilities score measures vendor product, go-to-market and business execution in the short-term. The Strategy score measures alignment of vendor strategies with customer requirements in a 3-5-year timeframe. Vendor market share is represented by the size of the icons.
Highlights from the report:
Clients commended Infosys for intellectual property, range of services offered, ability of the vendor to scale in the region, and vendor innovation in specific areas such as cloud and automation.
Some Infosys clients interviewed by IDC praised its ability to scale deployments, range of services, and strong understanding of the customers' business model
The IDC MarketScape noted that Infosys has built a one-stop shop framework called "Platform of Possibilities" which leverages Microsoft stack with Azure as the platform layer and Dynamics 365 as the business process layer.
IDC also found Infosys to be very strong in the breadth of tools and templates to address specific client challenges in testing, security, monitoring, and management during Dynamics 365 implementation across finance & operations, retail, talent, and customer engagement platforms
Infosys has solutions built on its Reference Organization Model (REFORM) framework, which is a preconfigured reference solution tailored to an industry or line of business comprising of end-to-end process flows and best practices