Infosys positioned as a Strong Performer in Forrester MBAS Wave 2021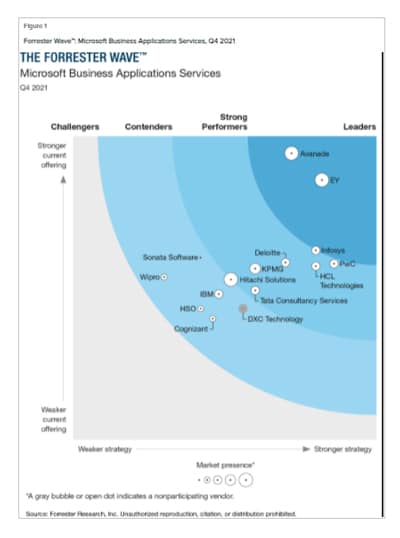 Entrepreneurial Business: "Infosys has quietly built an entrepreneurial MBAS business over the past three years. Its strategy is strengthened by Cobalt — a companywide initiative focused on repeatable platform offerings delivered via consumption-based offerings. Hungry for large transformational deals, Infosys has applied innovation to its own market approach by, for example, leveraging its relationships with private equity firms as a channel".
Microsoft Connect: "Infosys is a member of the Microsoft Inner Circle and has been making significant investments into the Microsoft partnership. Its roadmap doubles down on domain solutions traversing the Microsoft stack in areas such as intelligent manufacturing, digital experience, and sustainability".
Differentiated Offerings and Talent Focus: "Infosys' differentiates its current offering from the competition with a precise focus on solution delivery and a team of enterprise architects focused on the Microsoft stack. The firm benefits from its heritage of investing in talent and skills development and a roster of technical and vertical intellectual property (IP)".
"Reference clients scored Infosys highly on program management and
solution delivery, the quality of its talent, and its ability to proactively bring Microsoft
into engagements. Infosys is a viable partner for strategic transformational engagements, particularly at scale"
Click here to access the complete report.
Analyst Recognition
Infosys Positioned as a Leader in IDC MarketScape: Worldwide Microsoft Implementation Services 2021
Case Study
HFS Case Study: Siemens Mobility partners with Infosys to transform its CRM landscape
Testimonial
Key Energy partners with Infosys to modernize the enterprise landscape with Next-Gen IT as a Service (ITAAS)