IDC recognizes Infosys as a LEADER for Microsoft Dynamics 365 Implementation Services in APAC 2021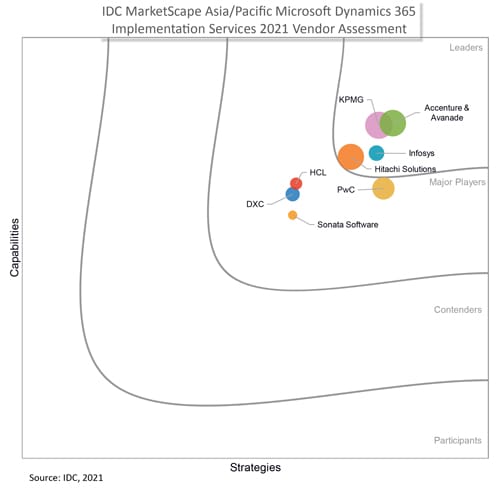 Key highlights of Infosys from the report:
Expanded coverage across industry: Infosys has expanded its service coverage across industries, and currently provides productized preconfigured solutions built on the Infosys Reference Organization Model (REF-OR-M) framework to solve industry-specific challenges.
Strong localization with local hires and partner network: Infosys showcases a strong localized GTM strategy in the key regions where it operates. Additionally, Infosys also emphasized on its efforts to expand the partner ecosystem across advisory, services, change management, and vertical/domain-specific ISVs to bolster the reach of its Dynamics 365 services in Asia/Pacific.
Full breadth of Dynamics 365 service capabilities with the agility of a startup: According to IDC analysis, Infosys' strength lies in its ability to provide the full breadth of services around Microsoft's Business Applications, with the agility and flexibility of a startup, a culture fostered collectively by regional Microsoft Business Applications services leadership.
Customer feedback: Customers interviewed by IDC praised Infosys' focus on client outcomes, technical expertise with Microsoft products, and relation with Microsoft.
Analyst Recognition: Infosys Positioned as a Leader in IDC MarketScape: Worldwide Microsoft Implementation Services 2021
Case Study: HFS Case Study: Siemens Mobility partners with Infosys to transform its CRM landscape
Testimonial: Key Energy partners with Infosys to modernize the enterprise landscape with Next-Gen IT as a Service (ITAAS)