Infosys recognized as a 'Leader' in IDC MarketScape 2018 for worldwide SAP implementation services ecosystem
IDC released its MarketScape report on SAP implementation services recognizing Infosys, an SAP Global Services Partner, as a 'Leader' in this space.
REGISTER TO DOWNLOAD
The report assessed 11 SAP applications systems integrators (SIs) with global scale and broad portfolios across IDC's research areas. The report rates Infosys highly in terms of its offerings/functionality roadmap and the productivity of its innovation/R&D. Infosys was also acknowledged for its integrated SAP services for organizational change management (organization readiness and user adoption), SAP-enabled business transformation, business value realization/value governance, and program management.
Ali Zaidi and Gard Little, the lead analysts of the report, recommend that buyers consider Infosys when blending their legacy SAP environment with the capabilities of S/4HANA, particularly when Leonardo is a top priority. The key Infosys differentiator is how they merge new and traditional services while successfully integrating these with other implementation experts in the SAP ecosystem. These capabilities have proved beneficial for first-time clients attempting to go live with SAP S/4HANA Finance (formerly SAP Simple Finance).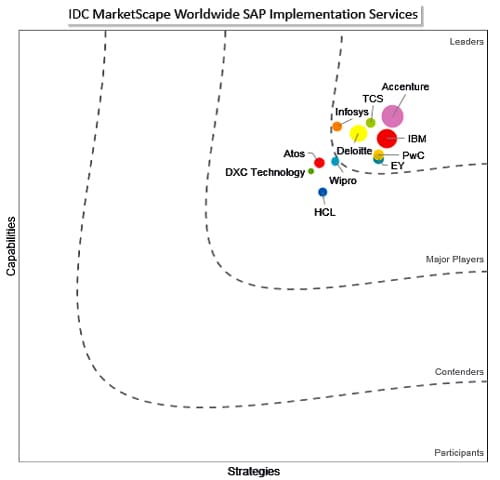 IDC MarketScape: Worldwide SAP Implementation Services Ecosystem 2018 Vendor Assessment, May 2018, Ali Zaidi and Gard Little
IDC MarketScape vendor analysis model is designed to provide an overview of the competitive fitness of ICT suppliers in a given market. The research methodology utilizes a rigorous scoring methodology based on both qualitative and quantitative criteria that results in a single graphical illustration of each vendor's position within a given market. The Capabilities score measures vendor product, go-to-market and business execution in the short term. The Strategy score measures alignment of vendor strategies with customer requirements in a 3-5-year timeframe. Vendor market share is represented by the size of the circles. Vendor year-over-year growth rate relative to the given market is indicated by a plus, neutral or minus next to the vendor name.
Related reading