Research Findings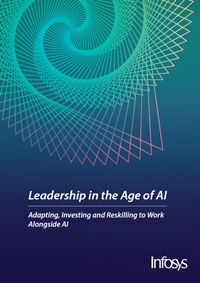 The research that polled over 1,000 global C-level executives at large organizations across seven markets, revealed:
Artificial intelligence is becoming a core aspect of business strategy. Moreover, broader adoption of AI is fundamentally changing every aspect of the way leaders lead—from the way they recruit and train, to the way they inspire teams, to the way they apply AI and human power together to achieve their vision for the company, to the way they drive innovation and compete. 45% of IT decision makers report improved process performance from AI and 40% report productivity gains due to IT time spent on higher-value innovative work.
A primary factor driving ROI from AI, according to the research, was a clearly defined strategy. 80% of respondents who said they've seen at least some measurable benefits from AI agreed or strongly agreed that their organization had a defined strategy for deploying AI.
Business leaders not only have to evolve quickly in this new and dynamic environment, but they also need to champion change throughout the organization to bridge the gap between old and new business and work realities. A full 76% of all respondents were either confident or extremely confident that the senior leaders of their organization understand and promote the positive aspects of AI.