AI/Automation
CPQ – A Platform Built for Speed
"Price is king" could be a truism, except it isn't always true.
Working recently with a mobility solutions company, we identified its most important competitive drivers. Our survey of the sales team and distributors produced surprising results: Responsiveness ranked above product availability, competitive price, and strength of client relationship. Conversations with another client, which sells plumbing fixtures, found that turnaround time was the No. 1 driver of competitiveness.
Facing greater competition and a challenging business environment, companies must respond quickly to customer requests for price or product information. That's particularly difficult when catalogs are tens of thousands of items deep. Companies increasingly look to configure, price, and quote (CPQ) tools to accelerate their corporate metabolism.
These solutions use a guided approach to help a salesperson or partner rapidly identify the right product, configure options to match customer requirements, calculate a price based on those selected options, and create a quote for the customer's review and approval. Everything is presented in a user-friendly format. As a result, organizations can digitize the sales process, provide price consistency, offer cross-sell and upsell recommendations, and improve collaboration among internal and external parties.
As CPQ tools become more powerful, they also help companies rethink their business models. CPQ solutions enable subscription-based models, product plus service bundles, and customer self-configuration. The traditional made-to-stock approach optimizes production but strains organizations' sales efficiency, particularly with a large variety of products.
In response, many organizations deploy assemble-to-order, make-to-order, and configure-to-order strategies that address customer needs more precisely and improve conversion rates. These models require an application to capture configuration options for salable items, then route that configured item to an enterprise resource planning (ERP) system for manufacturing and fulfillment. This product customization usually is best achieved by a product configurator. As configuration drives pricing, the logic to calculate the price needs to link closely to the configuration logic and data.
When the system is successfully implemented, businesses spend less time on manual configuration and also improve engagement and customer experience.
CPQ features
While CPQ solutions vary, several core features are standard, including those in Figure 1. Almost all products:
Enable the system to configure products, subscriptions, and service bundles and then provide customers with price quotes.
Capture logic for configuring the product specifications.
Manage complex workflows to create, modify, and approve quotation documents.
Integrate with upstream and downstream systems for automating the order process flow.
Integrate with master data systems for customer, product, and price data in addition to the ERP system and supply chain network for inventory and lead time information.
Provide analytics and reporting for pricing guidance and profitability analysis.
Integrate with external systems to provide various analytics and reports, such as price variance, quote conversion, and consumption data.
Figure 1. Conceptual representation of CPQ capabilities
A well-implemented CPQ tool, together with a well-governed workflow, increases revenue and margin, improves sales productivity, reduces working capital, improves customer experience, and provides improved insights.
Figure 2. The value a CPQ tool can deliver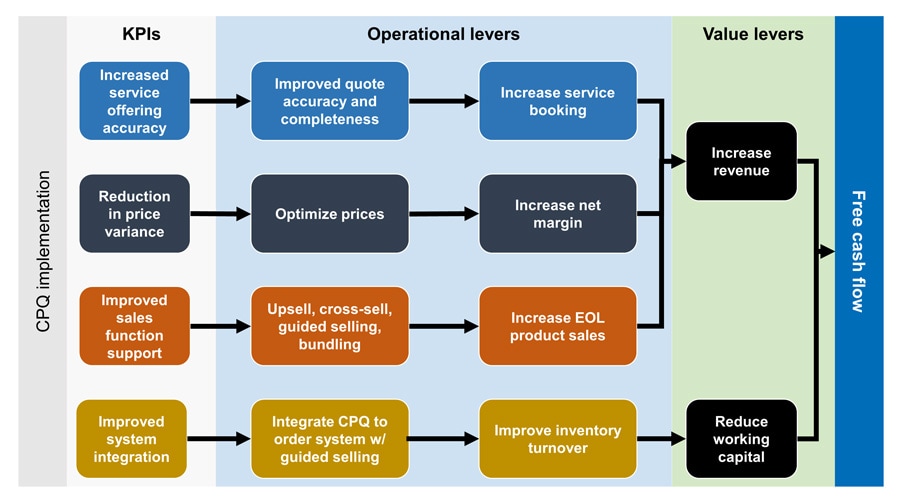 Infosys has found that these benefits are significant, but as with any IT implementation, there are pitfalls.
CPQ challenges
Businesses often struggle to implement CPQ tools when they are burdened with an overly complicated IT system. In too many companies, this includes multiple IT stacks, ERP systems, and customer resource management (CRM) systems. Major challenges include:
Product organization silos — Company acquisitions often lead to siloed product categories that result in different selling processes and varied product-specific IT applications, underlying data, and rules. The lack of common taxonomy or product definitions makes standard product structures, bundled offers, and consistent pricing difficult to manage.
Overengineered configurations — Organizations often create too many price points, which is difficult for customers to understand and for sales teams to communicate. Complex product configurations and related prices create steep learning curves for users and require continual training.
Data quality and complexity — Reliance on spreadsheets and a splintered IT landscape make it difficult to standardize configurations and pricing logic, which are essential for a well-functioning CPQ solution. Also, nested or other complex configurations, geography-specific product requirements, and poor product data quality can make it challenging to implement CPQ.
Sales behavior — Extensive use of price overrides to create discounts and win business limits adoption of CPQ solutions. This is exacerbated when organizations use off-system or email-based approvals, even when systemic workflows have been established. Over time, this reduces data consistency and limits the management's ability to enforce strong pricing governance systems and gather insights from the data.
Selecting the right CPQ platform
Some of these barriers are overcome simply by choosing the tools best suited for the distinct characteristics of an organization. Companies now have many choices for CPQ platforms, and vendors continually update their features, so identifying the right platform for each company can be tricky. Organizations need to consider a number of factors [see Figure 3 below], including:
Product configuration — Determine which configuration options create product differentiation, and group those options together logically to avoid unnecessary complexity and confusion. A real-world comparison is found in the automotive industry; Tesla's product configurator offers about five configurable options, while Cadillac or Honda has dozens for each model. A particularly large number of options not only increases the supply chain and manufacturing complexity but also makes the experience of selecting the right option overwhelming.
Identify the users — The need to sell through multiple channels leads to several important questions when selecting a CPQ tool. Should the tool be only internally facing, or should partners have access to it? Should customers use CPQ to configure products? Should self-configuration be enabled for complex products? Depending on the routes to market, personas and user journeys should be documented to ensure that the designed experience aligns with expectations. Some Infosys customers have built their user experience components from scratch to allow CPQ to act as an omnichannel engine.
Business capabilities — Align business needs and the tool's capabilities. Companies need to document the product configuration logic, price-by dimensions and rules, master data, and upstream and integration requirements. This reduces iteration during solution design and implementation after timelines and budgets have been committed. CPQ tools automate and simplify the business processes as designed rather than magically design new processes.
System integrations — CPQ rests in the middle of multiple systems, including ERPs, CRMs, and sometimes product life cycle management. Not all CPQ tools can integrate with these systems directly out of the box, so choosing the right platform will save additional work and customization and shorten the return on investment.
Value case — Organizations should identify value potential for a logically grouped set of capabilities, facilitate agreement with the sales and sales operation teams on the benefits, and establish a baseline upon implementation to track benefits.
Figure 3. CPQ integrations
Due diligence
CPQ tools deliver many benefits to a sales organization, including increased productivity, improved quote accuracy, and better pricing execution. All these improve net margins. However, benefits fail to materialize when there isn't enough consideration given to the user experience, technical architecture, implementation road map, and changes to sales behavior.
We have seen clients reimplement solutions after just a few years, when complex process flows or substandard architecture design led to poor user experience. The companies that succeed in CPQ implementation create personas and journey maps; they understand the process key performance indicators and the thousands of available capabilities. That strategic thinking and exhaustive research in advance make the difference between generating new business and wasting effort.
Gopalakrishnan Jayaraman and Gus Blessing, both senior consultants at Infosys Consulting, contributed to this report.