AI/Automation
Why AI-Augmented Virtual Assistants Will Soon Be Your Travel Companion
Today, we have an app for almost everything – including doing the most mundane of tasks. The travel industry is no different and is flooded with all kinds of apps from helping users find a one-way ticket with a stopover (Skiplagged), to locating restaurants closest to your boarding terminal and ordering your meal before you get there (Grab). But with artificial intelligence making a presence in a number of areas of our life, just an app is no longer enough.
Travelers are looking for more personalization, and the smartphone is the tool leading us from app-based communication to two-way conversation. Welcome to virtual assistants and chatbots that are set to significantly enhance our travel experience. Wouldn't it be nice if instead of downloading and interacting individually with multiple apps - taxi, hotel, flight, etc., we could interact with just one, AI driven virtual assistant who knew our preferences, upcoming schedule, travel entitlements/budgets and helped plan our entire trip, making taxi arrangements, flight booking, hotel booking, ordering airline/airport food, parking, local excursions, dinner booking and more. This may sound too good to be true and although in its infancy there are some options available already.
Infosys helps airports and airlines conceptualize and create virtual assistants and chatbots which accompany travelers through all phases of their journey, from trip planning to travel and back.
Virtual travel assistants and chatbots are being designed to help with following aspects:
Improve passenger experience
Personalize recommendations based on traveler preference and entitlement
Provide and coordinate travel changes during IRROPS (irregular operations), enabling rebooking /re-planning of the remaining itinerary
Offer seamless experience while changing travel plans on the go
Ancillary revenue opportunities for travel providers
Airlines, hotels, car rentals, restaurants and others can offer their products by leveraging location based services, enhance passenger experience and positively impact their brand
They can also offer on-demand ancillary options to passengers
Seamless travel experience
A single virtual assistant to interact with on the entire trip integrates with OTAs (Online Travel Agency), airlines, hotels, car rentals, taxi, parking, and restaurants to provide a connected experience across the entire travel eco-system
AI driven personalized information to passengers 24/7, whether they are at home planning their trip, on the way to the airport, at the airport, in-flight, business dinners or more
An interesting aspect is that the AI chatbot can play a role at every phase of the travelers' journey.
Pre-trip: Helping travelers plan their upcoming trip with personalized travel options
During the trip: Providing information 24/7, responding to changes in the travel plans on the go , opportunities for service providers to offer real-time contextual promotions to travelers
Post Trip: Provide feedback to travel providers especially around not-so-pleasing experiences, confirmation of reward accrual and redemptions, make changes to preferences, etc.
Working in this direction is a company named Mezi, which offers a personalized virtual travel assistant. This company has partnered with online travel agents – Expedia, and financial institutions – American Express, to discover travel options and complete the interaction with a booking. Designed for frequent and harried travelers – the corporates, the Mezi virtual assistant uses natural language processing to create a personal experience through which it gathers requirements and preferences of the person.
But when one is rushing from meeting to meeting, and needs to make and change travel plans while on the go, the desire is for more than just another virtual travel assistant. Identifying these pain points in unplanned travel and helping fast paced corporates address these concern is Sam (Smart assistant for Mobile). A combination of AI-powered chat and people, Sam offers both a technology and human experience, and goes beyond letting the traveler just make travel plans to also access real-time updates on estimated time to airport, delays in departure, the exact carousel that will bring out the luggage, weather at destination, and more.
Infosys has also designed an AI-driven chabot which can accompany passengers from their home to the airport and back. It provides seamless experience to travelers for check-in, boarding pass, real-time flight info, security wait times, weather information, F&B (Food and Beverage) options etc. This chatbot will eventually integrate with Infosys Entertainment Experience Platform to provide personalized passenger engagement at the airport.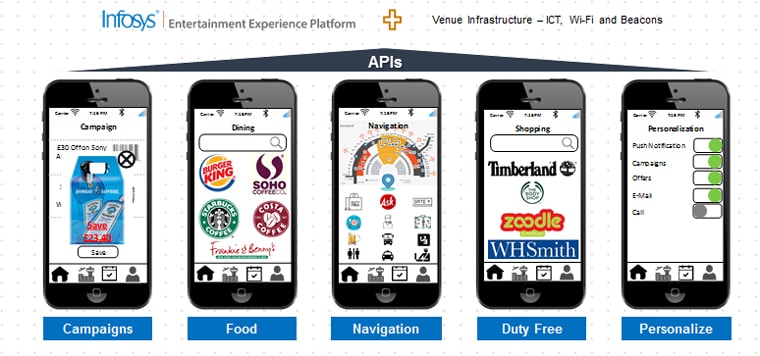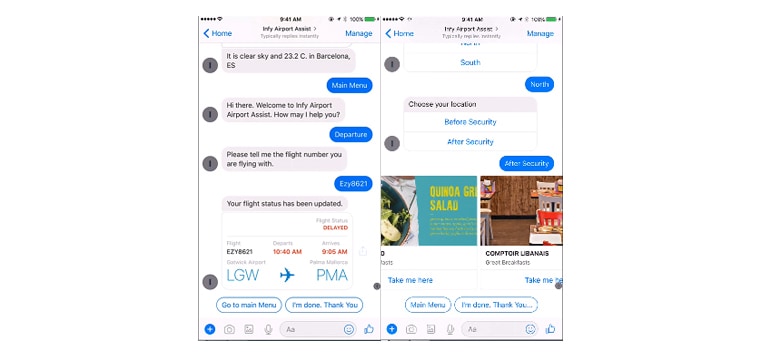 While AI-based virtual assistants are becoming increasingly popular and more are being launched even as you read this post, we feel it is important that these are built keeping the passenger needs at the center. Revenue opportunities for airlines, airports, hotels and other travel providers are immense. In the near future, I see an increasing integration of services a traveler is likely to need while on a trip, and access to them becoming intelligent, personal and predominantly voice-based travel assistant.