Data Analytics
Being Digital - Learnings from Client Conversations
Organizations across industries are battling with legacy business models, fast losing their ground to the prevailing digital onslaught. According to Nigel Fenwick from Forrester Research, "By 2020, every company will become either a "digital predator" or "prey". Before we get to the organizational imperatives, let's talk about the three major phenomena that are leading to the adoption of digital.
Quantity and Complexity of Data: Billions of users and organizations interacting through innumerable connected devices and media are leading to an unprecedented increase in the quantum and complexity of data. This data lends itself to infinite insights offering innumerable possibilities.
Technology Price to Performance Ratio: Moore's law has become almost redundant today, with the price to performance ratio of available technologies dropping by the minute.
Speed of Innovation: Data driven insights, powered by extremely affordable and high performing technology, is the superpower every innovator dreams of. This has led to overnight evolution of disruptive business models. Leveraging this very "superpower", Uber disrupted the traditional taxi / ride share industry across the world and is now on the path to reshape the food delivery industry and chartered aviation industry. AirBnb and Netflix are other prominent examples of major industry disruptors in the recent past.
Traditional businesses should be worried. If they do not understand their data and are not set up to be responsive, they will become a "digital prey".
Digital Imperatives for Every Organization
I meet a lot of clients across different industries and have observed that a number of them are yet to realize the full potential of digital. A common problem I encounter in my client conversations is the lack of understanding on how to move ahead with digital transformation. The most common question is - Where do I start and what should be my roadmap?
At this stage, I ask them a very fundamental question, "Why do you want to be Digital?"
The responses that I receive vary from being completely non-inspiring e.g. "My competition is digital", "Being digital is sexy" to "I have been asked to be digital", "I have to adopt AI/Automation to be digital", to well thought of business objectives like "to be more relevant, responsive, proactive, insightful, cheaper, smarter, safer". As mentioned earlier, the first step of "becoming digital" is to establish "why" you want to become digital. The most common reasons (and there could be many more) why organizations should become digital are:
Gaining business agility and becoming more responsive to business needs
Creating new revenue models for growth and existence
Enhancing customer and employee experience
Enhancing productivity and reducing cost to serve
Addressing risk, compliance, security, and safety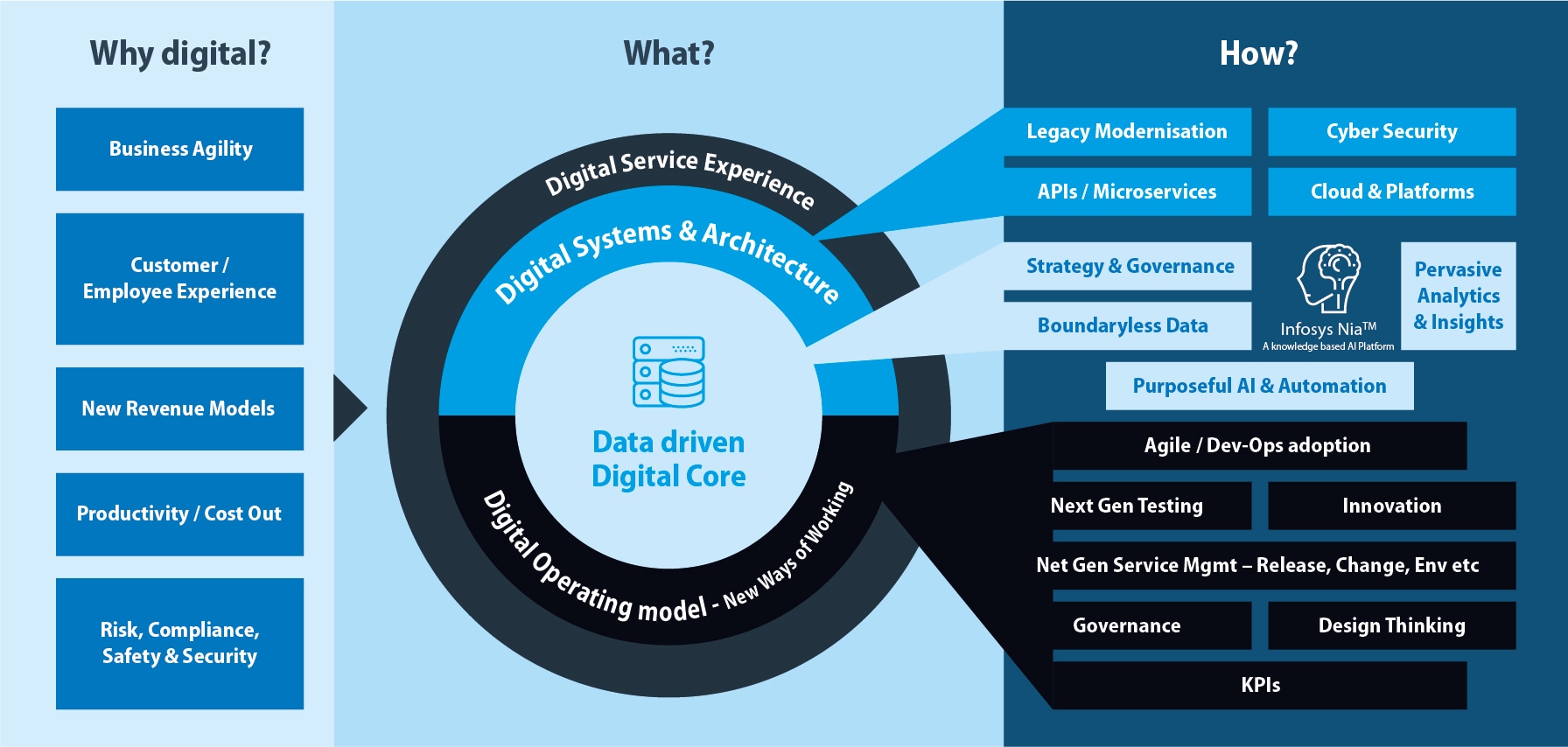 A simple representation of a Digital Blueprint to aid with digital adoption
Very often, the answer is "All of the above" for most organizations. However, what varies for every organization is the weightage assigned to each objective and a corresponding timescale, in line with the organization's vision and strategy. This predominantly helps define the velocity and shape of the digital organization and also provides pointers to where to start. For example, on a 3-year timescale, if an organization assigns 60% weightage to business agility, then its digital design will be significantly different from the one that assigns 60% weightage to productivity / cost out. Ultimately, it's your business priority that will define your organization's digital design and velocity.
Data-driven digital core: a holistic approach
It's not just about technology. The success of digital transformation in any organization lies in its ability to transform the DNA of the enterprise. It's a major organizational change, especially for those that are not digital natives. Once the organization has established weightages for its "why digital" objectives, it is about creating a digital design that cuts across the following components:
Data Driven Digital Enterprise: Data is the new "money". Organizations need to focus on getting their data strategy right, powered by Artificial Intelligence (AI) and Automation to create insights and thereby new possibilities. AI / Machine Learning are all set to create a smarter and predictive future for organizations. Infosys NIA provides an integrated platform to seamlessly harness insights from enterprise data and translate that into prescriptive, predictive and interactive automation.
Digital Service Experience: This layer focusses on creating a coherent and consistent service experience for its customers and employees across channels, journeys, products, and technology platforms. Organizations that get this right, are most likely to get their architecture, data, and operating model right.
Digital Architecture: For organizations to provide superior experiences, their enterprise architecture needs to be simple, responsive and affordable. Adoption of the Cloud infrastructure, PaaS, SaaS, APIs, Microservices and open source components are some of the key elements of creating a digital architecture. In addition, with volumes of personal and enterprise data available, digital assurance (security) has become another very critical component of any digital architecture
Digital Operating Model: This cuts across people and processes for every organization. To be truly digital, it needs to institutionalize New Ways of Working (NWoW). It needs to leverage the power of Agile and DevOps to enable speed to market, adopt principles of Design Thinking to create more human centric solutions, retrofit its enterprise capabilities like Testing and Service Management to the NWoW and create culture of pervasive innovation. All of these need a fundamental shift in the organization culture and mindset which is driven from the very top. Only those that are able to re-imagine their processes and re-skill their people will remain ahead in the digital adoption curve.
The Digital Index for every enterprise is directly proportional to the extent to which they are able to move the dial on the four parameters mentioned above.
In summary, following are some of the key learnings that I have distilled from my experiences with organizations wanting to become digital:
Be clear on "why you want to become digital". That will help you shape your velocity and shape of the digital organization
Becoming digital is less about technology and more about "organizational change" and it needs strong leaders as change agents
Design a digital organization that can scale. You may start small, but it must be scalable
Do not compare yourself to digital natives like Uber and AirBnb. They were born digital. Feel free to draw inspirations and ideas from them, but your problems (processes, legacy infrastructure etc.) are very different to theirs
And finally, do not forget that organizations that start with data and leverage data effectively will have the strongest digital core.