Data Analytics
Minimizing Failure and Maintenance Effort with Digital Capabilities
The traditional inspection methods for detecting faults in oil pipeline networks are increasingly failing to detect anomalies. In 2016, Shell's Sao Pablo Bay oil pipeline ruptured near the Californian town of Tracy, spilling over 900 barrels of crude oil into the surrounding soil.
Even with the advent of sophisticated technologies, most companies deploy antiquated human-centric paper-based asset inspection methodologies. These activities are rigorous and challenging in nature and many times the workers have to perform them in remote and risky terrains as well as hostile weather conditions. This utilizes a considerable part of the operational budget, with companies spending billions of dollars on asset inspection and monitoring. According to statistics, the oil and gas industry alone spends more than $37 billion per year, while rail companies in Europe spend around $5.4 billion annually on inspection. But still there is a probability of human error, which might lead to some anomalies being overlooked. This may lead to critical damage to assets in the long run and health hazards to the workforce and users. There is a dire need to overcome these challenges in current inspection processes, for which, an effective application of technology is essential.
Inspecting a Million Miles of Railway Tracks? Adaptive Inspection Systems Make It Easy
Effective implementation of technologies like autonomous agents (drones, robots etc.), sensor fusion and orchestration of these numerous agents, can help in conducting inspection and asset management in new ways. An adaptive inspection management system, comprising multiple autonomous agents, collects continuous imagery and conducts detailed analysis to identify possible anomalies. The system is able to report on the type of risk and the exact location of the anomaly in real-time. Key platforms and enablers like control centers continuously monitor and create or modify a plan of action for the system and the multiple agents that operate within it. Integrating with an analytics platform and a learning system through a digital twin can help the maintenance staff to efficiently identify anomalies and operational deviations, conduct root cause analysis, and generate more effective predictive maintenance schedules.
In order to understand it better, let's look at a use case where railway line inspections can be enhanced through an adaptive inspection management system. Most of the current rail inspection methods involve inspection cars with various sensors moving along the track. This takes a lot of time for inspection and is futile in case an obstacle blocks the track. With an adaptive inspection management system, the control center deploys multiple drones, which periodically navigate the whole length of the rail network, taking live images with coordinates.
The drone's on-board edge computing capabilities ensure adherence to regulations, while enabling precise positioning, scanning and deep re-scanning – especially where anomalies are found – to arrive at the most suitable images. These images are sent to the inspection management platform for further analysis, where exception management and maintenance workflows – human-centric or autonomic – are invoked with minimal human intervention. The adaptive control center present also has a bird's eye view of the agents, and helps coordinate their activities for the most efficient approach to inspection. This reduces both time taken and inspection errors, thus improving track repair and maintenance effectiveness.
Adaptive Inspection Management System Solves Different Industry Challenges
Insurance
Support risk assessment, fraud detection and Claims Management to solve the challenges of physical inspection of assets, lengthy document process and fraudulent claims with continuous collection of asset imagery and advanced AI.
Energy and Utilities
Help with data collection from hazardous locations and streamline maintenance activities for the network of high valued assets that energy & utility companies often own across geographies.
Agri- Business
Offer efficient crop monitoring solution for weed detection, crop damage assessment and fertilizer optimization for effective monitoring of large tracts of land.
Manufacturing
Perform labour-intensive activities while improving worker safety and reducing throughput time, cost and human involvement in the manufacturing industry.
Other instances where adaptive systems play a prominent role to enhance process effectiveness include inspection of underwater assets and pipelines using autonomous robots, wind wane and turbine inspection using drones, IoT-based machinery inspection, high rise building and chimney inspections, grid and transmission line inspection and asset/building inspection for insurance claims. All these use some form of intelligent capabilities in software, hardware or sensors to allow for an adaptive inspection management approach.
The Mechanics of an Adaptive Inspection Management System
The adaptive inspection management approach covers orchestration of multiple agents (automated guided vehicles, unmaned aerial vehicles and fixed cameras) to acquire, process and manage evidence of inspection during the lifecycle as well as integrate with remediation workflows. The goal is to expand coverage and reduce the time to cover the area under inspection.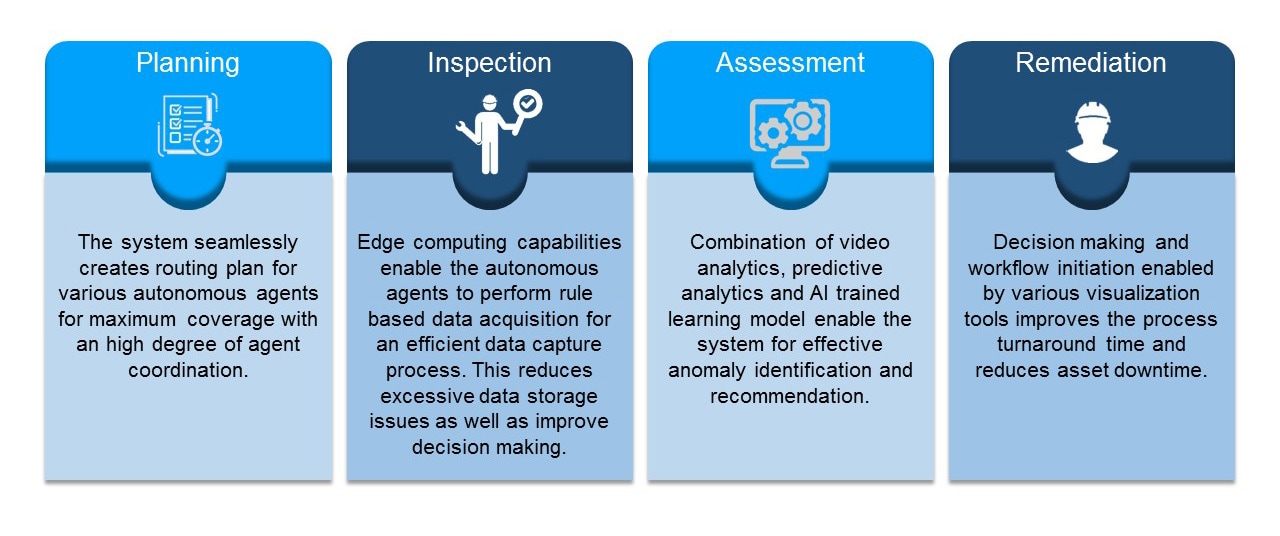 With benefits like real-time dynamic sensing of anomalies, enhanced safety, and continuous, proactive monitoring among others, an adaptive inspection management system is bound to increase process effectiveness and efficiency across sectors. Be it by enhancing workforce productivity, reducing errors or saving time and costs, adaptive inspection will play a vital role in future-proofing industries and enhance the prospects of innovation in inspection and maintenance.