Digital Future
Monetization in 5G
Emerging technologies are disrupting the communications industry by enabling new business models and bringing new customer experiences. The digital ecosystem encourages cross industry collaboration and facilitates bundled digital product offerings in a hyper-connected world accelerating the digital journey of telecom companies.
Networks are evolving with the introduction of programmable networks with Software Defined Network (SDN) / Network Functions Virtualization (NFV), gigabit connectivity and low latency mobile networks with 5G. Communication companies are bringing new value in the services they provide, by selecting the right capacity with 5G network slicing and leveraging edge computing for optimal usage of resources. With the adoption of machine learning, artificial intelligence, closed loop automation, and advanced analytics to handle next generation operations, the telecom sector is poised for a great digital transformation.
The Promise of 5G
5G promises gigabit data rates, low latency, reliability and availability. This opens up enormous opportunities for digital telecom companies and eco system partners to collaborate across industries. It provides excellent experience for customers be it indoors or on the move, with no limitation.
New and immersive experiences are becoming a reality with Augmented Reality (AR) / Virtual Reality (VR) technologies and 8K video streaming. Customers are enjoying these experiences both at home and outside, from the conveniences of a digitally connected smart home to a 360degree fan experience in a connected stadium. Enterprises are exploring new services like remote maintenance guidance, smart offices, drones for varied services like surveillance and new business models that support B2B and B2B2X. All these new services are driving digital bundles of new offerings.
5G Possibilities and Use Cases
5G brings in the network slicing concept based on the following three services:
eMBB (enhanced Mobile Broad Band): It enables extreme capacity, enhanced data rates/spectral efficiency, extended coverage and deep awareness.
URLLC : (Ultra Reliable Low Latency Communications): It supports ultra-high reliability, ultra-low latency, strong security and extreme user mobility.
mMTC / mIOT (massive Machine Type Communications or Massive Internet of Things): It supports ultra-high density, ultra-low energy, ultra-low complexity and deep coverage.
Select use cases that brings in varied monetization opportunities and new experiences:
V2X, autonomous driving, vehicle maintenance, enterprise (B2B, B2B2X business models), consumer services
Immersive entertainment (live streaming, AR / VR solutions)
Connected stadium (fan experience)
Industrial automation, remote monitoring, IOT platforms, streaming with AR / VR for remote assistance and guidance
Smart health, smart cities, smart homes
Drones As A Service (Surveillance, 5G signal QoS assessment)
New Digital Bundles and the 5G Network Slicing Market Place
Apart from connectivity, digital telecom companies can explore new bundles in entertainment such as multi party video conferencing, immersive experiences or in Vehicular to X (V2X) offerings like autonomous/assisted drive or vehicle maintenance. Their existing Product Lifecycle Management (PLM) and Configure, Price and Quote (CPQ) solutions can be upgraded to handle these scenarios.
5G network slicing can be offered to varied players like Mobile Virtual Network Operators (MVNOs), Mobile Network Operators (MNOs), infra partners, Over The Top(OTT), vertical industries and equipment owners. This requires slice lease management which can be addressed with blockchain and smart contracts.
V2X Possibilities: Bundling network slices for varied scenarios
Vehicular communications bring in variety of services that leverages eMBB, URLLC and mIOT network slices. These include:
Autonomous & assisted driving (safety features, collision avoidance, platooning, avoiding traffic jams)
Vehicle maintenance (diagnostics, assisted auto repair, telematics, asset management, insurance based on driving skills)
Enterprise & smart city services (emergency, law enforcement, surveillance services)
Consumer services (media and immersive entertainment, Uber like services)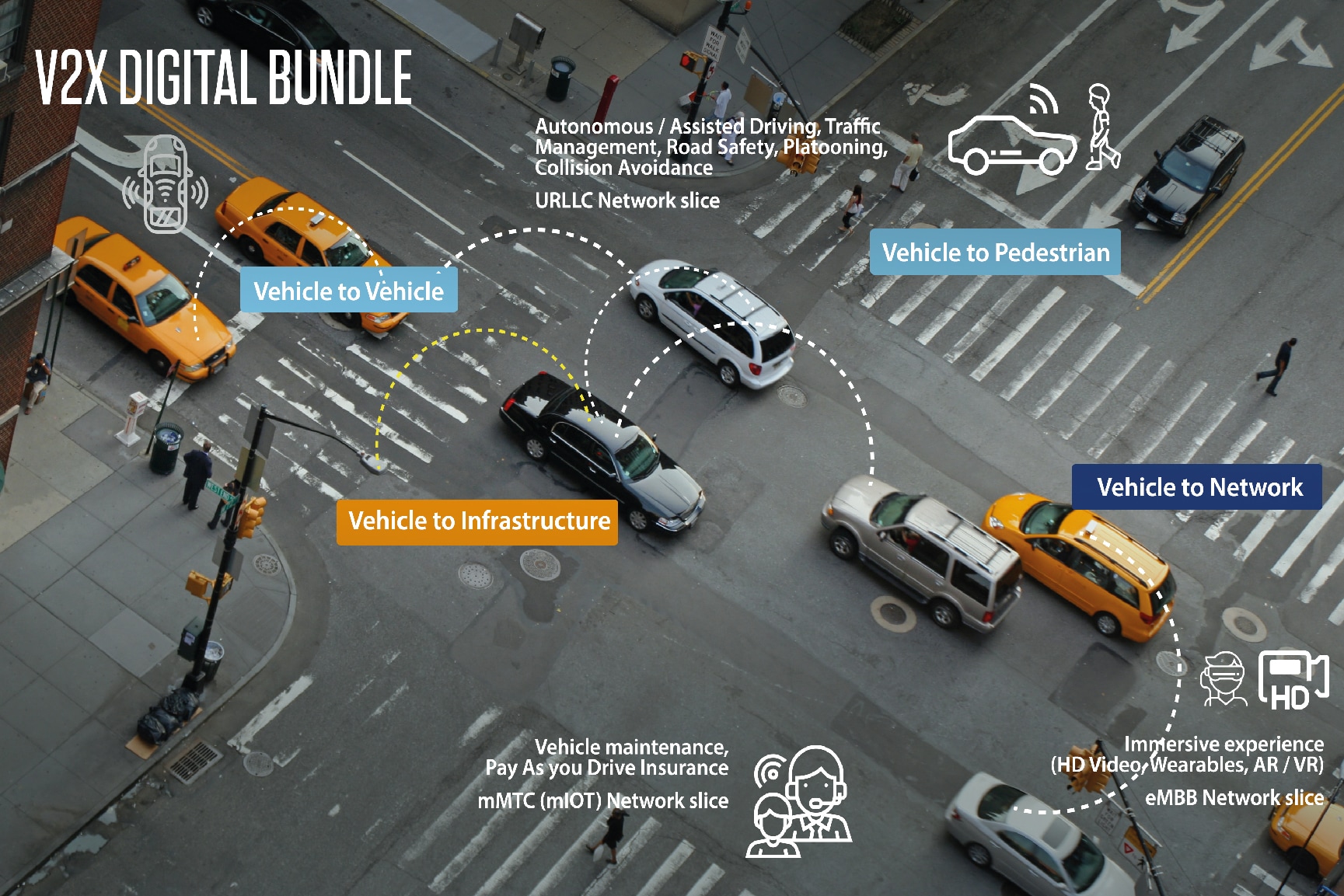 As more devices gets added to the network, there is a need for edge / IoT security. This is needed in cross industry solutions with connected IoT Devices. Other examples are of wearable devices for health care and entertainment, industrial automation with varied sensors, autonomous driving and other V2X scenarios, safety and security solutions, smart meters and renewable energy solutions.
We are heading into a brave new world of communication where technology has flattened boundaries with new collaboration models and only those who innovate will emerge as the winners.