Human Potential
Digital Quotient: Lodestar for Future Ready Talent
No matter how they started, all organizations are now digital organizations. However, as they develop their digital capabilities, skills gaps quickly appear. In addition, skills are moving targets, as technology rapidly evolves. To understand where those gaps lie, organizations need to assess both enterprise and employee digital capabilities. They then need to find ways to address gaps that have the potential to limit a company's success.
To address these gaps and to build the required capabilities of both enterprises and employees, companies should develop and measure the digital skills — or the digital quotient — of their employees. Organizations need to put learning at the core of talent development to close the digital skills gap.
The Fourth Industrial Revolution and new capabilities
The Fourth Industrial Revolution is characterized by digital transformation in all industries and across societies. Keeping up with the latest technology is central to the success of every organization. Companies worldwide have recognized that adapting only their business and technology strategies is not enough — they need to build digital talent as part of building a digital organization.
Understanding what talent is necessary starts with awareness of the digital capabilities that the organization needs. Although the requirements vary by company, most successful organizations have common traits: They operate like digital natives; they are customer-centric, flexible, and agile; and they can leverage the broader business and technology ecosystem.
Employees are at the heart of a company's digital capabilities. Talent is thus the fuel for digital transformation. Employees must not only be adept at the needed digital technologies but also should have multidisciplinary strengths, be able to innovate and to co-invent solutions, and deliver exceptional customer experiences. As technology becomes increasingly central to business, organizations must cultivate these new skills. Employees must be able to use their creative potential for digital products, services, and organizational success.
The half-life of skills
Almost a decade ago, the half-life of professional skills was about five years — that is, a skill loses half its value in that period. The half-life continues to fall, placing a huge demand on organizations and employees. Both run the risk of falling behind on the capabilities needed to succeed in the digital age. It is the responsibility of organizations to keep a future focus and remain vigilant in tracking emerging technologies. At the same time, businesses also need to guide employees toward these new skills. Organizations can help workers by informing them about what skills are expected to be in demand, encouraging them to pursue those technologies, and providing them with the avenues to learn.
Digital Quotient: Personal guide for digital preparedness
Infosys introduced the Digital Quotient (DQ) to objectively assess and classify the digital readiness of individuals, teams, and enterprises. DQ is data driven and provides a comprehensive score — a single, simple metric that tracks the digital maturity of talent. It helps them traverse a value chain of competence (building breadth and depth of skills), measuring the skills they possess, their proficiency in those skills, their digital exposure in adjacent areas, and their expertise in working on actual projects. Individuals then leverage the competence gained to drive impact and value for teams, clients, organizations, industries, and other stakeholders.
Individuals learn on the job — beyond courses and certifications — as they build new capabilities for the digital world. Infosys conceptualized a digital continuum of learning new skills: building depth and breadth, venturing into adjacent areas, and expertly applying these skills to deliver high-quality solutions and create value to the organization and the industry.
DQ is the vector that employees follow through their learning and career. Competence typically happens at the entry stages. It is about gaining knowledge and exposure to existing and new skills. Impact is the next leap, where employees apply skills to influence clients with the knowledge and experience gained previously. Innovation, effectiveness, and creating an impact through teams are key markers of this midpoint. The leap beyond this is that of generating value. Value includes the core leadership quality of identifying new opportunities of revenue creation, optimum industry positioning, and creating new solutions to generate value for all stakeholders.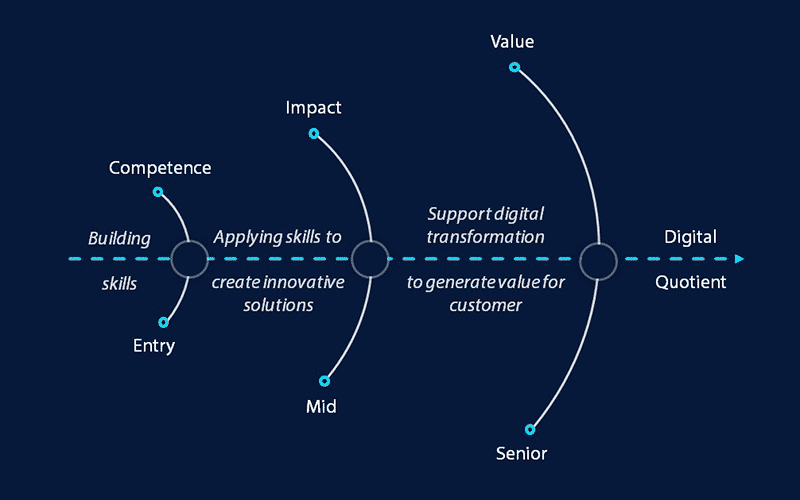 DQ: Valuable for employees and enterprises
For employees, DQ is a personalized guide through their digital skills and career journey — it continuously measures where they stand in the digital continuum and provides them with a single score as an indicator of their digital preparedness. Using the score, employees can understand how their skills compare to others' and how to be a more competitive candidate. A target DQ score that employees set for themselves serves as a beacon as they navigate their careers toward high-impact technology areas and complex client projects. DQ assists employees in mapping their paths toward high-demand careers, jobs aligned with their aspirations, and jobs that people with similar skills are pursuing.
At the team and enterprise level, DQ is a strategic tool that can gauge the digital preparedness of the business. It helps enterprises understand their digital capabilities, shows them areas that need to be strengthened, and then tracks their progress in gaining these capabilities — giving enterprises an advantage.
As an example, a U.S.-based client of Infosys used the DQ framework to increase their employee's future readiness. This framework helped them enhance their employees' skills and reskill them for emerging technologies. The company first identified their skills gaps and then assigned employees a target DQ. To aid employees in achieving this target, they provided hands-on training, focused training programs, and on-the-job learning. As part of this initiative, more than 4,500 employees completed more than 31,000 courses over the span of a year. Further, 47% of employees enhanced their expertise in one or more skills, and more than 1,200 employees were redeployed in the upgraded skills — with improved margins because of higher billing rates.
DQ is very highly correlated with all key talent parameters. For instance, employees with high DQ are deployed on projects faster. They are also more engaged and better retained; they perform better on projects; and they advance faster in their career journeys.
The most important enablers for maximizing use of DQ are a flexible and agile infrastructure, a clear focus on reskilling, and a digital-first mindset. Skills-led talent management practices can also help in this process.
At Infosys, we are building a skills-led organization so that careers, learning, and rewards are all based on skills and are self-navigated. We are identifying which digital areas are accelerating, and we are training our employees to work with these technologies. Skills tags are one of the components of this framework; they function like skills badges to identify and nurture reskilled employees who have the required knowledge and expertise. We also provide career avenues for employees so they can specialize in technologies and industry domains as they continue to learn new skills.
Keeping up with change is essential to business resiliency, enabling fluid and fast responses to disruptions. DQ is one way to measure whether organizations — and their most important asset, their employees — are keeping up with how fast technology and business change.