Human Potential
How Can Workers Stay Relevant In A World Dominated By AI?
Just like life on earth, the world of work has been changing down the centuries. Most of the time the change is so small, incremental and slow, that we are oblivious until it takes the shape of something that we are able to grasp, and we begin to 'see' the evolution.
But every once in a while, into this landscape, comes a sudden 'Cambrian Explosion' – a relatively short geological period over which a rapid diversity of new lifeforms appeared – that demands our attention, and more significantly our ingenuity, to adapt to it. The advent of metal tooling, the discovery of electricity, the spread of machines that industrialized labour and the advance of computing - each of these leaps has demanded that we adapt as workers, learn new things, pick up new ways to be productive and reap the rewards.
Today we stand at the brink of another dramatic change, the advent of artificial intelligence (AI): software-driven machines that have learned to process unstructured information meaningfully, something that until recently we imagined was the domain of humans alone. Think, just a decade or so ago, how impossible it seemed that driverless cars would navigate safely alongside unpredictable humans through the winding roads of our cityscapes. Today the spread of AI barely raises an eyebrow, to the point that we are growing increasingly comfortable with keeperless shops, tutorless classrooms, bankerless trading and even doctorless surgeries.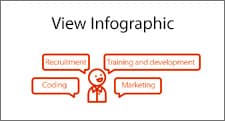 So, as enterprises and businesses, what do we do with our people now? What do we all need to learn and teach in order to equip our people with the skills necessary to remain relevant in a world in which AI has just ushered in another Cambrian Explosion?
There are no pat answers. But smart, nimble-adapters have a plan.
Mind the skills gap
To become future-ready, it's obvious that as organizations we must look at emerging areas in AI and other advanced technologies that can create competitive advantage and generate value. And this must be mapped within specific individual contexts, so we can create our own framework with which to evaluate which skills we need to disinvest in, and those in which we need to strengthen and deepen our expertise. This is best complemented with a skills-forecasting model to generate an estimate of skill-wise, demand-supply dynamics that can aid in preparing a talent plan and then making build vs buy decisions for each skill.
Cultivate expert generalists
As a culture, we must welcome, appreciate and reward the expert-generalist so that they begin to populate our workforce in greater numbers. These are people who study widely in many fields and then apply it to multiple expertise areas. They are highly trainable, volunteer for challenging and diverse project assignments, find connections between seemingly unrelated concepts and are curious and open to new experiences and uncharted territory. From having depth of expertise in one area, and a broad breath of knowledge - the T-shaped profile - our workforce must in future be led by these expert-generalists, who have a more comb-shaped profile - a broad interest base along with multiple expertise areas.
Grow more teeth for those combs
To help the workforce evolve from being T-shaped to comb-shaped, we must create structured learning paths and then reward progress made along them. Learning-related skills must become a necessary criterion for career progression, and skill levels must be actively measured in terms of the impact generated. Client feedback, industry endorsements, patents, research papers, the ability to train others and demonstrable instances of cross-pollination of ideas are good indicators of proficiency. Stitch learning into work
Many emerging skills of value cannot be easily taught in a classroom, let alone online. Making learning an integral part of all processes and encouraging employees to share this learning is likely to work better; think of it as instituting a 'learning bank', crowd-authored by the workforce. Learning can then be self-directed, bite-sized and continuous. Massive open online courses (MOOCs) and Open Educational Resources are powerful tools that can aid in this process. When combined with internship projects and job shadow opportunities, people can put their new skills to test in practical ways.
Keep 'em moving
Talent mobility greatly accelerates skill development. We need to build programmes, support systems, rewards, and tools to help people move from job to job within our ecosystem. Some first steps can be as simple as:
Ensuring all job opportunities are first opened to internal talent
Rewarding managers who fulfill their hiring mandates with internal talent and 're-skilling'
Recognising employees when they excel in lateral roles
The Cambrian Explosion was a 56 million-year period that saw unparalleled growth in the formation of new species. One possible explanation for why it took place is the evolution of the eye. The ability to spot an opportunity - and to see danger approaching - might have been the reason for this explosion of new lifeforms.
It is within us all to see and succeed. And learning – continuous and deep – can help us see beyond our todays, and pave the way forward into a tomorrow where our continued relevance will make us more purposeful.
This blog post was first published on the website of the World Economic Forum>>