Industry Stories
The Oil and Gas Industry's Path to Net Zero Emissions
Carbon dioxide in the atmosphere has reached its highest level in at least 800,000 years and is still increasing. Scientists agree that greenhouse gas emissions must be reduced dramatically to combat the climate change crisis. However, progress isn't possible without significant changes to the oil and gas industry.
The sector's own carbon footprint — operations plus emissions from energy consumed — is at least 2.6 billion tons annually out of the 37.1 billion tons produced by human activity. The bigger challenge, though, is that the end product inevitably produces carbon dioxide and other greenhouse gases (GHG). The efforts to move the world's energy mix toward net zero emissions is a defining challenge for the oil and gas industry and humanity overall.
The petroleum industry is vilified for its role in exacerbating global warming. At the same time, these companies are well positioned to help address the climate problem. The industry has the science and engineering know-how — and increasingly the incentives — to roll back GHG emissions for generations to come.
The COVID-19 pandemic and resulting economic downturn has heightened the stark realization that peak oil was really about a peak in demand, not supply. Eventually, the industry must change and make decarbonization a reality. Many in the industry were already committed to net zero goals before the current crisis started (as the figure below shows). But more importantly, these commitments remain even as the companies have seen demand fall off a cliff.
The industry has created three categories to classify their emissions sources, with each featuring its own challenges and solutions. Those are:
Scope 1 — Direct GHG emissions from company operations.
Scope 2 — Indirect emissions from energy consumed by the company.
Scope 3 — Indirect emissions generated by the products.
The figure below shows the goals some industry leaders have set for emissions reductions. The scope 1 and 2 goals are generally more ambitious than the ones for scope 3 emissions.
Figure 1. Several major oil and gas companies have set goals to eliminate scope 1 and 2 emissions, with some deciding on interim reductions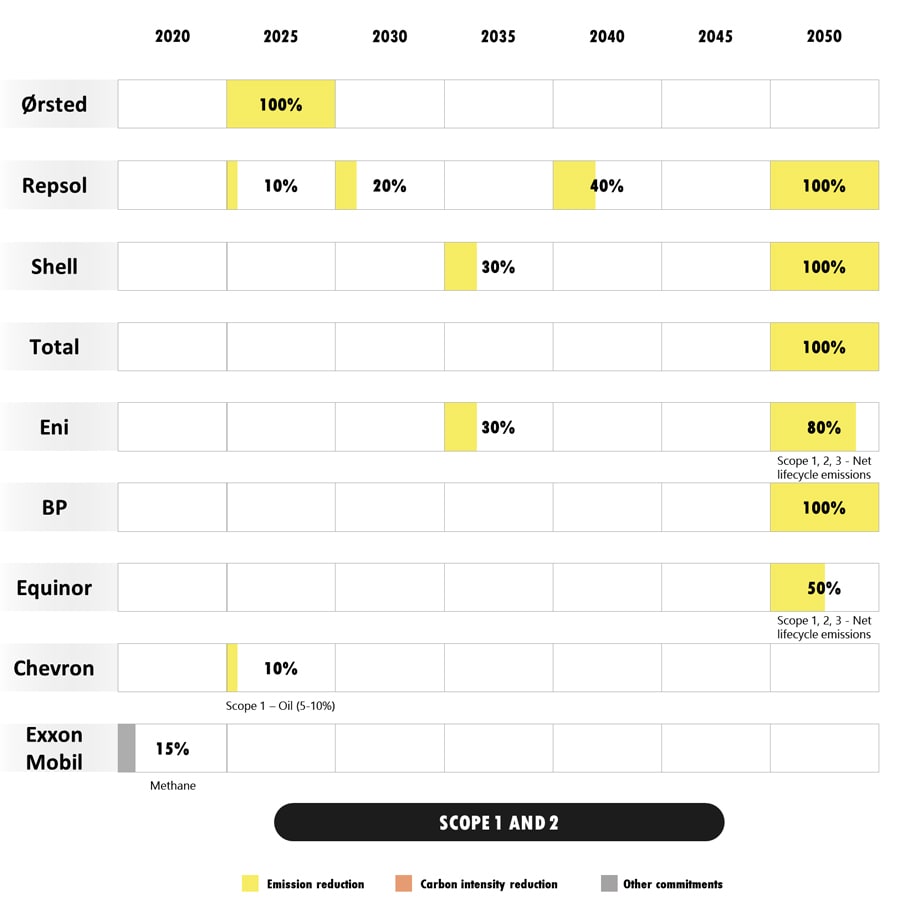 Figure 2. Oil and gas companies say they will lower scope 3 emissions but not as quickly or deeply as scope 1 and 2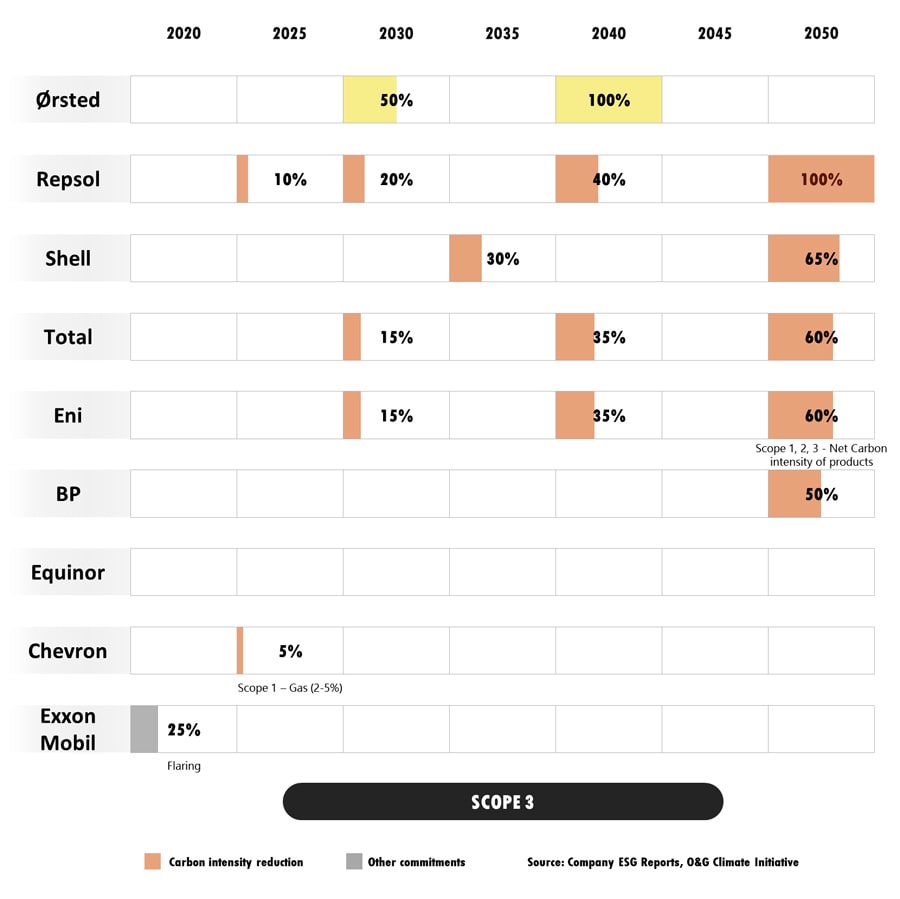 Despite the large divide among companies about how deeply to cut emissions, the industry is bracing for a tectonic shift in priorities. Energy company Ørsted — previously Danish Oil and Natural Gas — evolved from an oil and gas company to a renewable energy leader in just a decade. The company intends to be carbon neutral across its entire portfolio by 2040.
Although Ørsted is an outlier, other major oil and gas companies have also set ambitious goals. Several companies have committed to both making their operations (scope 1 and 2) carbon neutral and reducing the carbon intensity of their products (scope 3) by 50% to 60% by 2050. Some have also set intermediate goals.
Success in reaching those goals is critical. The World Resources Institute projected that GHG emissions need to drop in half by 2030 and reach net zero by mid-century to avoid the worst effects of climate change.
Figure 3. How oil and gas companies intend to reduce GHG emissions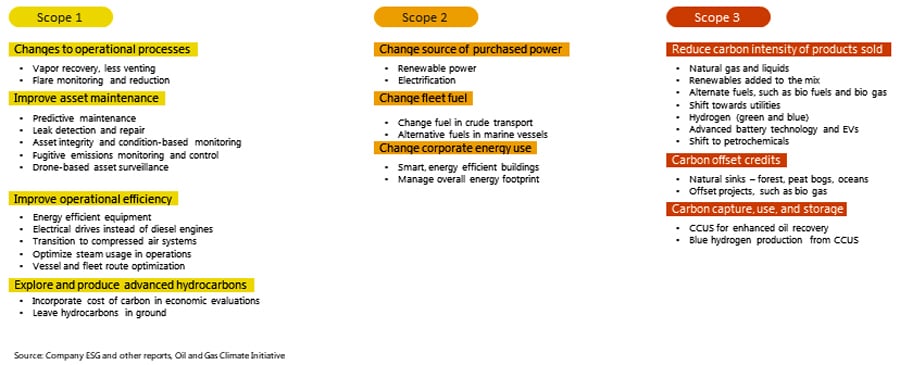 Much of the technology needed to reduce scope 1 and 2 emissions are already intertwined with industry processes and used to varying degrees. Some of those include carbon capture, use, and storage for enhanced oil recovery, or generating hydrogen from methane. Many companies also use advanced leak detection and repair technology, and predictive maintenance powered by artificial intelligence (AI) and machine learning (although not always on a companywide scale). Often, these solutions rely on digital technology to gather and analyze camera and satellite data.
Scope 3 carbon mitigation is much more complex and often involves technology that isn't mature or might not even exist. Current strategies are either geared towards reducing the carbon intensity of products sold or creating carbon credits. Members of the Oil and Gas Climate Initiative (OGCI) — the largest industry consortium for climate action — invests about $7 billion each year in low carbon solutions. Often, these companies build $30 to $50 per ton of carbon into the cost of new projects. This level of investment is barely enough to address scope 1 and 2 emissions by 2050, let alone make a dent in scope 3 emissions. Many startups, however, are using AI and machine learning, fast internet, edge computing, and robotic remote data collection to accelerate their climate innovations.
To approach their goals, oil and gas companies need exponential growth in environmental innovation. They should look for ideas within their own research labs and seek the assistance of startups and innovators in adjacent industries. Technological advances need to change systems at the global level. A recent International Energy Agency report highlighted the need to close innovation gaps in order to meet the Paris Agreement goal. That global deal seeks to restrict global warming to "well below" 2 degree Celsius above pre-industrial levels.
Innovating toward net zero
Figure 4. Studios, digital sandboxes, and platforms can accelerate net zero initiatives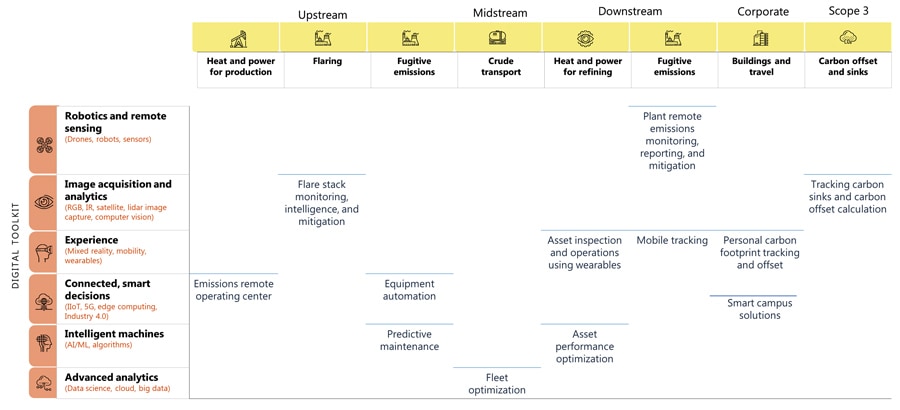 The oil and gas industry wants and needs to evolve but can't go it alone. This is the time for the technology industry to partner with oil and gas firms to solve the most imminent challenge facing our generation. Here are ways to make that happen.
Adapt and scale existing solutions
Oil and gas companies already have many of the right tools to address their operational challenges, such as equipment maintenance, remote operations, and asset integrity. But their usage is not always at a sufficiently large scale or uniformly adopted across all assets. Many solutions are developed as minimum viable products or proofs of concept that fail to scale up. Some reasons include asset disparity, geographical differences, and data availability and quality.
Companies can use AI, machine learning, automation, and other digital technologies to both optimize operations and reduce emissions. For example, a methane emissions platform can use internet of things (IoT) sensors, drones, and wearables to capture fugitive emissions across the entire value chain (production, processing, transmission, and storage and distribution). These tools are valuable and rapidly scalable but often need the boost provided by a platform approach and industrywide collaborations.
Create an innovation ecosystem
No one company can solve the energy challenge, not even the super majors. It is critical that all parties, including operators, oilfield services, system integrators, hyperscalers, and startups collaborate to create solutions. Sharing data across the industry is critical if companies want to reach their goals. AI and machine learning algorithms used to predict equipment failure can be trained more efficiently and for broader operating conditions, if they are trained on data from multiple operators. Service and equipment providers and technology providers, with their wide access to data, should take an active role in creating this new ecosystem. Adoption of industry platforms — such as ones for carbon offsets — will accelerate the pace of improvement.
Provide a sandbox to innovate
This energy transition requires a steady flow of innovation and rapid prototyping during the next several decades. The industry needs to identify the best resources, such as digital studios that conduct climate hackathons in a tech incubator-type environment. Technology companies have already embraced carbon reduction strategies. Infosys' Sira solar power project is notable for its size — 120,000 solar panels — as well as its use of automation to generate predictive insights and greater efficiency. Renewable energy now provides the company with 44% of its total consumption. Through this work, Infosys has developed significant internal expertise in several areas, including predictive AI and machine learning models, IoT solutions, and data models and standards for emissions capture and reporting.
Ticking clock
Advancing toward a net zero emissions future is one of the biggest challenges — if not the biggest — facing humanity today, and the clock is ticking loudly. The oil and gas industry must take a leadership role by not only reducing its own carbon footprint but transforming the global energy systems.
Today there are innovation and investment gaps in achieving these targets, but the ingredients are either available or within reach. As in other industries, digital technologies will be the catalyst to speed up and democratize innovation.