Industry Stories
Patient centric Innovation That Delivers More than Wellness
As life sciences companies move from analog to digital, they must also move towards becoming more customer-centric to truly meet patient needs and deliver improved outcomes. In other words, move towards a more patient centric care model.
The life sciences industry has made great strides to change the way care is accessed and delivered. A case in point – recently, we designed a digital service use case for gestational diabetes in high-risk pregnancies to enhance patient centered care. Typically, a gestational diabetes patient connects with family members and multiple professionals – her primary doctor, Gynecologist, Obstetrician, Endocrinologist, Dietician, and Physiotherapist – who collectively manage her blood sugar levels, monitor progress, and deliver care. We adopted a service design approach that looked at the patient's needs, goals and limitations holistically and designed a digital service platform that brought together the various stakeholders and satisfied the patient's need for access, control, value and convenience.
The platform comprises a web portal and mobile apps with the facility to text, call, video chat, and schedule a physician home visit at a cost. It enrolls various specialist physicians, monitors blood sugar levels, schedules regular appointments with doctors and diagnostic labs, checks quality of life triggers to track the patient's health, triggers pill reminders, offers home delivery of medications and diagnostic services, and travel management services for the entire duration of the pregnancy. A patient can choose her care team with whom she can converse anytime. She is also connected to a similar group of patients to share her emotions and experiences, her family, and an outside universe of experts for second opinions. Designed as a six months' service package till the baby is born, the service may be extended for a year, connecting the new mother to the pediatrician who guides her through all vaccination cycles. At the end of the journey, the patient's feedback on the service provided and the care team is duly recorded.
This is one of the many use cases we have recently developed for our life sciences partners that leverage service design and digital technologies to deliver patient centric healthcare.
Connected experiences are the future
The clear driver of connected experiences is the unprecedented collaboration it enables between all the stakeholders – patients, physicians, providers, payers, care givers and family. Such collaborations can lead to dramatic outcomes. Besides, connected experiences are simply a necessity in today's healthcare landscape where:
The customer is more informed and empowered, making decisions about where to receive care like any other purchasing decision – based on quality, cost and experience
Reimbursement is value-based with the Hospital Consumer Assessment of Healthcare Providers and Systems (HCAHPS) survey necessitating providers to pay greater attention to 'non-billable' aspects of patient experience
Technology is enabling better devices and means to communicate, collaborate, monitor and deliver care
Technology is enabling insights derived from the treasure troves of data to improve the quality and experience of care
Delivering truly connected experiences will require a big shift in the way life sciences companies view their customers and their needs. It will require a new holistic outlook that takes into account every moment of need.
Data and analytics won't be enough
Life sciences and healthcare have some of the most contextually rich data sets of any industry with electronic databases used by physicians, pharmaceutical companies, and researchers. This data can help understand product efficacy, treatment adherence, patient journeys, and predict many patient outcomes. But merely collecting and analyzing this data won't be enough to deliver connected experiences. Only when data from all touch points is viewed collectively as a whole and not as isolated experiences, can it be interpreted in useful ways, allowing informed decision-making for providing better patient centric healthcare and customer experience
Service design for patient-centric innovation
Service design is a systematic, creative, and user-centric approach for creating services. It looks at things entirely from the user's point of view and designs services to satisfy key needs. It examines all activities, infrastructure, stakeholders, and material components involved in the service as a whole. This way it meets the rising customer expectations of choice and quality while fostering collaboration. It accomplishes this by strategically creating new and engaging experiences across multiple touch points – a touch point being any interaction between the user (patient) and other stakeholders (doctors, nurses, pharmacists, medical device manufacturers, researchers, payers and family). Service design is founded on four core principles:
Holistic: It considers environments beyond the device, viewing the entire patient journey, and considering and designing touch points around specific moments of need.
Co-creation: It involves all stakeholders, not just in the design phase, but also in production and development. Multidisciplinary teams develop, create and test these services to make them more useful, usable and desirable.
Sequencing: It visualizes the service as a series of interrelated actions.
Evidencing: It visualizes intangible services in terms of physical artifacts. And this stems from a deeper understanding of patients – their drives, habits and reactions.
By involving all the stakeholders in the innovation process, service design creates value for all concerned. And digital technologies enable this value co-creation.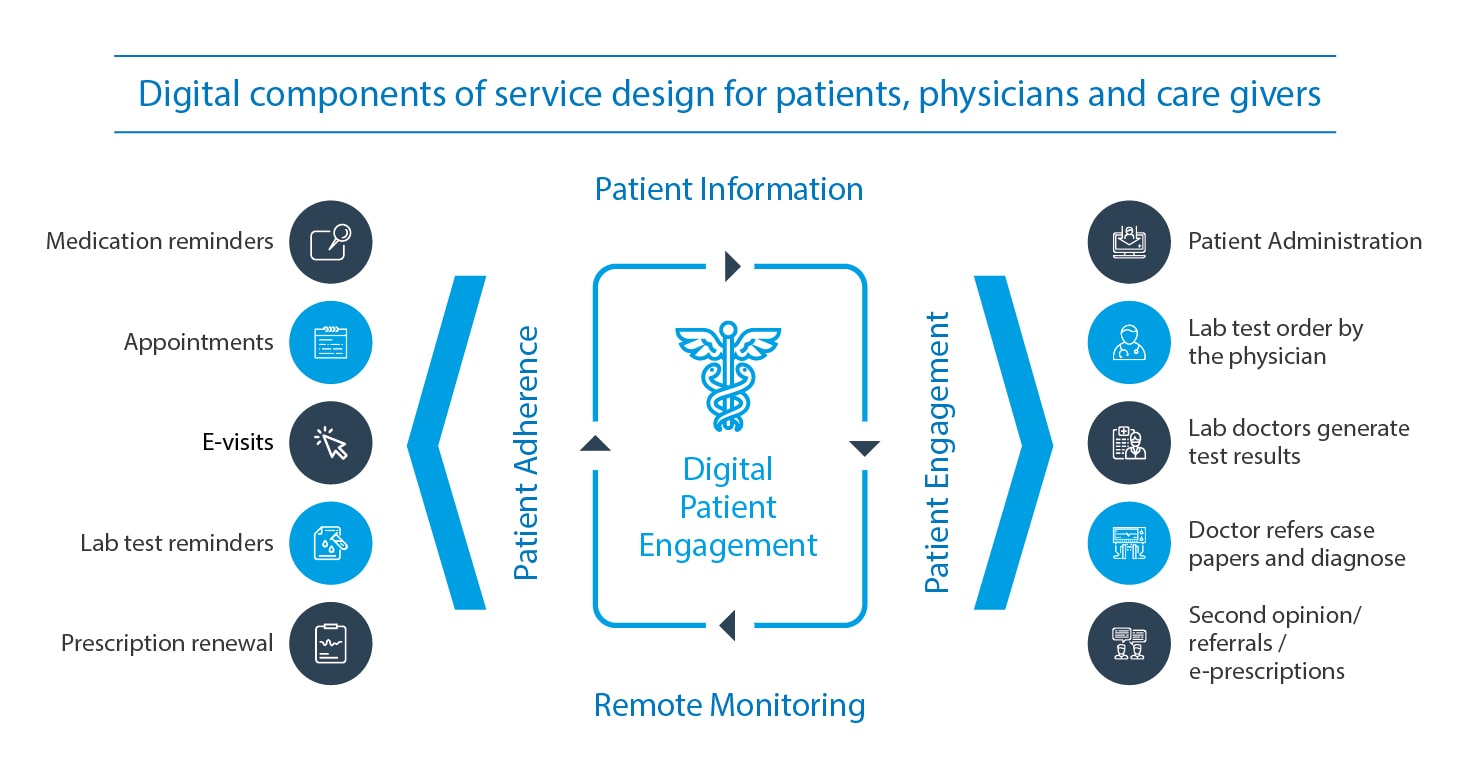 How can Infosys help catalyze innovation?
Service design begins by first understanding the patient, then nurturing empathy throughout the treatment journey, collaborating with various stakeholders, and sharing data across the care ecosystem to offer connected care all through the journey. But bringing together all stakeholders and ensuring everyone works cohesively makes the design process difficult. Infosys can help at every stage of the design process.
Understanding the patient

Contextual research services

Specialized ethnographic research and use of qualitative tools to unveil disruptive insights to address unarticulated, unmet patient needs.

Establishing empathy throughout the patient journey

Technology-fueled patient journeys

Real-time patient journeys fueled by technology to uncover insights that would need evidencing and new ways of solving.

Collaborating with various stakeholders

Onboarding stakeholders

Careful definition of the roles and actions of various stakeholders who help the patient take care of his/her health, in the system.

Sharing the data

Connecting fragmented services

Cloud-based software platforms and open application programming interfaces (APIs) help to better connect fragmented services, thereby reducing the patient's workload. Such platforms enable secure data sharing and solution integration.
Delivering connected experiences requires a deep understanding of the customer / patient. And service design addresses this key need, opening up significant opportunities for the life sciences industry. Life sciences organizations that capitalize on these opportunities to adopt a compelling patient centric approach will be able to offer services that is effective and emotionally appealing thus unlocking new growth.