Industry Stories
Content is Still King, But User Experience is the Emperor
The Media and entertainment industry has seen extraordinary disruption while consumers have been among the biggest beneficiaries of the information technology revolution. With unprecedented access and a seemingly endless plethora of choices of entertainment platforms, today's consumers are spoilt for choice and increasingly forcing content creators and distributors to engage them in immersive experiences anywhere, anytime, and on any device.
From Augmented Reality (AR) to Virtual Reality(VR) to live, immersive 4D experiences, and well packaged, personalized bundles of live and on-demand content, consumers are hungry for mind-blowing experiences. Worldwide shipments for AR and VR headsets is expected to grow to 68.9 million units by 2022 as per a leading analyst. The astounding success of Pokemon Go is a great case in point. Within less than a year of its launch, it had 65 million monthly active players.
User experience is becoming a key focus area for the industry too, and the imminent 5G connectivity is a huge enabling factor. Customers today already have 24/7 connectivity through personal devices. Globally, there will be 3.5 networked devices per person by 2021, as per a report from a leading US based technology company. Also, the average traffic per person per month is expected to be a whopping 35.5 GB by 2021. And 72 percent of total internet traffic will be from non-PC devices.
While quality content is still important, there is a greater emphasis on how the content is created and delivered. The infusion of technology in the creative process is enabling content creators to produce compelling and personalized content.
---
Factors such as context, immersion, immediacy, affordability, customization, spontaneity, shareability, privacy, security, are extremely relevant towards delivering engaging consumer experiences. So, while content still remains king, user experience has emerged as the supreme emperor in the digital world.
---
The Industry Mantra – Adapt or Die
For every organization in the media industry, the writing on the wall (or screen?) is pretty clear - creating new, personalized digital user experiences and finding ways to monetize them are the new priorities.
A great example is one of our clients, a leading telecommunications company in Australia, which is launching a new media offering for their consumers, with a drone-based 360-degree capture for live sports streaming to give an immersive experience delivered in real-time over a 5G network. The solution captures live streams from cameras which are delivered to consumers in real-time, personalized to their virtual location in the stands with high quality 8K to 12K resolution (the current best resolution stands at 4K) on optimized bandwidth, via technologies such as foveated rendering and view optimized streaming. Similarly, media tourism is evolving to include 360-degree panoramic immersive views of destinations where the visitor can explore different viewpoints of his choice. Thus, viewers can get a truly immersive experience whether they are watching a sports event or the Great Barrier Reef.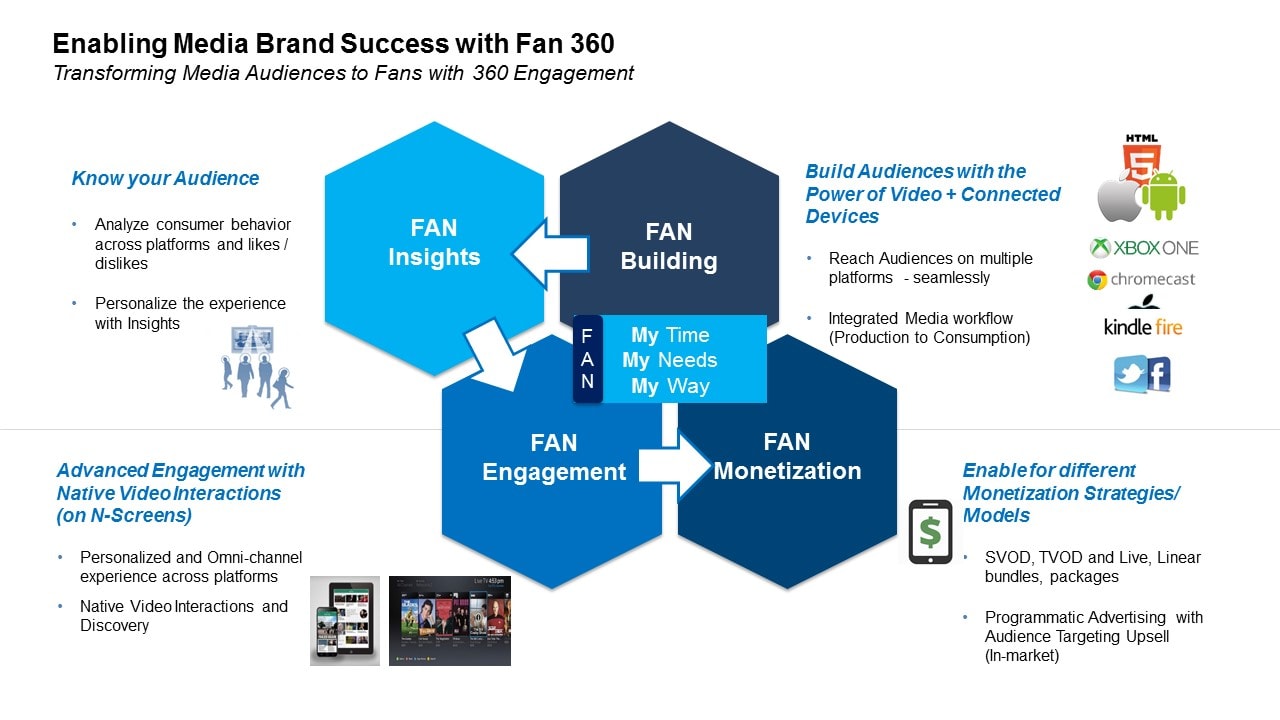 Delivering such experiences requires seamless orchestration of an extremely complex media supply chain and an entire 'glass to glass' intelligent media production, servicing, and distribution backbone to support it.
In this new reality, success will belong to whoever can effectively own the customer relationship. Therefore, the winners will be those organizations that have Intelligent platforms, with personalized content, personalized ads, and adaptive offers to ultimately engage through differentiated experiences and monetize customer relationships.
Enabling this disruption will need consideration of these four aspects:
Convergence
In the past, most of the content creation and media distribution was largely B2B. Now, everyone right from content owners (e.g. studios, Netflix) to distributors in the entire supply chain are looking to converge on driving the user experience. With a focus on attracting and engaging customers directly, each of them now needs to think about brand engagement, direct-to-consumer platforms, and end-customer experience. Much of this is driven through high quality content delivered on the most popular entertainment platforms while catering to the personalized consumption patterns of the users.
Intelligent Media
In the age of personalized and contextual media consumption, learning about customer preferences and monetizing them is key. In addition, there is an urgent need to drive efficiencies into the severely fragmented media supply chain. Given the turbulence in the industry, the classic media workflows and technologies are being upended by new age firms which has seen a wider adoption of cloud-based technologies and services by content owners in the last three years. Organizations are now starting to use cloud-based tools offered by AWS, Google, Microsoft, IBM, and many other smaller niche players like Greymeta and Veritone for facial/object recognition, ML, and contextual information for automatic metadata generation. They are also analyzing consumption data across platforms to record consumer preferences in real time.
Efficient production
With reduced time to market, focus on customization and cost pressures, the ability to produce and distribute content efficiently is critical. Retrieval of existing content for reuse in future projects can be a great way to save costs but retrieval is a challenge for content generators. Adoption of standards like Interoperable Master Format (IMF) along with cloud adoption, automated intelligent metadata, video analytics, efficient mastering, archival, search and real time smart distribution play an important role in serving this on-demand supply chain.
Efficiency in data and management of all the elements in the supply chain are equally important. In the age of day-and-date releases where the same movie is released across the world in 50+ languages on the same day, managing the entire gamut of sub-titles and dubs etc. requires a huge army of freelancers and translators. The cloud has enabled many leaders in the space to create user-friendly and secure platforms for the globally distributed team of contributors to perform their work, which is integrated seamlessly into the production supply chain.
Post-Merger Transformation
As cost and revenue pressures prompt consolidation in the media industry, there is greater emphasis on minimizing redundancies and ensuring a unified customer journey across all media consumption (theatrical, home entertainment, OTT/Streaming). A data-driven digital strategy that presents a consolidated view of the customer will dictate the quality of user experiences and will ultimately provide the maximum intelligence to monetize user engagement.
The above factors have been the key driving forces behind Infosys' endeavor to develop an end-to-end media pipeline powered with automation via machine learning algorithms and artificial intelligence from our Nia Platform. The platform is designed to address the practical needs of the media industry by streamlining content production, curation, and the delivery process. It encompasses the management of dailies, digitizing, smart encoding (including workflows for 360 content), post production, localization, transcoding, delivery, customer engagement, and monetization technologies; along with storage, networking, and a secure cloud-based infrastructure.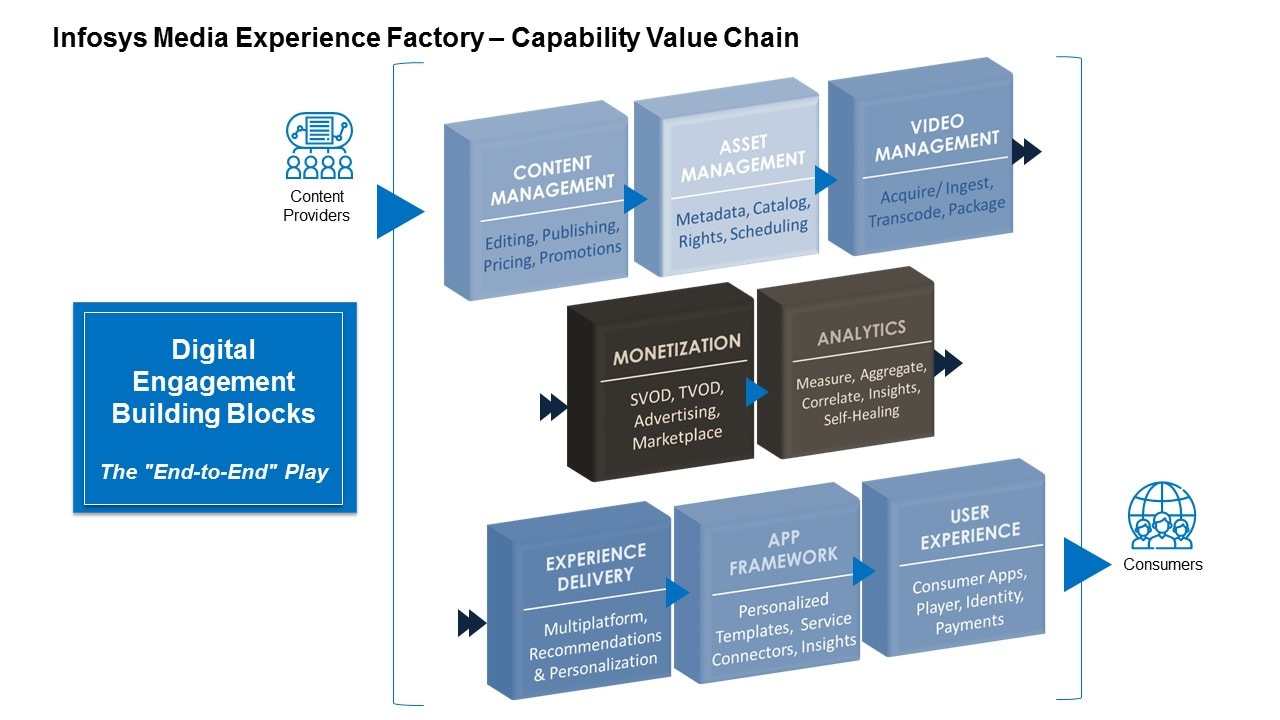 With the platform, we hope to help our customers navigate their next steps with ease as they transform their media supply chain in the world of complex and rapid content production and consumption. In short, our platform aims to transform the ordinary into extraordinary via automation and intelligence.
In this age of dynamic leaps in customer demands, the biggest opportunities for the media and entertainment industry lie in operational streamlining to reduce cost and free up cash flows while enabling a superior digital engagement experience for consumers. The new age of media is already here. It's time to innovate or get extinct!