Assure
Secure your business from
the next cyber attack
Almost every CIO and CISO we speak to tells us how consumed they are by the demands of predicting and preventing security incidents in an expanding threat landscape. The challenge of cyber security has long since moved beyond monitoring infrastructure, networks, firewalls and IT assets to include the protection of the entire value chain – systems, applications, user software, developer software and data.
Anant R. Adya
SVP and Group Practice
Engagement Manager – Cloud, Infrastructure and Cyber Security
For global enterprises seeking to build a more digital future for themselves, the transformation journey invariably extends from core modernization to customer delight. Because their core is most likely a monolithic legacy system, the road to digitization, for them, entails Application Programming Interface (API) fire-laning so their legacy landscapes can communicate with new platform-based components and open source software solutions. These APIs, while providing a window from the core into new applications, also inadvertently intensify cyber security risks. Then of course, the path to modernization also leads to the cloud. As this digitization scales, an elaborate cyber security setup becomes missioncritical, even inevitable. That's why we offer defense-in-depth to our clients.
On the other hand, hackers continue to innovate. To that, the typical enterprise responds by bolting on more point solutions. Often, the result is a patchwork of solutions that not only don't work well together, but are inadequate to protect against evolving threats that are now spread across an attack surface with thousands of potential entry points, including those created by smartphones and Internet of Things (IoT) devices. Little wonder, CISOs find themselves managing 'reactive security' rather than driving 'holistic resilience'.
The need of the hour is flexible and adaptive security solutions, delivered in an integrated package. When these are consumed 'as-a-service', enterprises will have the flexibility to prioritize not just rapid remediation, but also plan for anticipatory protection. It removes the huge operational and cost overheads required to manage a fragmented landscape with point solutions pieced together. The CIO and CISO can, instead, focus on accelerating the enterprise's digital agenda. That's precisely what the Infosys Cyber Security Platform enables. Built with AI-driven automation at its core, it helps the custodians of enterprise security to transition from a fragmented and reactive approach to a managed security services model guided by a customized roadmap. For example, for one of our clients – a beverage manufacturer – the platform brings together an optimized tool suite and the strong predictive capabilities needed to protect them against advanced threats – all the while providing 24x7 security monitoring services, along with identity and access management services, for their 40,000+ users and over 500 applications.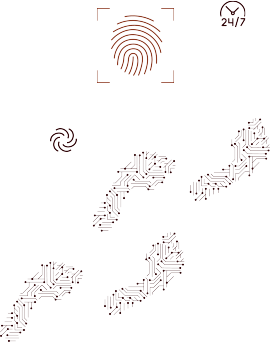 Complementing the value that our cyber security platform brings is our network of Security Operations Centers (SOCs), already operational in Bengaluru, Hyderabad and Pune in India, along with centers at our clients' premises. These SOCs bring together best-in-class skills and a constantly updated solutions suite, along with managed services for security operations delivered roundthe-clock through a network of inter-connected, global facilities. Our clients also have access to advanced threat-hunting capabilities and the latest in technology innovations for cyber security incubated in the Infosys Security R&D Labs. This is our investment in continuously improving our core services portfolio, expanding our offerings into new areas of potential threat, and leveraging our innovation ecosystem to co-create solutions that deepen the value we deliver.
The value that technology brings to cyber security, while immense in itself, is best leveraged as a means to amplify human potential. Un‑automatable tasks like imagining new avenues for breaches, finding new problems, and creating innovative solution combinations can only be performed by people. That's why we are fully committed to nurturing and improving our engineers' skills and expertise in these domains through strong academic partnerships like the one we have forged with Purdue University.
For us, each of these advances, in the past year, has been a step up in boosting the security posture of our clients so they can go about their business with greater confidence.
" Cyber security is foundational for enterprises such as ours as we proceed through our digital transformation. It is more than merely responding to events as they occur; it is crucial that we build solutions for predictive threat management and automated incident resolution. To achieve this requires fully-integrated security platforms that operate in ways that point solutions cannot "
– James F. Eckart
Chief Information Security Officer, The Coca Cola Company