Innovate
Your old machinery
will be your next
new IOT device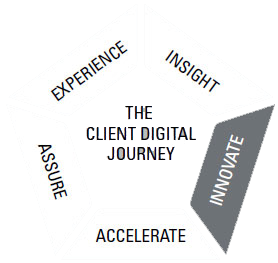 The highly competitive markets that our clients serve demand a severe crunching of cost and time for them to remain relevant. We help them meet this challenge when they engineer their products, by digitizing the entire product lifecycle – from design and manufacture to maintenance and service.
Sudip Singh
SVP and Head, Global Services
– Engineering, and Industry
Head – Services, Utilities, Resources and Energy
In tandem with designing new products or production lines, our clients often have a portfolio of long-lived products and assets that must deliver to new expectations. We believe, for the enterprise that's rich in engineering legacy and looking to find new growth, there lies a goldmine of opportunity – to deftly build richer experiences by infusing new technology into their existing products. Leveraging our deep understanding of their broader business context, we help our clients uncover ways for technology to create avenues for their products to deliver more value. The key here is to not wish away their rich legacy but revitalize it with newer technology. Like we did recently by re-engineering a hardware monolith – a Cable Modem Termination System (CMTS) – into smaller software components leveraging Softwaredefined networking / Network functions virtualization (SDN / NFV) technology. Our client, a cable operator, can now bring up or down the CMTS on demand and take it closer to customer homes. This will save them both capital expenditure and operational expenses.
We understand how vital it is to recognize how the product or asset is engineered – mechanically and electronically, for us to then bring the right software to amplify it. This means knowing the product's entire lifecycle – design, manufacturing, assembly, customer operations, and after-sales service.
For example, uncovering value from IoT data is a process of knowing exactly what constitutes 'desired' product behavior, tracking the gap between real-world results and desired results, and communicating this to stakeholders who can investigate why it occurred and prevent its recurrence. In fact, recently, in partnership with an international engineering firm, we developed an AI-powered operational efficiency framework to help manage large plants with complex IoT-led interconnected systems. Our clients are enthused about its potential to revolutionize plant operations by enhancing overall system performance, availability and reliability, in addition to managing the risks of disrupted production.
While our aspiration is to help our clients better leverage their existing assets, our IoT services are focused on impacting both their top line and bottom line. Today, enterprises leverage our IoT capabilities to remote-monitor products and assets, prevent breakdowns, and analyze data from sample assets to optimize performance across the entire production line. Having this view into how each product or asset operates is not just key to improving their efficiency but also to ensuring security along with legal and regulatory compliance. In addition, we have also brought in IoT to help our clients explore new business models that offer products as services with usage-based pricing. The value we have been able to bring to our clients this last year, through our IoT offerings, is indicative of how more and more enterprises are trying to transform their product engineering and take advantage of technologies like SDN, Augmented Reality / Virtual Reality, Robotics, Autonomous Technology and Additive Manufacturing. For example, we have developed a robotic arm-based test automation framework to automate the hardware and software testing of point-of-sale and mobile devices. We are also actively re-engineering critical metallic components for a leading turbo-machine maker, through Additive Manufacturing. We have a deep appreciation for the need to re-skill and upskill our own people so they can embrace and share the value of these emerging technologies. To accelerate their continuous and lifelong learning in these domains, we are investing significantly in educational interventions – including partnering with Udacity to train our people in the skills we need as a company to deepen focus on Autonomous Technology.
Our opportunity clearly lies in bringing together knowledge of the new possibilities created by emerging technologies, knowledge of how products are engineered, and knowledge of the industries they serve, to uncover avenues to amplify, with software, the value these products deliver.
" IoT solutions are developed and deployed to achieve specific business outcomes; as such, it is critical to provide the complete solution stack. Cisco is focused on engineering specific products and platforms which provide customers with complete solutions to realize business benefits. Systems integrators play an important role in customizing these IoT solutions and making sure that the expected benefits are fully realized, thus forming an important link in the IoT value chain. "
– Jayaram Beladakere
Director, Product Management, Cisco