NAVIGATE YOUR NEXT.
WITH INFOSYS.
Think back just one hundred years from 2017. It would have taken you anything between five and ten days to get from London to New York; and well over a month to travel from London to Australia. Today, London is only around eight hours away from New York and about a day from Australia by air.
If you'd lived then, it's likely your home wouldn't have had a landline telephone. Because only 25% of working-class families in the US did. Today, landlines sit all but forgotten in our living rooms. Nearly 80% of the population, in the US alone, has a smartphone in their pockets, while you can call for free over a WiFi network anywhere in the world. And these are just two examples of the hundreds of ways in which someone, somewhere thought to try something no one else had ever dreamed of, chose to walk a path untrodden, that then caught the imagination of several others who joined in, till the idea gathered the strength to move us all forward.
The digital disruption that engulfs us today has significantly increased our collective ability to create the next new normal. And, at Infosys, we see this as an exciting opportunity to make a difference. To partner with our clients to look for the new things their customers may not yet know that they want, and help them be the first to respond boldly to the calling. To create their next.
We AI-power their core to help them prioritize the execution of change that'll take them closer to emerging opportunities. Thereon, we help them prepare to respond with agile digital at scale. And continuously enrich them with skills and learning from emerging technology domains and industries outside their own, so they can get the world's best ideas to work harder to delight their customers.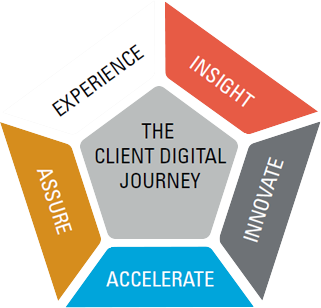 Our digital framework drives outcomes for them across five areas – Experience, Insight, Innovate, Accelerate and Assure. We craft the way their customers experience digital solutions, help their businesses gain insight from data, innovate with them in the world of vertical platforms and digital-first engineering, accelerate their core digitalization, and assure means for them to establish digital trust.
This annual report celebrates the multiple facets of this journey. A journey of so many nexts. A journey that will get so much more meaningful when you navigate your next with Infosys.