Industry Stories
Building a Citizen-first Government with Technology
From My Health Record to the digital economy strategy, there is constant conversation surrounding the Australian government's digital initiatives. Becoming more digitally centric is key for progress and a priority for the government, but how will this be achieved?
Infosys' recent study, Infosys Digital Acceleration Study: Infosys Australia and New Zealand reveals that 86 percent of leaders perceive medium to high levels of digital disruption within public service. Understandably, gaining operational efficiencies (63 percent) is cited as the key driver behind digital transformation initiatives with public service leaders. As citizens become more accustomed to frictionless customer experiences in their interactions with businesses, public service organisations need to deliver on similar expectations.
When compared to other nations, the Digital Acceleration Study shows that 50 percent of public service leaders in Australia feel they are trailing behind international counterparts. Alarmingly, only seven percent of public service leaders believe to be internationally ahead. The public service sector is clearly facing certain challenges when it comes to building disruptive models at scale and agencies and departments must act with clarity to be able to continuously transform and meet citizen expectations.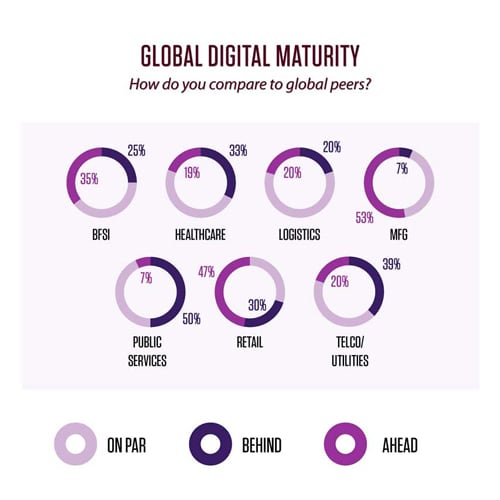 The Building Blocks of a Digital Government
Public service organisations often struggle with building a culture of innovation and improving agility and flexibility of processes. As a highly regulated sector working to serve millions, it is easy to see how agility and flexibility within processes are easily overlooked due to careful decision-making that has to consider risk to the public and prudent expenditure of public funds. Unfortunately, complexities and a natural aversion to risk causes inefficiencies in the system and an inertia to necessitate change for improved services.
To overcome this, the strategy needs to be two-fold. Firstly, we need departments and agencies to modernise with the right technology for the benefit of the end-user. Modern technologies such as automation, AI and big data can work cohesively to streamline repetitive tasks, gather insights and speed up decision-making, enabling agility at scale. Through a report published earlier this year titled "Amplifying Human Potential: Towards Purposeful Artificial Intelligence", we found that AI is seeing an adoption rate of almost 90 percent in the private sector locally, but this drops drastically to 57 percent amongst public service organisations. This demonstrates the need to be more receptive to technological change for the benefit of running a more efficient government and providing a better citizen experience when interacting directly with government.
Secondly, because technology is only as advanced as its user, the need to reskill and retrain employees is imperative to ensure that the government workforce is suitably equipped with the right skillsets to support our national ambitions. With internal challenges rather than external market forces cited as a key barrier to change across all sectors surveyed, leaders need to focus on internal digital programs to encourage innovation.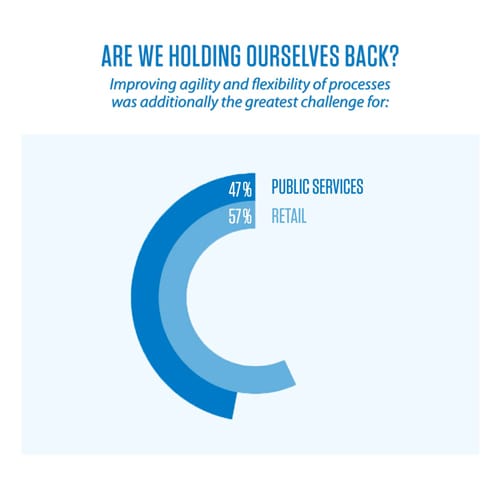 A great example of this is Canada Translation Bureau's innovation to assist with translation and document processing. Using two different applications, the solution provided employees with an integrated language ecosystem that automated translation requests and optimised workflows. This improved translation standardisation across all official documents, overall staff efficiency and reduced service delivery times, which meant that the government could communicate more effectively in both of its official languages to better serve Canadians. Usage of the tool increased from 20 percent to over 90 percent, resulting in 300,000 hours of gains in time spent on translation over a period of a year. With a culturally diverse nation such as Australia, it is easy to see how a similar solution could be implemented and would benefit citizens from an efficiency standpoint, and offer a more citizen-centric service to support with translation needs when it comes to processing official documents.
As we look to become a world-class digital government, we need to look at driving systemic changes to support this transformation. As with every sector, public service organisations need to have frequent stock-takes along their digital transformation journey to continuously improve services. The path to success has two lanes, not only do we need to have access and implementation of technology; a digitally agile culture must be cultivated internally to deliver the innovation we want to see. Australian government at all levels are embarking on their digital journey. The Commonwealth Digital Transformation Agency is working to change the federal government culture and to re-invent the digital relationship with citizens. States such as NSW have made significant advances in providing digital services to citizens.
For more information on what our C-suite decision-makers, influencers and program managers from the region's biggest ($1billion+ annual revenue) companies believe is required to enable them to build disruptive business models at scale, download our whitepaper today.