IoT
Amplifying the Internet of Things With 5G
As digital transformation shifts from being a need to an existential requirement, companies across industries are counting on the internet of things (IoT) to support their progress. Companies can better extract data and gain real-time visibility into their operations through integration of IoT devices and sensors throughout the enterprise.
Nearly 27 billion IoT devices were in use last year. That is expected to grow to 31 billion by the end of 2020, thanks in part to expanded 5G coverage. In September 2020, there were nearly 15,000 commercially available 5G deployments worldwide by 136 operators, according to the Ookla 5G Map.
Enterprises are exploring new use cases that take advantage of enhanced mobile broadband (high data rates across a wide coverage area), ultra-reliable and low-latency communications (low packet loss), and massive machine-type communications (narrowband internet).
Figure 1. 5G offers exponential upgrades over 4G for most wireless features.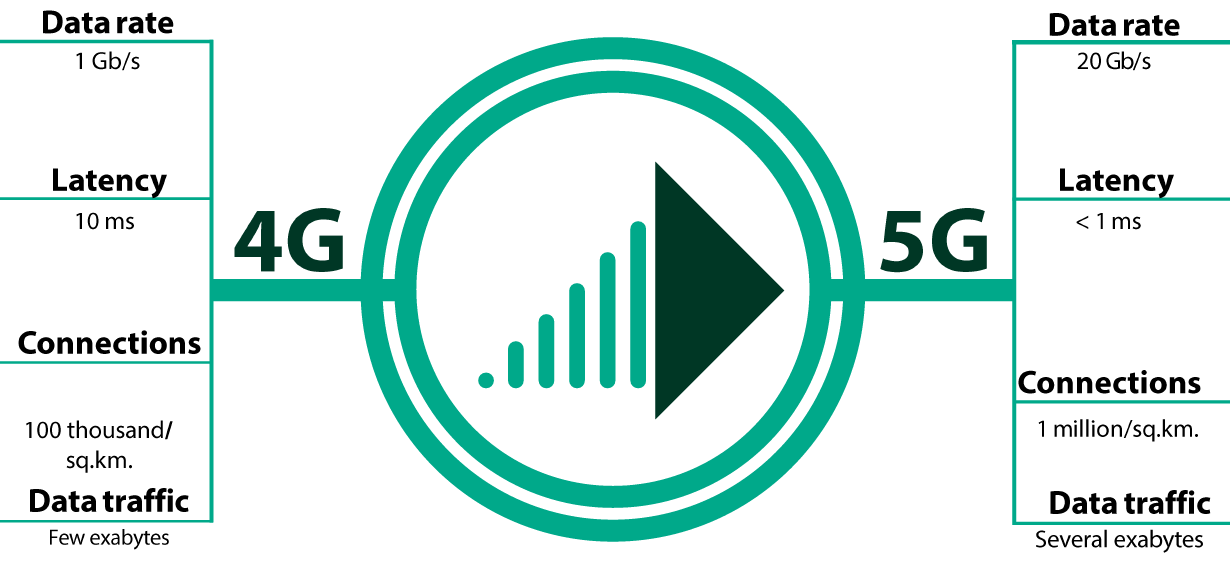 Source: Infosys
The 5G IoT market is expected to grow from $700 million in 2020 to $6.3 billion by 2025, according to MarketsAndMarkets. By then, 5G will account for half or nearly half of the markets in some major economies, although those percentages are expected to vary considerably.
The adoption of 5G for IoT is expected to be transformational, offering opportunities to reimagine existing use cases and build innovative new ones. The industries that will benefit include:
Health care — First responders can access patient data, such as high-resolution images, while on a connected ambulance. The ambulance can also interface with the city transportation system, including traffic signals, to create faster routes to the hospital. Remote surgeries using high-definition video, real-time sensor readings as well as augmented reality are now possible with the near-zero latency of 5G networks.
Manufacturing — Factories can use 5G and IoT to optimize time-sensitive processes. Integrated sensors on the factory floor, combined with small and collaborative robots, will enable the automation of more tasks and improve efficiency and product quality.
Utilities — The high reliability and low latency of 5G, combined with IoT, will help utilities with real-time balancing of load and power distribution. Electric grid operators could avoid outages and maximize power generation.
Agriculture — Deweeding and harvesting robots can stream live images to servers for near-real-time processing and feedback. The low-power, wide-area uses can include soil sensor deployments on large farms, which will save maintenance costs and frequent sensor battery replacements required with 3G- and 4G-based edge nodes. The expansion of 5G to rural areas, however, is likely to vary among countries and telecom providers.
Automotive — The growth of the market for connected cars is expected to make in-vehicle infotainment systems an important differentiating factor for automakers. Enhanced and immersive entertainment could include gaming or streaming 4K content with zero jitter or lag.
Digital maturity is one of the biggest differentiators for success across industries, which has led companies to pursue digital transformation with an unprecedented vigor. These efforts require a variety of technologies, but each is built on a foundation of data.
IoT devices are a crucial part of that new data collection ecosystem, which will allow companies to adjust products based on usage, gain deeper insights into customer behavior, and customize customer experiences. And to satisfy the demand of the current global recession, IoT devices will allow organizations to improve efficiency through automation, predictive maintenance, and other features.
While existing technologies such as Wi-Fi and 4G are valuable, they also have limitations. The positives for 5G include near-zero latency, high reliability, high bandwidth, and a larger density of devices per cell. Telecommunications companies worldwide are quickly expanding their 5G coverage. However, though the need for industry is clear, there are other factors that may constrain how quickly companies adopt this new technology. Adoption will be influenced by cost, spectrum availability, government regulations, and the availability of 5G-capable IoT devices.
The good news for industry is that telecom providers see 5G as a powerful business tool and not just a way for smartphone users to stream videos at higher resolutions. The telecom industry, including equipment manufacturers, is creating industry-specific solutions that will make 5G transformative rather than a faster version of existing networks.